Robert Abela described his Cabinet as one of "new blood" on Wednesday, as he unveiled his team of ministers and parliamentary secretaries.
In his first press conference since being sworn in as prime minister last Monday, Dr Abela noted that there were several young faces among the 26-person team he assigned portfolios to.
Dr Abela, who had never held a ministerial post prior to his ascent to prime minister this week, has chosen to give five MPs portfolios to handle and promoted six MPs to ministers for the first time in their political careers.
All three of the Labour Party's female MPs had been assigned portfolios, he added, saying this was testament to his determination to push for further gender equality within politics.
Dr Abela was speaking following a ceremony at the Palace in Valletta, where ministers and parliamentary secretaries took their oath of office to assume their respective posts.
Governance and rule of law
The newly-appointed prime minister said that his government would implement good governance reform but he also emphasised the need for further enforcement.
"There is no point in strengthening rule of law if enforcement remains weak," he said. "I believe in discipline."
Dr Abela has added 'law enforcement' to the title of newly-appointed Home Affairs Minister Byron Camilleri, and the prime minister said that he would be keeping an especially watchful eye on the portfolio given its importance.
Robert Abela speaks to the press. Video: Jonathan Borg
He also noted how the Justice Ministry portfolio, which will be led by Edward Zammit Lewis, would also be responsible for overseeing 'Governance'. This would make it easier to implement reform.
The prime minister however downplayed talk of Malta being in the midst of political turmoil and said that rather than a crisis, the government had in recent months gone through a period of "difficulty".
"Some governments go through periods of economic trouble, others experience other forms," he said.
Stability and growth
Dr Abela said he was encouraged by the positive assessment which credit rating agencies have been giving the country and said it was his job to ensure the country implemented the necessary reforms while also ensuring strong economic growth.
TV and camera crews in position as Robert Abela addresses the press. Photo: Jonathan Borg
Credit rating agency Fitch said last week that Malta's economic outlook remained positive despite political turmoil and reaffirmed the country's A+ rating.
The public, Dr Abela said, now had the peace of mind that the things the government had been doing well, would continue to go ahead.
Environment
Areas that required improvement, he added, had been given a shake-up.
His cabinet would seek to put special emphasis on social housing, national heritage, and social dialogue, he said.
Dr Abela also said that the decision to merge planning and environment into one ministry would ensure that both briefs were placed on an equal footing. Aaron Farrugia will be responsible for both those sectors.
He cited the environment as a policy focus which merited some additional focus.
On Cabinet's size and Chris Cardona
The prime minister brushed aside talk of his cabinet being the largest in history, noting that unlike the previous Cabinet, his did not include a legal advisor – a role he himself fulfilled previously – and was therefore equal in size to that appointed in 2017.
Dr Abela declined to say why he had chosen to keep Labour deputy leader Chris Cardona out of Cabinet, saying that decision was his prerogative as prime minister.
Malta 'will not repeat mistakes'
On his first EU summit, planned for later this year, Dr Abela said he wanted to show that Malta would not repeat the mistakes made in the past, but would also continue on the good work done so far.
Chris Fearne, Edward Scicluna and Owen Bonnici. Photo: Jonathan Borg
The new prime minister was also asked about his decision to change the title of the office of his top aide from chief of staff to head of secretariat. Dr Abela said he wanted to send out a message that important decisions were taken by elected officials, rather than administrative staff.
Clyde Caruana, formerly the head of state employment agency JobsPlus, has been handpicked for that role.
What the new Cabinet members said
Some of the ministers and parliamentary secretaries made their first comments to the media after their appointments were confirmed on Wednesday afternoon.
Deputy Prime Minister and Health Minister Chris Fearne kept his comments brief: "I will keep doing what I have been doing," he said.
Chris Fearne says he will keep doing what he has been doing, after it was announced he will remain as health minister. Video: Ivan Martin
Edward Zammit Lewis, who has had the justice ministry added to his portfolio, said his priority will be to implement promised reforms within the context of the concerns raised by the Council of Europe's Venice Commission.
Governance, he said, was key too. It cut across sectors and he wanted to improve Malta's reputation overseas.
Byron Camilleri, one of the youngest members of Cabinet, a lawyer who has been made Home Affairs Minister, said:"I need to hold meetings with the permanent secretary and get to grips with the task at hand. I haven't even set foot inside the Home Affairs Ministry yet, decisions will require thought."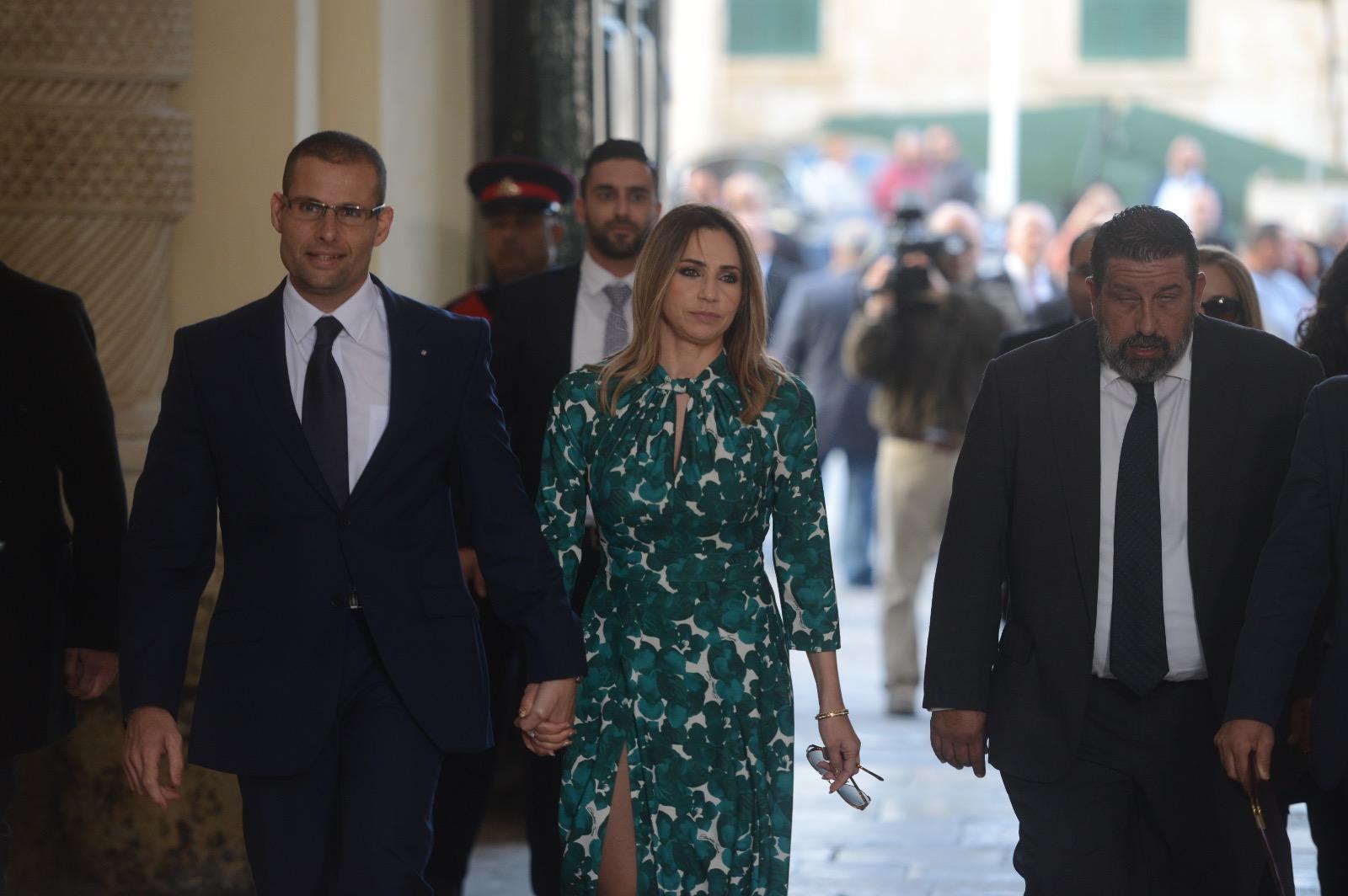 Another young member of Dr Abela's team, Rosianne Cutajar, who will serve as parliamentary secretary for Equality and Reform said she was honoured by the trust shown in her by the prime minister. Among her priorities, she added, would be addressing the gender pay gap.
Luqa economist Silvio Schembri, who has been assigned a mammoth Economy portfolio that will also include Air Malta, among other things said the appointment was a challenge he was looking forward to working on.

"The prime minister said he would give me a challenge and responsibilities, and I look forward to addressing them," he said.
Independent journalism costs money. Support Times of Malta for the price of a coffee.
Support Us