Prime Minister Joseph Muscat said on Friday he was following the Attorney General's advice about not publishing the full Egrant inquiry for now as it could prejudice ongoing investigations.
Asked point blank why he would not publish the Egrant inquiry report immediately, Dr Muscat said he was simply following the Attorney General's advice but that he was still committed to publishing the full report.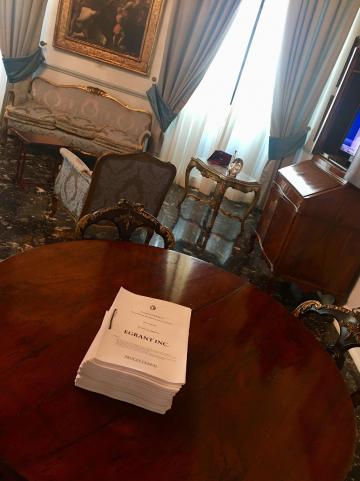 The Egrant inquiry pictured on a desk at the Office of the Prime Minister.
This is the latest in a long line of justifications Dr Muscat has given for not publishing the inquiry report.
The Prime Minister had promised to publish the report within days of announcing its key findings last July.
Dr Muscat had pledged to forge ahead with publication despite the Attorney General's misgivings.
He later cited a court case filed by Opposition leader Adrian Delia as another reason to delay publication pending the outcome of that case.
Dr Delia's request for a copy of the report was turned down by a Constitutional court on Tuesday.
The Sunday Times of Malta had revealed in September that the inquiry's findings were being redacted by the Prime Minister's personal lawyer Pawlu Lia.
In a tweet, former Nationalist Party leader Simon Busuttil hit out at the Prime Minister saying he knew very well who owned the secret company.
What has happened so far?
So far, only a summary, running into just 49 of the 1,500-page report has been published.
According to the summary, no evidence linking the Prime Minister's wife Michelle Muscat to the mystery Panama company was found.
Two other companies set up by Nexia BT at the same time as Egrant were owned by the Prime Minister's chief of staff Keith Schembri and Tourism Minister Konrad Mizzi.
Nexia BT's Karl Cini was reportedly questioned by police in relation to the Egrant findings last August.
Former FIAU manager Jonathan Ferris and Adrian Delia's right hand many Pierre Portelli have also been questioned.
Timeline:
July 2018 – Muscat says the full Egrant inquiry will be released 'within a few days', notwithstanding the Attorney General's objections.
September 2018 – The Prime Minister expresses his commitment to publishing the report, but will "not act rashly" while the Constitutional case filed by Dr Delia was ongoing.
May 2019 – The Constitutional Court turns down the Opposition leader's request for a copy of the Egrant inquiry. Dr Muscat now says he will following the Attorney General' advice about not publishing the report for now so as not to compromise ongoing investigations.
Independent journalism costs money. Support Times of Malta for the price of a coffee.
Support Us