When Roann Avallone received a letter for her foster daughter addressed to the biological mother, her heart missed a beat, but a giggle from 18-month-old Tina* soon lifted her spirits.
The thought that one day Tina will be returning to her biological family hangs constantly over her carers' heads. But this has never stopped them from giving all their care and love to their daughter, said Ms Avallone's partner, Elaine Micallef.
"We know separation will hurt, and every day we remind ourselves that Tina is with us temporarily. There are moments when this reality hits us hard, but we are immediately reminded that we cannot give her what she deserves unless we let go of our fears."
Tina's foster family, which also includes 12-year-old Pat*, knows that despite the heartbreak that they may suffer in the future, the first three years of a child's life are fundamental for their development.
And while children's homes are providing excellent care, research has shown that no residential home can provide the same individual attention that babies receive in a family environment, says Ms Micallef, who is also a psychotherapist.
At the same time there will always be a need for residential homes in Maltese society, because fostering is not for everyone – there are some children who would be re-traumatised if they re-entered their family environment.
Still, there is a desperate need for more foster carers, and Tina's have received four more requests in the past 16 months. These requests were followed by sleepless nights, as the family cannot foster more children.
In Tina's case, the biological mother is very cooperative, to the extent that she organised the baby's first birthday and her baptism with her foster carers.
Every day we remind ourselves that she is with us temporarily... we cannot give her what she deserves unless we let go of our fears
The carers were adamant from the very beginning not to be perceived as a threat to the biological parent and helped "create a bridge which Tina can cross backwards and forwards as she grows older", they said as they leafed through a communication book.
In this book, Tina's foster family and her biological mother exchange thoughts and details about the weekly goings-on in their lives, which she will also be able to read when she is older.
Together, they have also filled in Tina's baby record book, while her biological mother passed on her ultrasound images and hospital birth bracelets to Ms Avallone and Ms Micallef.
"Some children feel their loyalty torn between their biological parents and the family that is bringing them up. We believe if there is an emotional bridge between us all, there will be less of a psychological split later," said Ms Avallone.
Ms Micallef noted meanwhile that any prospective return to Tina's biological family would not happen overnight, but would include a lengthy reintegration programme, the details of which are decided on a case-by-case basis.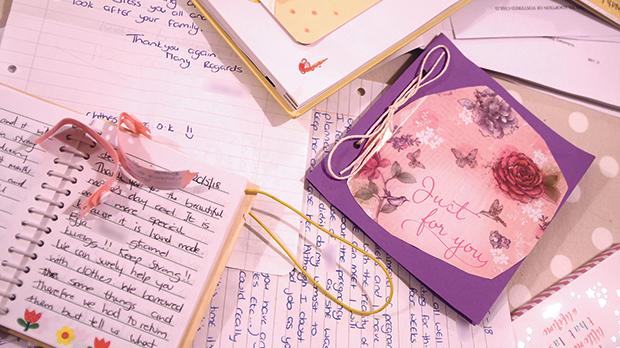 Tina's foster carers and biological mother pen thoughts and details about their weekly activities, which she will be able to read as she grows up.
Another challenge the family has to face continuously is a lack of societal awareness about fostering. While they are out and about, people say: "I don't mean to offend you, but she really resembles you." Others ask a string of questions, including whether Tina is theirs to keep.
READ: Foster parents appeal to get permanent care of children they care for
The family was trained to deal with such challenges through a detailed course, followed by a rigorous assessment, before being given the green light.
While Ms Micallef has been working with children in out-of-home care for over 10 years, Ms Avallone initially had her reservations about fostering. She was concerned about the baggage some fostered children come with and how it could affect her family. For example, some fostered babies are born to mothers with drug problems and they suffer withdrawal in their first months.
But during the very first lecture her fears were trumped by her understanding of children's need for a family environment. She soon realised that her own family could definitely host another child.
The assessment process after the course was arduous. Ms Micallef recalls that the assessors took into consideration the couple's parenting skills, to ensure they had adequate knowledge and skills to raise a child who had suffered trauma.
Their sexual orientation did not feature in the assessment, she said, adding that anyone with sufficient parenting skills can foster, including single people.
Her elder daughter, Pat, had a one-on-one with social workers. She too was a bit scared due to stories of conflict between biological parents and carers, but was more annoyed at her friends' remarks that Tina was not her sister.
And although she wanted a sibling, Pat, originally raised as an only child, thought it would be difficult to share her space with a competitor.
"I do have to share the attention I used to get from my relatives, but now it is definitely more fun. Now my happiness is larger than my fear," she said.
*Names have been changed
Call for foster parents
Appoġġ has launched a campaign urging people to take up fostering, as data shows that only half the children in out-of-home care are fostered.
By the end of 2017, 230 children out of the total 480 who are not living with their biological parents were being fostered, by 208 carers.
Figures presented during the launch of the campaign 'Open your heart and your home – Choose fostering' show a drop from 60 new foster carers in 2011 to 16 in 2015. The number of new carers, which reached a low of seven in 2016, increased to 39 last year.
The fostering service within Aġenzija Appoġġ can be contacted on 2295 9000, 9901 0533 or 9955 7704 during office hours or through the Facebook page Fostering Service – Malta.
Roann Avallone and Elaine Micallef, whose sexual orientation did not feature in their fostering assessment. Anyone with sufficient skills is allowed to be a foster carer. Photos: Jonathan Borg
Independent journalism costs money. Support Times of Malta for the price of a coffee.
Support Us