Updated 5.30pm with Nature Trust statement
The Environment and Resources Authority is investigating a social media post suggesting thousands of bees are being poisoned in Comino.
Dramatic photos show piles of the insects trapped in plastic bottles, dumped in buckets on the island.
"Thousands of honey bees are being destroyed by venomous traps? Why? Where is the authority?" asked social media user Renzo Desira, who uploaded the photos and videos on Monday.
The post caused outrage, with many lamenting the lack of the authority's enforcement.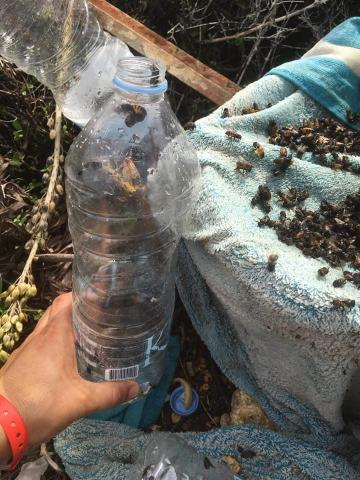 The bees are being killed in Comino. Photo: Renzo Desira
How irresponsible can this country get, one social media user asked.
The ERA told Times of Malta that it was aware of the incident and was actively investigating it.
Some 220 beekeeping hives containing 250,000 bees were intentionally destroyed in the area between Għarb and Għasri in Gozo two years ago.
Nature Trust calls for public information campaign
Nature Trust said in a statement it was disappointed and concerned about the reports, noting bees were very important pollinators of most plants.
"Should media reports hinting at venom traps or poison turn out to be correct, one wonders the motive behind such actions and urges the Environment and Resources Authority and the Police to take action and find who was responsible," Nature Trust said.
The NGO called for authorities to embark on a campaign informing the public about the importance of such species to the ecosystem.
Reacting to a report in Times of Malta of a 'shanty town' in Comino, Nature Trust said Comino had to be taken seriously.
"Being one of the very last areas in the Maltese Islands with less human impact than other parts of the islands, it is shameful to have been forgotten and left as a free for all with minimal law enforcement," it said.
Independent journalism costs money. Support Times of Malta for the price of a coffee.
Support Us