Even though the spectacle probably prevailed over the spiritual, the Good Friday processions in many localities offered those present an occasion to follow Jesus on his path of "humiliation", as Pope Francis said on Palm Sunday.
The traditional processions, involving the participation of well over 1,000 people and costing thousands of euros to organise, are held in over 20 localities and are the culmination of the Holy Week activities, starting with Palm Sunday and ending with Easter Sunday tomorrow, the Catholic Church's biggest feast.
Apart from statues depicting salient episodes from the Passion of Our Lord, the processions, which date back to as early as the 16th century, also included people in period costumes and brass bands playing funeral marches.
In some localities visitors could also see people donning tunics and with faces covered carrying wooded crosses or pulling heavy chains. Some even crawled on their knees.
Around 10,000 people kept up the Good Friday penitence and walked 22 kilometres from the Mellieħa parish square to the Floriana Granaries during the night to raise money for Puttinu cancer support group. Photo: Puttinu
Traditionally, they are people asking God for some special grace and thanking the Lord for having their prayers answered.
After another quiet day today, the Church turns into a jubilant mood tomorrow to celebrate the resurrection of the Lord. In various localities this is marked by the procession of the Risen Christ and the blessing of the traditional figolli.
Yesterday, fundraisers walked from Mellieħa parish square to the Granaries in Floriana in aid of Puttinu Cares.
Organised by youth group Maltese Christian Democrat Students, the Mixja Ġimgħa l-Kbira started just after midnight and saw 10,000 people making the 22-kilometre route.
The crucifixion of Jesus Christ was re-enacted at Għajnsielem in Gozo yesterday afternoon. Photo: Daniel Cilia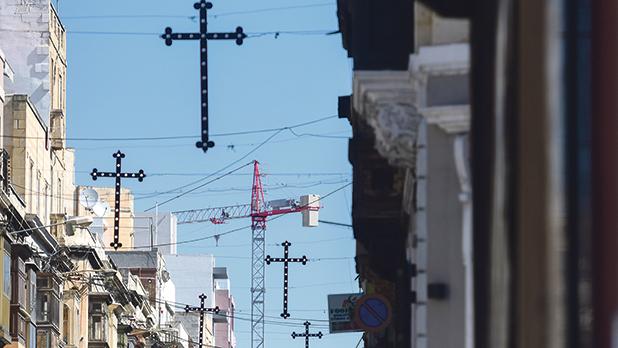 A stark contrast between the cross, which symbolises the crucifixion of Jesus Christ, and tower cranes, considered by many to be the new environmental crosses. Photo: Jonathan Borg