10 years ago - The Times
Saturday, December 6, 2008
Public transport reform takes shape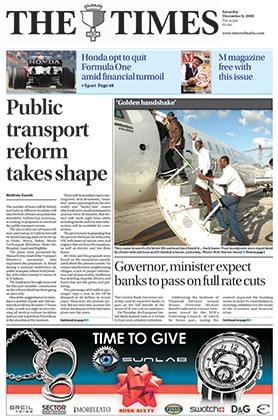 The number of buses will be halved and hubs in different localities will take the bulk of buses away from the disorderly Valletta bus terminus, according to proposals to overhaul the public transport system. The idea is that not all buses will start and end up in Valletta but will be shared among nodes to be set up in Paola, Marsa, Rabat, Mosta Technopark, Birkirkara, Mater Dei Hospital, Luxol and Buġibba.
The plans were presented by Manuel Delia, head of the Transport Ministry's secretariat, who explained the proposals in detail during a national conference on public transport reform held yesterday in St Julian's.
The conference brought to an end the first part of public consultation on the reform which has been going on since July.
One of the suggestions is to introduce a number of park-and-ride systems that will run for some 17 hours a day, as well as a night service running all week to various localities and not just to and from Paceville as is the situation at the moment. There will be main line routes running every 10 to 30 minutes, "crossline" routes operating from the new nodes and "feeder-line" routes which will serve small communities and run every 30 minutes.
25 years ago - The Times
Monday, December 6, 1993
MLP may consider Tabone as President for 2nd term
The Labour Party could give serious consideration next year to the nomination of President Vincent Tabone for a second term, Labour leader Alfred Sant told information secretaries of the party yesterday. Dr Sant made his remark as he listed issues likely to be on the political and economical agenda next year. Among them would be the cost of living, the introduction of Value Added Tax and local councils.
Also on the agenda will be the President's office, with President Tabone's five-year term ending in April. Dr Tabone's presidency started inauspiciously, socially boycotted for almost three years by the Labour Party up to just after the 1992 elections. The boycott was ordered because the government did not implement constitutional chan­ges that were the subject of a preliminary agreement in the select committee talks on con­stitutional changes, including the way the President is appointed. Dr Tabone was a member of the committee.
Dr Sant told a political conference that a future Labour government would fight against all sorts of division in Maltese society and concentrate on the need for unity. It would also give a vision of the country as it was, accept its size and go on from there.
Half a century ago - Times of Malta
Friday, December 6, 1968
Girls training as air hostesses
The second group of prospective Air Melita hostesses will be leaving on Tuesday to undergo three weeks training in Kansas City, Missouri. Included in the party are: Laurena Aquilina Clews, 22, of Sliema; Doris Camilleri, 20 of Paola; Josephine Vella, 22, of Qormi; Grace Tonna Barthet, 26, of Sliema; Agnes Borg, 21, of Mellieħa; Theresa Borda, 25, of Kalkara; Josephine Brincat, 20, of Qormi; Mary Anne Zammit, 22, of Birżebbuġa; Carmen Fenech, 22, of St Julian's; Esther Pace, 25, of Ħamrun; Doris Spiteri, 22, of Marsa; Gina Zammit, 20, of St Julian's, and Catherine Formosa, 21, of Żejtun.
Sugar for Christmas
For the Christmas rationing period which begins on December 15 the current ration entitlement of sugar is to be doubled.
US Sixth fleet units' visit
The US aircraft carrier Independence and a squadron of destroyers of the US Sixth Fleet will tomorrow anchor at St Paul's Bay and will move to Grand Harbour on December 10. The Independence will fly the flag of Rear-Admiral WE Lemos, Commander, Carrier Division Four. The units will leave on December 16.