10 years ago - The Times
Wednesday, March 18, 2009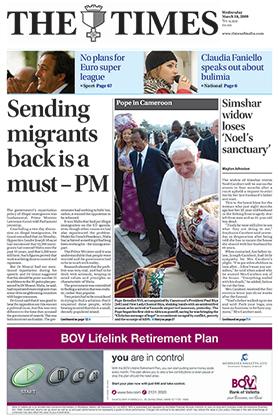 'Sending migrants back is a must' – Prime Minister
The government's repatriation policy of illegal immigrants was fundamental, Prime Minister Lawrence Gonzi told Parliament yesterday.
Concluding a two-day discussion on illegal immigration, Dr Gonzi remarked that on Monday, Opposition Leader Joseph Muscat had mentioned that 12,000 immigrants had en­tered Malta over the past 10 years, and that 5,200 were still here. Such figures proved that work was being done to control and repatriate.
Simshar widow loses'Noel's sanctuary'
The widow of Simshar victim Noel Carabott will be out on the streets in four months after a court upheld a request to evict her by her late husband's father and aunt.
This is the latest blow for the woman who just eight months ago lost her 33-year-old husband in the fishing boat tragedy that left three men and an 11-year-old boy dead.
"If only he were still alive to see what they are doing to me," Stephania Carabott said yesterday in desperation after being told she has to vacate the house she shared with her husband for 10 years.
25 years ago - The Times
Friday, March 18, 1994
PN to nominate Ugo Mifsud Bonnici as next President
Dr Ugo Mifsud Bonnici is to be nominated by the Nationalist Party's parliamentary group to become the next President of Malta.
The nomination is expected to be formally made on April 4 when President Vincent Tabone's five-year term expires. Dr Mifsud Bonnici, 61, will be the fifth president since Malta became a republic in 1974. He has been an MP since 1966 and education minister since 1987.
Informed sources said yesterday no agreement had been reached between the government and the Opposition on a person to succeed Dr Tabone.
The Labour Party said it agreed with a proposal made by the government about a person to be appointed to the post. But since the government wanted the term to last for five years and the Opposition wanted it for three, it would oppose the nomination.
The MLP said it would be better for the Maltese people if the next President were to be nominated for a three-year term. In that way, a new administration could at a reasonable time after the general election be able to nominate persons for national institutions that would correspond to the change in the political climate which a gene­ral election brought about.
Half a century ago - Times of Malta
Tuesday, March 18, 1969
Master plan for Gozo
The preservation of the rustic environment of the sister island is the main aim of the development plan for Gozo made public yesterday at the Gozo Civic Council, Victoria.
"We should not be so greedy as to attract too many tourists. Too many hotels in Gozo spoil the natural characteristics," remarked Mr T. Sieczkowski, the United Nations Physical Planning Adviser to the Maltese government. Mr Sieczkowski was present at the press conference chaired by Dr C. Caruana, Minister of Public Building and Works, when the master plan was announced.
The long-awaited plan earmarks developments for the coming 12 years and proposes no hotel development at Ramla and San Blas, two bays on the north-eastern side of Gozo, bordered by the agricultural zone from Żebbuġ to Qala.
Fireworks factory blows up at Naxxar
A small fireworks factory at L-Għadira tal-Way, Naxxar, blew up with a shattering explosion last night, plunging the village in total darkness and scattering masonry and soil over a wide area. No one was injured.