10 years ago The Times
Friday, November 14, 2008
Pullicino Orlando slams St John's museum plans
Nationalist MP Jeffrey Pullicino Orlando yesterday called on the government to divert funds allocated for the "extravagant" underground extension of St John's Co- Cathedral Museum in Valletta to the restoration of forts St Elmo and St Angelo. He called for the exploration of cheaper and more viable alternatives, including exhibiting some of the museum items in a nearby palazzo.
The argument is aligned with that of environmentalists, with whom he had fallen foul following the controversy that had surrounded an application for an open-air disco on ecologically sensitive land the MP owns in Mistra. Yesterday's was the first public position taken by a Nationalist MP against the project.
Judge denies conflict with judiciary's code of ethics
Judge Lino Farrugia Sacco has defended himself for the first time against the claim that his involvement with the Malta Olympic Committee breaches the judiciary's code of ethics, quoting a judgment of Chief Justice Vincent DeGaetano who sits on the Commission for the Administration of Justice.
25 years ago - The Times
Sunday, November 14, 1993
Action taken against bank employee who flagged abuse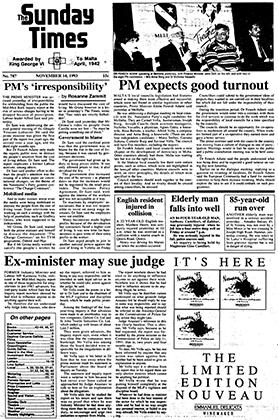 Former prime ministers Dom Mintoff and Karmenu Mifsud Bonnici had been asked to take action against abuses at Mid Med Bank but instead the bank took action against the person pointing out the abuses, Dr Wenzu Mintoff, chairman of Alternattiva Demokratika, said yesterday.
The person indicating the irregularities was Dr Mintoff himself, who at the time was employed at Mid Med Bank's legal office. Dr Mintoff was speaking yesterday at a news conference about the report by the board of inquiry which looked into irregularities in advances by Mid Med Bank before May 1987.
New Hilton hotel by 1997
George Fenech, managing director of Spinola Development Co. Ltd, which owns the Malta Hilton, and Michael Hirst, chairman and chief executive officer of Hilton International, who manage the hotel, recently signed an agreement in London for the building of a brand-new deluxe hotel of 300 rooms, all facing the sea, to be built on the grounds of the existing site.
The new hotel involves an investment by Spinola Development Co. Ltd of over Lm10 million.
Half a century ago - Times of Malta
Thursday, November 14, 1968
Cinema owner fined
Emmanuel Baldacchino, 48, owner of the Embassy Theatre, was fined £5 by Magistrate Dr C. Schembri yesterday for having permitted Mario Galea and Emmanuel Ellul, both minors, to see a film which had been classified AO by the local censors. The incident took place at his theatre on August 11 during the 2pm show of the film Doctor, You Have Got To Be Kidding.
Air Melita hostesses selected
Mr J.M. Mathis, director of Air Melita, last night at the Malta Hilton introduced the 19 young ladies selected to undergo a three-week course in the US leading to a qualification as airline hostesses.
The girls are Irene Attard, 23, of Balzan, Monica Calleja, 23, of Sliema, Vinnie Camilleri, 21, of Cospicua, Evelyne Agius, 21, of Tarxien; Margaret R. Farrugia, 21, of Santa Venera, Gloria Cali, 24, of Sliema, Therese Mizzi, 24, of Gżira, Frida Mallia, 21, of Paola, Josephine Cordina, 21, of Sliema, Mary Darmanin, 24, of Tarxien, Marlene Micallef, 23, of Sliema, Mary Polidano, 21, of Balzan, Victoria Vassallo Gatt, 26, of Sliema, Myriam Grech, 21, of Paceville, Catherine Farrugia, 23, of Qormi; Vivian Formosa, 23, of Msida, and Rosemary Costa, 21, of Ħamrun.