10 years ago - The Times
Monday, September 1, 2008
PM determined to control spending, increase revenue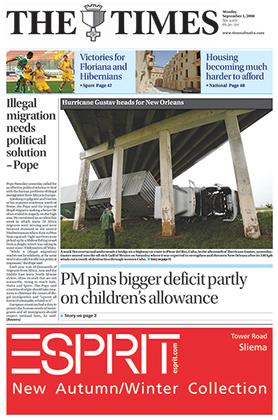 The payment of children's allowances to every family in January, which the government had not forked out in 2007, was one of the reasons for the widening of the financial deficit by 36 per cent in the first seven months over the same period last year, Prime Minister Lawrence Gonzi said yesterday.
It was, therefore, obvious that the first half of 2008 would see a greater expenditure than the previous year, he said, expressing the government's commitment, nonetheless, to meeting the deficit target it had established in the last Budget.
The government was determined to control its expenditure, which was higher than estimated, and continue increasing its revenue, which was higher too, remaining confident that "the economic rhythm is strong enough".
As to whether promised income tax cuts could be ruled out given the government's current financial situation, Dr Gonzi said "the final decision on whether they will be implemented and, if so, how, will be taken when a good analysis of surrounding economies and Malta's is carried out by the start of October".
The fact that the UK economy and that of other countries is not passing through a positive period was cause for concern, he said.
25 years ago - The Times
Wednesday, September 1, 1993
New hunting regulations to come into force on January 1
New regulations on hunting and trapping are expected to be published in the coming weeks. The regulations will come into force on January 1.
The Environment Secretariat said yesterday evening that new regulations on bird protection had nearly been finalised. It was planned than an Authority of Verification (a non-executive body that advises the minister on hunting regulations) be set up before the new regulations are issued.
Yesterday afternoon hundreds of hunters met outside the Environment Secretariat in Floriana to give vent to their anxiety. The hunting season opens today and lasts until May 21.
But a delegation from the Association for Hunting and Conservation came out disappointed from a one-and-a-half-hour-long meeting with the Parliamentary Secretary for the Environment, Dr Stanley Zammit.
They told angry hunters outside that Dr Zammit would not reveal the new regulations.
Association president Joe Perici Calascione told a press conference later in the evening that the association had presented a set of proposals to Dr Zammit incorporating both bird protection and hunting regulations.
Half a century ago - Sunday Times of Malta
Sunday, September 1, 1968
Heart transplants are now accepted – Maltese heart specialist interviewed
Several heart transplants have now been performed and this sensational operation, first performed in South Africa by Professor Christian Barnard, is accepted in professional circles as a perfectly feasible surgical intervention.
Dr Victor Captur, MD, BSc, FACC, who was asked to give his views on heart transplants said in an interview at his Sliema home that the feasibility of the operation has been amply proved by Professor Barnard, Dr V. Cooley, of Houston, Texas, and others who have also performed a number of heart transplants. In fact Dr Cooley has stated that he can perform a transplant in about 45 minutes. Though the operation itself is straightforward enough, the problems are many and serious.
The main difficulty is the availability of donors. This, said Dr Captur, must be overcome by educating the public. The situation was the same in the early days of blood transfusion.
Dr Captur was asked what type of patient would benefit most from a heart transplant and in which cases would a transplant be advisable.