This month is particularly cold and January sees us spending more time indoors to recharge our minds and bodies after the recent festivities.
The fresh food we find shifts by season and there is a distinct difference in the market especially when it comes to fresh fruit, herbs and vegetables. January is for stirring soups and making nourishing homemade comfort food that is full of flavour by using the winter produce that is harvested this month and creating simple meals that are amazing at the same time.
Apart from the local strawberries and raspberries, zucchini, fresh green garlic and Jerusalem artichokes, the imported produce such as celeriac, swede, parsnips and rhubarb are becoming very popular.
I like to start the day with a hot drink of lemon and fresh ginger that really warms the body and helps me to get out of bed. Nibbling on root vegetables or roasted kaboċċi squash and spaghetti squash throughout the day instead of pre-packaged snacks is an inexpensive and healthier option for all the family.
Photos: Stefan Stafrace, CJ Baldacchino, Felix Cesare
Katsu Curry Soup
You will need:
1 tbsp vegetable oil
1 onion
4 cloves garlic
1/2 kilo carrots or butternut squash or a mix of both
2 tbsp mild curry powder
300-500ml water
1 all natural stock cube
1 tbsp agave or use stevia [or honey if you are not vegan]
1 bay leaf
1 tbsp tomato puree
4 tbsp soy sauce
1 tbsp grated fresh ginger
1 tbsp oon garam masala
To garnish:
fresh coriander
This soup is ready to serve in roughly half an hour. Roughly chop the vegetables. Remove the seeds from the butternut squash but leave the skin on.
Place the oil in a large pot over low heat and add the curry powder, garam masala and grated ginger. Allow the spices to infuse over low heat. Add the onion, garlic, water and all-natural stock cube. Stir, then add the butternut squash and/or carrots. Stir again, turn up the heat and bring to a boil. Add the soy sauce and tomato puree and simmer on low heat for 25 minutes. Remove from heat. Add the agave or honey [or stevia] and blend the soup by using a hand held blender or liquidiser until it is smooth and consistent in texture.
Finely chop the fresh coriander. Add half of it to the soup and mix it in.
Serve the soup in individual bowls and garnish with the rest of the chopped fresh coriander.
This is a gluten-free, lactose-free, nut-free and diabetic-friendly recipe.
Sage and Cinnamon Tea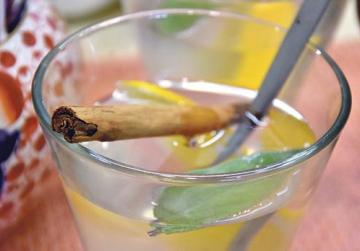 You will need:
6 cups filtered or bottled water
20 fresh sage leaves
2 cloves
1 vanilla pod
8 cardamon pods
1 large cinnamon stick
4 tbsp agave or honey
Pour the filtered or bottled water with the cloves, vanilla pod, cardamom pod and cinnamon stick into a large pot. Bring the water to a boil and simmer for 5 minutes. Turn off the heat and add the sage leaves. Stir. Cover and allow the leaves to soak for an hour. Strain the leaves and spices and add agave or honey if you like. This can also be added when you serve the tea. The sage and cinnamon infusion can be stored in the fridge for 2 weeks. Heat to serve and add hot water if you prefer a weaker infusion.
This is a vegan, gluten-free, diabetic-friendly recipe.
Black Pudding [Mazzit] with Celeriac and Kohlrabi Mash
You will need:
1 black pudding
2 tbsp olive oil
1 celeriac, peeled and cut into chunks
1 kohlrabi [gidra]
2 cloves garlic
1 bay leaf
1 all natural stock cube
500 skimmed milk
Pinch of grated nutmeg
1 tbsp mascarpone
Salt and white pepper
Peel the celeriac and kohlrabi and chop them into small pieces.
Place them in a large pot with the whole garlic, stock cube and bay leaf and immerse in the milk.
Season with salt and white pepper. Cover the pot and bring to boil. Turn down the heat and simmer for half an hour until the vegetables are tender. Remove from the heat. Strain half the liquid and remove the whole garlic cloves and bay leaf. Use a hand-held blender or liquidiser to puree the vegetables and if required add more of the reserved liquid gradually until you have a smooth consistency. Add the mascarpone and a tablespoon of the olive oil and stir, then blend again.
Cut up the black pudding into thick slices. Heat the olive oil in a large pan. Cook the black pudding for 4 minutes on each side. Place on kitchen towel to absorb the excess oil.
Serve on a bed of celeriac and kohlrabi mash and garnish with finely chopped parsley. This recipe is nut-free.
Rhubarb and Ginger Jam Sweetened with Stevia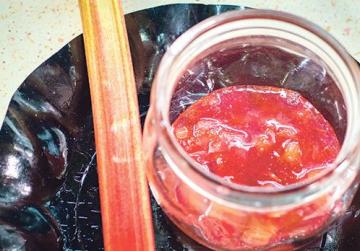 You will need:
250g rhubarb
250g apples
4 tbsp fresh grated ginger
Juice of 2 lemons
grated zest of 1/2 lemon
1 vanilla pod
6 tbsp Stevia
Peel the apples and chop them. Chop the rhubarb. Place the chopped fruit in a large pot. Mix together with the fresh ginger and lemon juice.
Cook over moderate heat until the fruit starts to soften. Add the lemon zest and vanilla. Stir frequently and bring to boil. When the fruit has softened, add the stevia.
Continue to cook until the jam is a thick consistency. The elimination of refined sugar produces a different consistency to traditional jam. Pour the hot jam into sterilised jars. Store in the fridge for up to 2 weeks. If you would like a smooth consistency, puree the jam by using a hand blender.
This recipe is gluten-free, lactose-free and diabetic-friendly.
Lea's new book Good Food Everyday is available via Midsea Books and in most bookstores in Malta and Gozo. You can watch Lea cook everyday on Smash TV and find more of her recipes on www.timesofmalta.com.
Independent journalism costs money. Support Times of Malta for the price of a coffee.
Support Us