Nothing could have stopped the iconic Azure Window succumbing to its watery death. The most the authorities could have (possibly) done is to somewhat prolong its life until nature decided to take its toll.
Its eventual collapse was always going to be treated with shock, amid a chorus of sadness, and therefore it was no surprise reading the rock's obituaries on social media. Some comments were really akin to losing a loved one.
We need to rage against the machine not against nature's rage
But while the country unites to mourn the loss of Gozo's most wonderful landmark, I find it somewhat ironic that very few show any inkling of bother as Malta keeps losing its wonderful history and environment at the altar of greed and recklessness.
With the exception of the usual NGOs and a growing number of people whose idea of expressing their objection/concern is by simply posting a rant on Facebook, Malta risks seeing more of its wonderful monuments fall victim to inertia. While we express shock at nature's rage, we choose to sit and watch unperturbed as politicians and businessmen run amok.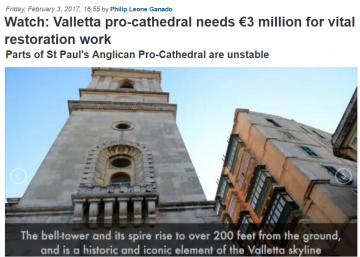 Where's everybody when countless precious historical monuments continue to be dwarfed by tasteless apartment blocks?
Where was everybody when the Nationalist government savagely extended the development zone boundaries in 2006?
Why have a geologist's warnings about the Tigne project's potential danger caused by an "unstable cliff" been plainly dismissed?
Why did a Times of Malta story exposing the instability of Valletta's historic St Paul's church (yes the one we love showing off on postcards) hardly ruffle any feathers?
Where was everybody when the Labour government decided to give the go-ahead to a so-called university over pristine land at Żonqor?
Why is nobody saying anything about the 300-year-old fortification in Marsascala which is falling to pieces?
Where's everybody as St George's Bay land is given away to hoteliers for a pittance?
The list is endless.
We couldn't do anything about the Azure Window's fate but civil society can do so much to protect monuments and nature we can ill afford to lose. We need to rage against the machine not against nature's rage.