The number of homeless children in Malta is on the rise, with an especially alarming increase in the number of minors aged four or under being referred to homeless shelters.
A YMCA study released on Wednesday showed that last year, 40 children under the age of four were referred to one of the organisation's homeless shelters - five more than in 2021.
The study, 'Homeless Human Evolution' carried out a quantitative and retrospective analysis of homelessness in Malta over the past 10 years.
All the data in the report is based on the direct experiences of people who have lived at YMCA Malta shelters.
Researcher Julia Chetcuti said the increase in referrals of children aged four and under was "a clear indication that whole families are increasingly becoming at risk of homelessness."
In 2020, there were 32 referrals and 21 in 2019. In 2012, there were no referrals.
517 homeless children in a decade
The YMCA study found that in the past 10 years, 517 children under the age of 18 were homeless.
Last year, 17 children between the age of five to nine years old were referred to a YMCA shelter, 12 between the age of 10 to 13, and another 13 between the ages of 14 to 17.
YMCA CEO Anthony Camilleri said this is a step away from the usual trend the shelter has seen in the past.
"The fact we are dealing with young families who are now becoming homeless sheds light on the structural injustices they face. Such a discovery should lead us to strengthen further the Maltese family structures, rent issues, and the rising cost of living."
According to NSO statistics, a fifth of the population was at risk of poverty or social exclusion in 2021.
'Five months pregnant and sleeping in a car'
The report also includes a series of accounts from individuals who sought shelter and support at YMCA Malta.
Mary, a 33-year-old woman, was five months pregnant when she was referred to YMCA by the Domestic Violence Unit.
Prior to that, she had been sleeping in a car for two months due to physical and emotional abuse.
Later, with the help of a social worker, Mary was referred to a second-stage shelter for victims of domestic abuse.
Another story involved Carmen, who was living a "fairytale marriage" with her two sons and daughter until her husband died.
"With three young children to take care of and no one to help and support her, Carmen found it hard to cope and come to terms with her husband's sudden death," the story read.
Without any form of employment or income, Carmen ended up being homeless.
After she sought help at YMCA, she was referred to Dar Niki Cassar (YMCA shelter) and was able to come to terms with her husband's loss and rekindle her relationship with her own mother.
"Today, Carmen is gainfully employed, lives independently, provides for her children and managed to find love once again."
The YMCA definition of homelessness includes those people that are roofless without a roof over their head and living on the streets, people living in insecure and inadequate housing and people who are homeless and living in institutions.
The concerning study statistics shed light on the trends and evolution of homelessness, with the aim to understand if the number of homeless people increased or decreased in recent years, and to understand the person behind the figure- their nationality, age groups, and the issues that led them to homelessness.
The most common homeless person in Malta is aged 25 to 34 (762 referrals in 10 years), followed by 18-24 (683 referrals) and 35 to 44-year-olds (593 referrals).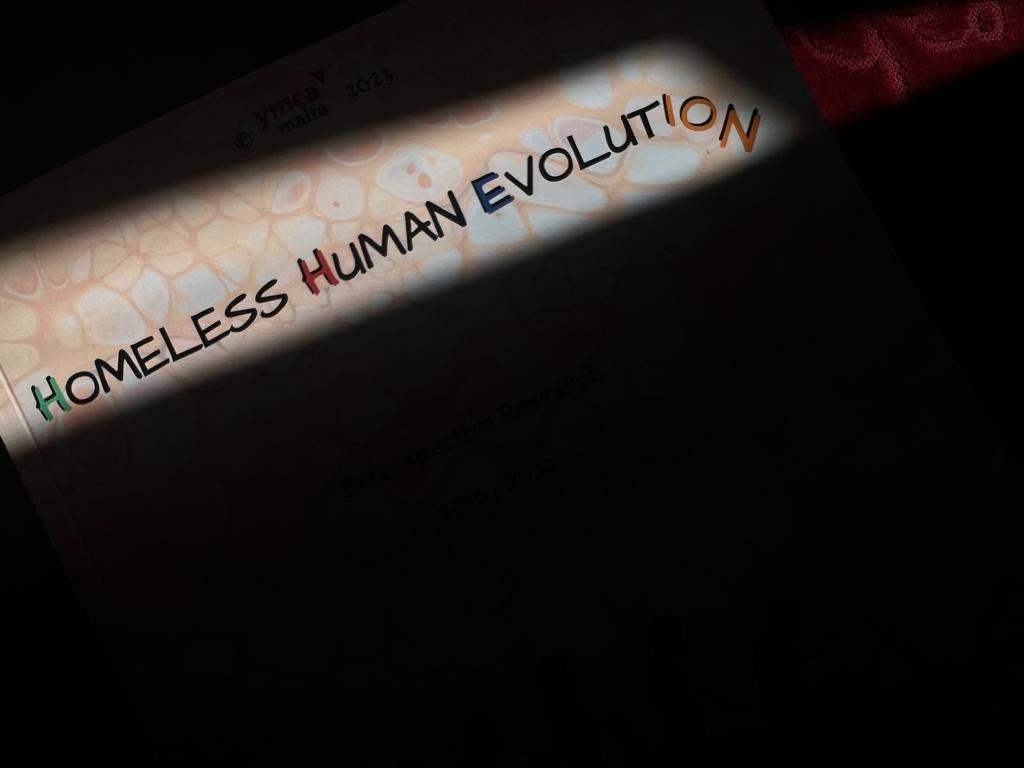 The study provides a look at homelessness in Malta in the past 10 years. Photo: Jonathan Borg
Financial issues top reason for homelessness
The study also delved into the reasons which lead individuals to homelessness.
Financial issues have played a predominant part in such decisions over the past decade, Chetcuti noted.
But the researcher also warned that in the majority of cases, homeless individuals find themselves in such a situation for more than just one reason.
Last year, the top three reasons leading to homelessness were financial issues, family issues and domestic violence and immigration.
Camilleri confirmed that last year they saw an increase in domestic violence victims seeking shelter at YMCA.
The most common reasons denoting homelessness between 2012-2022. Credit: YMCA Malta
In a Times of Malta article last year, it was revealed that survivors of domestic violence are struggling to become financially independent.
The report highlights that poverty, unemployment, family conflict, and domestic violence are all reasons which lead people to homelessness.
It continues that some of these factors have worsened in recent years due to the pandemic-induced recessions, with the increase in property prices, cost of living and unemployment and also an increase in migration.
The way forward?
In its conclusions, the report highlights a number of suggestions to improve the situation.
The need for more emergency shelters, so to ensure people are not left roofless, and that people should not live in an emergency shelter for longer than necessary to transition to a more permanent solution.
Another point is that evictions should not be allowed. Chetcuti mentioned how there were referrals who are working migrants but were evicted from their accommodation.
"If a person is to be evicted, a suitable alternative solution to accommodation is to be identified," the report concludes.