New Labour leader Robert Abela promised continuity and change in his inaugural address to supporters on Sunday.
"We did a lot of good in the past seven years. Let's be proud of it and continue to build on it... We still have a lot to do," he told supporters at the Corradino Sports Pavillion hours after beating Chris Fearne to the post.
"We will transform continuity into stability. That is a recipe that worked and gave us many successes so let us continue to follow it. It expanded the economy and made the country strong."
But to ensure continuity, changes were also needed.
"I will implement the necessary changes. We made mistakes but we learnt from them and they will not be repeated. Only those who do nothing do not make mistakes," he said.
Dr Abela promised to strengthen the rule of law and good governance but said he would also ensure that the government was allowed to govern.
"The government has a duty to govern and you have to let us. This is democracy," he said.
The venue where the new Labour leader delivered his speech, had started filling up with enthusiastic supporters from as early as 3pm.
President Emeritus George Abela joins Labour Party supporters to listen to his son Robert's first address as party leader. Photo: Matthew Mirabelli
The supporters included Dr Abela's proud father, President Emeritus George Abela, who had served as deputy leader of the Labour Party during the Alfred Sant administration.
Before starting his address, Dr Abela walked through the crowds, with many hugging him and taking selfies, before being welcomed by ministers and parliamentary secretaries. Deputy leader Chris Fearne, who lost to Dr Abela, was conspicuous by his absence.
However, during his address, Dr Abela said that he had spoken to Mr Fearne in the morning and appreciated his congratulatory message on social media.
"I appreciate your friendship and your candidature. Together, we will continue working for the party," he said.
Dr Abela was elected party leader on Saturday with a 57.9% of the vote after a race with Dr Fearne, who for a long time had been considered the favourite to win the race.
Dr Abela replaces Joseph Muscat, who was forced to resign after the investigation into the murder of journalist Daphne Caruana Galizia implicated his top aide.
The new leader will be sworn in as Prime Minister on Monday.
Photo: Matthew Mirabelli
Earlier in his speech, Dr Abela promised that the best days were still to come and insisted life would return to normality as from Monday when he would be sworn in as Prime Minister.
"I will be led by values of integrity and honesty. Let us go back to these principles which are so relevant at this moment in time," he said.
Continuity in #government should not mean no change.
The first priority should be to manage an improvement in #governance, not because government's critics proclaim it for their own sweet reasons, but because it is necessary.

— Alfred Sant (@SantAlfred) January 13, 2020
He said the PL had a talented Cabinet which had to remain united in the country's interest. "We must keep winning to be able to govern and generate more wealth," he said.
While noting that the party was soon marking its centenary, he stressed that under his leadership, he would strive for it to remain loyal to its core values.
Dr Abela said that the party and the country had gone through a difficult time, which was not the PL's fault.
"But you took us out of it. You showed maturity and respect towards each other. I am proud of you. I believe in you and have confidence in each and every one of you. I cannot thank you enough for what you have done for the party," he said.
He added that although every member had their preferred candidate, they had one thing in common. They had the party at heart and the PL had emerged more united than before from this contest.

He insisted he would be keeping Joseph Muscat's "movement" alive and kicking and the secret for the future was to find a balance between reaching out further to people while keeping in touch with the grassroots.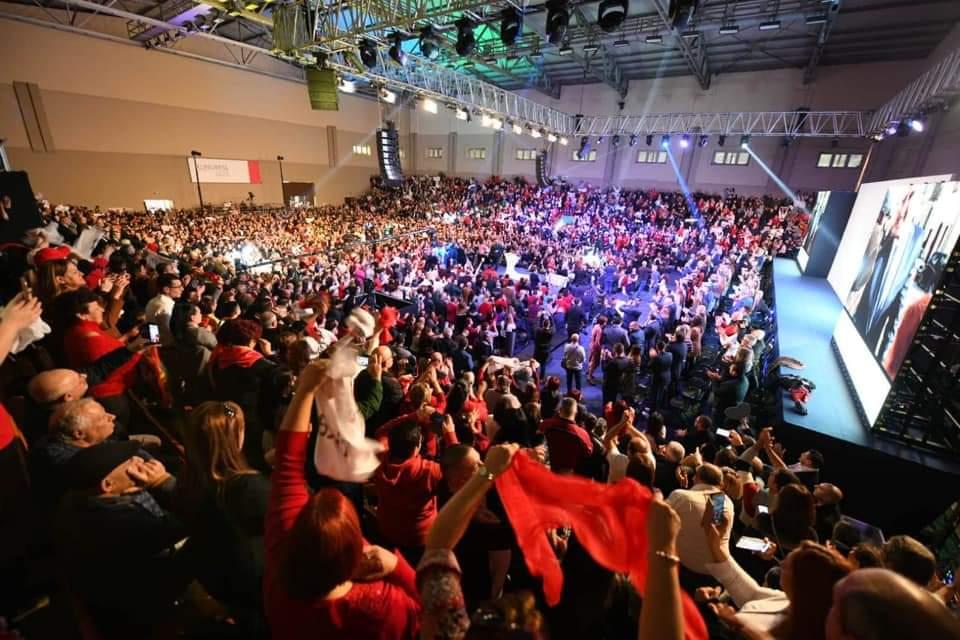 Photo: Labour Party
Speaking about his style of leadership, he said he would be open to recommendations and adopt a bottom-up approach.
"I believe in collegiality and also in a sense of discipline," he said.
Pitching his address to the business community, he said he would do his utmost so that businessmen could make more profits but they had to keep workers close to their heart.
Dr Abela said he believed in the self-employed, pensioners, professionals, and manual and modest workers.
"I have particular faith in young people. I always believed in you and I now want you to be protagonists with me so that together we lead this country forward. We are one family," he concluded.
More of the same - PN
In a statement after his speech, the Nationalist Party described Dr Abela as another version of Joseph Muscat.
It was clear that nothing was to change and his first speech was practically a photocopy of his predecessor's narrative. It lacked substance and did not address the people's difficulties.
And in less than 24 hours, the new leader had already breached one of his promises and instead of condemning the behaviour of Dr Muscat closest friends, such as former minister Konrad Mizzi, he hugged him.
If Dr Abela wanted to be credible he had to dismiss Dr Mizzi and the Attorney General, the Police Commissioner and the head of the civil service, the PN said.
Independent journalism costs money. Support Times of Malta for the price of a coffee.
Support Us