Peter Agius
Nationalist Party MEP elections candidate
The education system is the backbone of our industry, economy and lifestyle. Without good-quality education we cannot achieve our much coveted skills and the manpower employers need to invest in ideas creating jobs and prosperity.
The initial thrust to the first cog in that wheel are the teachers.
As Sidney Hook well puts it: "Everyone who remembers his own education remembers teachers, not methods and techniques. The teacher is the heart of the education system."
Teachers are complaining about this shift in the education system for a variety of reasons and these evolve from the fear of there not being enough teachers to teach the current curriculum, let alone the new applied subjects to the fear that this system needs to be rolled out gradually in the next three years as the students progress from one year to another.
One of the problems seems to be the lack of discussion with the MUT and other teachers' representatives; and although teachers are given the opportunity to input into the syllabus themselves, this seems to be a far too little effort to console them.
Another fear educators have is that some of their colleagues will start teaching these subjects, thus leaving more lacunas in the traditional subjects.
For any reform to be successful, it must be well explained to the stakeholders in advance
Teachers invariably prepare for their classes in advance and some will be given training on these subjects in the coming weeks, but is this enough for them to be prepared? Most of our educators are very dedicated and would spend their summer recess preparing the best teaching methods for their students.
I believe that for any reform to be successful it must be well explained to the stakeholders in advance. Most teachers we talked to are not aware of what is the aim for these subjects and can rely only on hearsay and guesswork.
Our educators need to have the vision to develop our children's skills to make them tomorrow's driving force. Our educators cannot be left in the dark. Right now they are kept asking: what will happen to the rest of the curriculum, how will it be covered, and by whom?
A particular educator fears that the education authorities are also creating diverging levels for children attending different schools, as these applied subjects will only be introduced in State schools and not in Church and private schools.
Our children deserve the best chance for their future and this can only be achieved by motivated educators. Our teachers are ready for rowdy kids, demanding kids, long days in class and a heavy workload, but they do not deserve to be steamrolled on the vision in which they should be protagonists. Let us make sure to keep them in the loop before any other step forward.
Charles Polidano
Democratic Party local council candidate for Qrendi
Are the education authorities being stubborn to insist on the introduction of new applied subjects when teachers say they are not prepared for them?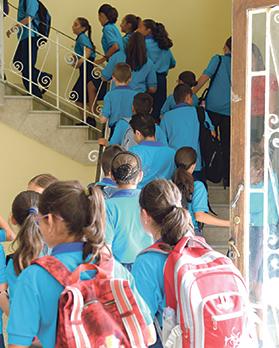 Photo: Matthew Mirabelli
Applied knowledge is actually what makes learning useful and is an empirical way of making education valued. Thus the introduction of applied subjects in our educational system should be applauded; one asks why it was not introduced many years ago.
At first glance, I believe it is a misnomer to consider that in the past years no knowledge was applied in any subject. If that were the case – that applied knowledge has still to be introduced – so much energy and time have been wasted in our schools. Therefore, it is expected that several professional educators will resist the 'pseudo reform' by asserting that they have been doing what is being proposed for many years.
For many professional educators it is not the case that new applied subjects need to be introduced; but it would be more appropriate to modify the syllabi of the respective subjects so that they will have ample time to apply what they have been teaching, and not simply delivering knowledge. In progressive countries (Finland taking the lead) traditional subjects have been discarded to pave the way for 'theme teaching' through 'team teaching'.
For many professional educators, it is not the case that new applied subjects need to be introduced; but it would be more appropriate to modify the syllabi of the respective subjects
The outcry by many educators to modify the content of their subjects has been heard for many years. So why is there perceived resistance for applying know­ledge? And what is making the educational authorities appear as 'stubborn'?
The authoritarian image of our 'educational authorities' is symptomatic of poor leadership, which may bring about bad governance. While authoritarian administrators instruct their 'subordinates' to do what they think is right, good leaders simply encourage the protagonists to want to do what is collectively believed to be right.
Professional educators are not to be treated as 'puppets on a string' with the axiom that financial incentives alone will keep them happy. Respect and pride will not be bought with monetary rewards.
It is a pity that, in spite of the financial incentives incorporated within the new government-union agreement, several professional educators are leaving the profession and students (maybe rightly so) are thinking twice about enrolling in the teaching course.
If the solution is importing foreigners to 'fill up the holes' in our education system, let us hope that these 'required foreigners' are not only qualified and trained as much as our local teachers, but will act as role models and inject enough wisdom into our schools so that all those in the education system – educators and educated – will reach their potential alike.
The Labour Party failed to send their contribution in time for publication.
This is a Times of Malta print opinion piece