Prime Minister Robert Abela skirted a direct question on who will shoulder responsibility over the Steward concession fiasco, during an emergency parliamentary debate about the annulled deal to privatise state hospitals.
Abela simply said that the government's priority following the court ruling was to "continue taking the best decisions in the national interest." He did not elaborate.
He said he also wanted to assure employees working in the three hospitals that their job was guaranteed, as was the health service provided to patients there.
The court on Friday declared as null the Vitals-Steward hospitals deal to privatise the three hospitals, and Mr Justice Francesco Depasquale ordered that all property be returned to the government.
Government and Opposition MPs agreed to suspend parliament's agenda for Monday's session, to make way for an emergency debate focused on the landmark judgement.
In a 40-minute speech laden with political jibes, Abela said Friday's judgment was being used by PN Bernard Grech to strengthen his weak position in the party.
As the sitting degenerated into a shouting match, with continuous interruptions, Abela told PN MP Beppe Fenech Adami: "My cabinet never negotiated with criminals and only granted a pardon for someone to be charged over a heinous crime," referring to the pardon granted by his father, former prime minister Eddie Fenech Adami, to convicted drug trafficker Żeppi l-Ħafi.
"Eleven months ago, the electorate gave us the mandate to govern. People know what I stand for and they know where they stand. I never saw hypocrites like you," he told the Nationalist opposition.
Abela said the deals struck off by the court were all signed before he took office and that he had only been elected to parliament for the first time 15 months after the agreement was signed.
Steward Healthcare had approached his government numerous times to renegotiate its deal, he said, but the government had stood firm and insisted on the original terms.
He said the government filed an application in court on Saturday to shorten the appeal window and a decision will be taken on Wednesday.
"If someone appeals, we will make a request to hear the case with urgency because we need legal certainty," he said.
He also gave assurance that the Queen Mary University of London project in Gozo, which already started its operations, will not be impacted by the Steward judgment.
In a message addressed to investors, Abela stressed that the issue involving Steward Healthcare was "an exceptional case."
"Genuine investors can put their minds at rest that their investment is and will be protected," he said as he cautioned against comments that could repel potential investors.
"We are not perfect but neither are we hard-headed. We will continue changing whatever needs to be changed," he said.
PN MP Adrian Delia addressing parliament on Monday.
Adrian Delia: They defrauded €300 million
PN MP Adrian Delia - who filed the court case decided on Friday - opened the parliamentary debate.
He criticised the government's "four-line reaction" to the case and tabled the 140-page judgment.
It had taken five years, 44 court sittings, 55 witnesses and over 3,000 documents to wrap up, he said. Now, people had to assume responsibility for their actions.
"The total amount defrauded amounted to €300 million. Had I not filed the case, it would have amounted to €4,000 million. The civil court found that there was a premeditated plan to defraud the taxpayer, from before it even started, to during the evaluation process," Delia thundered.
"And then afterwards, instead of stopping them when the government saw no investment, it renegotiated an agreement after the case was filed and promised them a €100 million payout. It's not only abusive and criminal but [also] immoral," Delia stressed to cheers from his colleagues.
"We told them they're fraudsters and they still went ahead to give them more money," he said, noting that the government had allocated €80 million to Steward for this year.
Delia mentioned, among others, past and present finance ministers Edward Scicluna and Clyde Caruana, as well as former prime minister Joseph Muscat as directly responsible for this fiasco.
"Who is going to shoulder responsibility?" he asked as he questioned the due diligence process for Steward to receive a €36 million loan when it had only been set up for a month and only had €1,000 in capital.
Bernard Grech: Government still stunned by judgment
Opposition leader Bernard Grech said he had expected the prime minister to apologise to the nation.
"Instead, he came here and said he has no regrets," he told parliament.
The court judgement had presented proof that the deal was a fraudulent one, the Opposition leader said, and the proof was so conclusive that the government was now too ashamed to appeal.
Grech also pushed back against Robert Abela's argument that he had nothing to do with the hospitals deal.
Abela served as Joseph Muscat's legal adviser at the time when the deal was signed and led the government in opposing votes concerning the deal, Grech noted, even after a critical NAO report laid bare problems with the deal.
But the PN leader also had another line of attack against the prime minister.
In distancing himself from the deal, Abela was unwittingly dumping responsibility for the fraud on all his ministers who served in Muscat's cabinet, Grech said, as he rattled off a list of ministers and parliamentary secretaries who signed off on the hospitals deal.
"We are not pure," the PN leader told the government side of the House. "But at least we're not criminals or fraudsters like yourselves."
Opposition MPs thumped their desks in approval.
Chris Fearne: Steward will not get the €100m
Closing the debate, Health Minister Chris Fearne argued that the government's wait-and-see approach was paying off.
Bernard Grech had promised to immediately cancel the deal if elected, he told parliament, despite the court case still being pending at the time.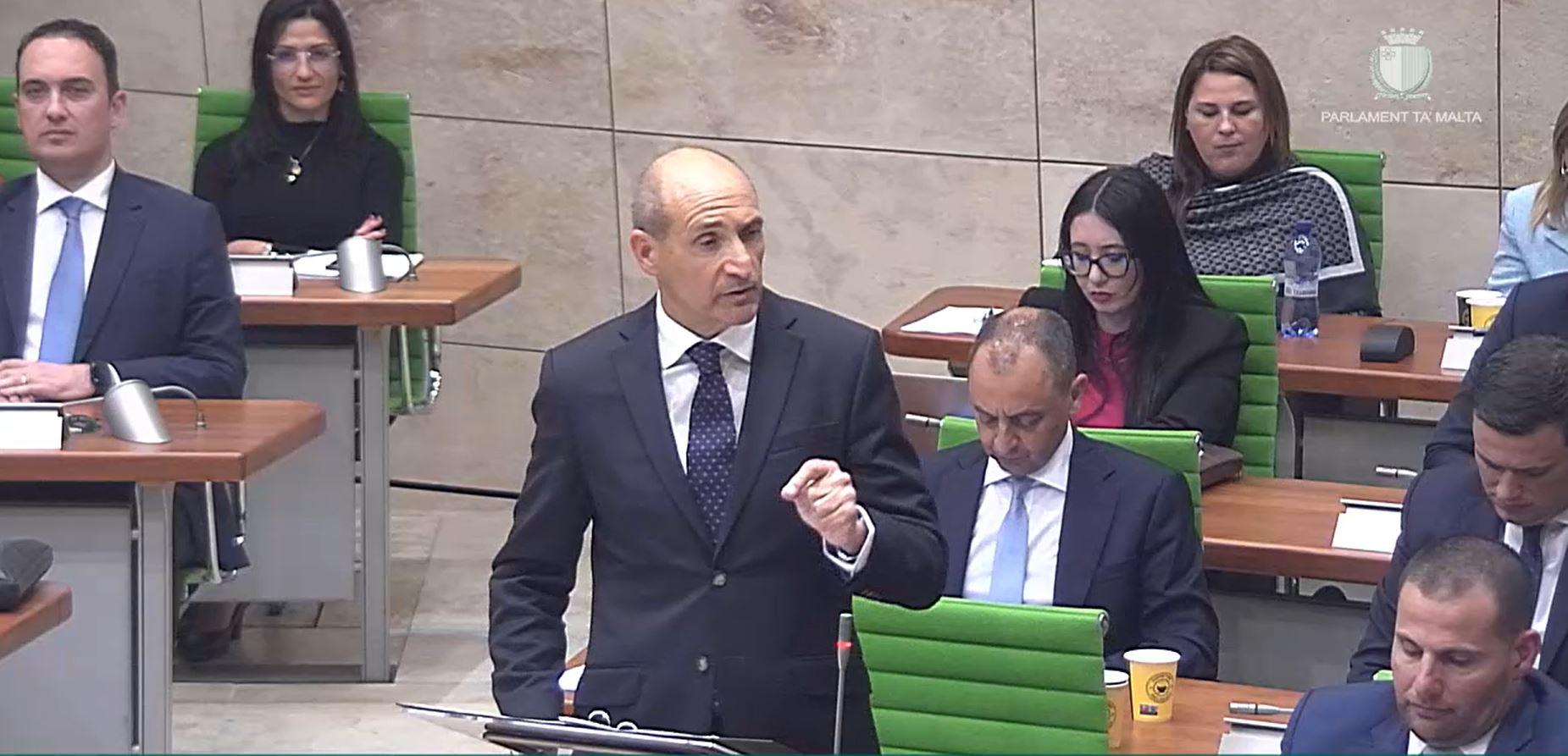 Chris Fearne addressing parliament on Monday.
"If we had done that, Steward would have left. But they would have left with €100 million," Fearne said.
Opposition MPs roared in uproar, with many noting that it was Fearne's own colleague as minister, Konrad Mizzi, who had inserted a clause into the deal guaranteeing Steward a €100m payout if the concession was ended prematurely.
Fearne assured citizens that service at the three hospitals would continue uninterrupted come what may, and said the government was prepared for any eventuality.
The concession was a "big challenge", Fearne acknowledged.
"Even after I became health minister, responsibility for the concession remained in someone else's hands," he said, in a veiled reference to his former cabinet colleague Mizzi, who was entrusted with the project by former prime minister Muscat.