Labour MP Glenn Bedingfield has testified at Friday's session of the inquiry into the events surrounding the murder of journalist and blogger Daphne Caruana Galizia.
Mr Bedingfield, a former official at the Office of the Prime Minister ran a self-titled blog that was highly-critical of Ms Caruana Galizia's work.
At a previous sitting of the inquiry, archived copies of his posts were presented to the board by Ms Caruana Galizia's son, Matthew.
Here's what we learnt in his evidence today:
Glenn Bedingfield began his testimony with a critique of the journalist, describing her as someone who "attacked" public and private people, including children and who destroyed families and lives;
Bedingfield said he set up his own eponymous blog in 2016 to 'rebut what she said' and ended it in 2018, because his work load increased after he became an MP;
He denied that he was employed by OPM 'to attack Daphne' but did not deny that he wrote the blog during work hours;
He wrote 1,000 posts about Daphne, according to lawyers for the journalist, including 597 that had her name in the title;
His activities including blog entries and a programme portraying Daphne as a witch were not an incitement to violence and were instead freedom of speech, he said;
Posts he uploaded showing Daphne Caruana Galizia's car including its number plate were 'a warning to the people to be careful', he said, and not a warning for her;
Former prime minister Joseph Muscat did not ever ask him to tone down the content of his blog;
He says he hopes to put up a new post on his blog in a few weeks time, around Easter.
Refresh the page for live updates.
---
LIVE BLOG
---
Inquiry resumes next week
11.27am That's all for today. The inquiry will resume next Wednesday. Join us then for updates as they happen.
In a few minutes, we'll have a summary of today's testimony above.
Glenn Bedingfield leaves court after testifying in the public inquiry into the murder of Daphne Caruana Galizia. Photo: Mark Zammit Cordina
---
The origin of the Neville Gafà photos
11.20am The inquiry board needs to ask a question to Corinne Vella, Daphne's sister.
They ask her about a dossier of images regarding former OPM official Neville Gafà that she had presented to the inquiry earlier this week.
These included photos of her walking in Valletta with her niece, at the airport, walking her dog and at a garden festival the day before her murder.
They wish to know if she could determine the origin of photos which Gafà claimed to have got from other sites.
She explains that certain photos originated in secret groups to which she would not have access. She says the photos were shared widely, making it difficult to trace the origin of the photo.
---
Security at Castille
11.15am Bedingfield is asked about security at Augberge de Castille, where the prime minister and his team work.
He says there is army security outside but he doesn't believe there is more security inside. Secret service officers are the security detail of prime minister and there are three or four per day.
"As a journalist did you ever experience any instance where security services officers got instructions from OPM to follow any journalist, not just Daphne Caruana Galizia?" he is asked.
He responds: "I know of no such instructions in respect of any journalist or any other person. I find that rather strange."
"We need to find out if there was any link between Castille and the murder, " the inquiry board says.
"No I'm not aware that anything was issued from there," he responds, ending his testimony.
Auberge de Castille. Photo: Matthew Mirabelli
A photo of Daphne's car
11.10am The inquiry board is comparing Daphne Caruana Galizia's blog with Glenn Bedingfield's TV programme.
Inquiry board judge Lofaro says that Caruana Galizia's blog "did not reach out to the masses" while the TV sketch was "was more understandable to the masses".
Bedingfield responds: "Daphne had thousands of followers and when she wrote about the Panama papers, everyone understood her."
Lawyer for the Caruana Galizia family, Azzopardi, points out that Daphne was not a public official at Castille like him.
"So it was not like with like."
He shows the witness a photo he had posted of Daphne in her car, with the number plate visible.
"Why did you do that?"
He responds: "It was a warning to the people to be careful" and denies that it was a warning for Daphne.
He is reminded of a guest post titled "the time is coming".
---
Daphne's memorial 'does not bother me'
11am There are some quickfire questions for Bedingfield.
On 17 Black, the secret company owned by Yorgen Fenech, and linked to offshore companies owned by Konrad Mizzi and Keith Schembri, he is asked if it was discussed in the parliamentary group.
"I was involved in no internal investigation," he replies.
On Melvin Theuma and Yorgen Fenech, the two people accused of being masterminding and arranging the murder, he is asked about whether there was a "sense of getting to the bottom" of the investigation.
"I was shocked like all else. I believe that Melvin Theuma, Yorgen Fenech and the three alleged hitmen were caught because the institutions are doing their job," he says.
About the Daphne Caruana Galizia memorial, that was repeatedly cleared at the behest of the previous justice minster, Bedingfield says: "It does not bother me."
"It does not, I tell you under oath. Indeed, I was the one who suggested there ought to be a memorial in her name."
---
Chris Cardona
10.53am Jason Azzopardi, lawyer for the Caruana Galizia family, asks about Chris Cardona being mentioned in relation to possible involvement in the murder.
When this was reported in 2018, was it business as usual?
"I didn't speak about it," he says. "I don't think the issue was raised in the parliamentary group," he says.
Earlier in his testimony, Bedingfield had described his relationship as "good" and he said that he believed the party's relationship with Cardona, "has not changed".
Chris Cardona (right) and Konrad Mizzi (left) both stepped aside from their ministerial roles during the fallout to the murder investigation. Photo: Matthew Mirabelli
1,000 posts about Daphne
10.45am It is put to Bedingfield that 597 posts written by him had the word Daphne in the title, and others on the subject of the journalist amounted to a total of some 1000 posts her.
Bedingfield says this is "an equal and opposite reaction" to her blog posts.
"You uploaded them while at your office at Castille?" he is asked by Caruana Galizia lawyer Comodini Cachia.
His answer is vague: "There's a difference between being at the office and working. We are not normal government employees, our hours could drag on until late. While at the office we could stop for a break, write something..."
Comodini Cachia responds: "So you're not denying that you may have written those posts while at the office. As a person of trust, did it ever cross your mind that your posts might have had a chilling effect?"
He responds: "It's what we've all been through. I have been insulted, spat upon, attacked out on the streets."
Another of the Caruana Galizia lawyers, Andrew Borg Cardona stands up at this stage. "Mr Glenn Bedingfield wears many hats: person of trust; public official; etc. His writings were intended to create the climate that led to her murder."
The observation is objected to by Bedingfield's lawyer, Veronique Dalli, who says that it is "a gratuitous observation."
On the issue of him posting personal photos about Caruana Galizia, Bedingfield responds: "She did the same. What interest is there if I went to the Manoel Theatre alone etc?"
An archived post from Glenn Bedingfield's blog.
A screengrab from a blog post by Daphne Caruana Galizia on Glenn Bedingfield.
Did the PM ask you to moderate your tone?
10.36am Bedingfield is asked further questions about his blog, including whether the prime minister ever spoke to him to moderate his tone.
He did so once, Bedingfield says, "when he stopped me from writing about a person who wasn't Daphne Caruana Galizia."
He's now shown a copy of the blog where Caruana Galizia had mentioned his daughter. It was about a break he had taken in Sicily with his family travelling club class on the catamaran.
"That wasn't the only post where she targeted my daughter," he replies
He also said he had the final say when it came to his role of coordinating answers to parliamentary questions.
"I had the final say. I got information, I prepared the draft and then published," he says
Caruana Galizia family lawyer Comodini Cachia returns to the blog post about the Scily trip and refers to an email at the end directing an officer "Michaela" to carry out a job set by Keith Schembri.
"So we find it rather difficult to believe that you didn't work with Keith Schembri," she says.
"It was only that occasion," Glenn Bedingfield says, adding that the Michaela mentioned was lawyer Michaela Spiteri who did translation services. In his email he had asked her to translate documents as per Keith Schembri's instructions.
"But I hardly knew the person," he adds.
Former prime minister Joseph Muscat did not ask Glenn Bedingfield to moderate his tone on his blog.
The email.
Portraying Daphne as a witch was 'freedom of expression'
10.28am The inquiry board asks Bedingfield about a programme he was involved in called Tagħna t-tnejn that portrayed Daphne Caruana Galizia as a witch.
"You know that the image of the witch was linked to a woman burnt alive at the stake? You know, don't you?" Lofaro says.
Bedingfield: "I was also portrayed as a vulture,"
"You were working at Castille at the time. What have you to say? Don't you see anything wrong there?" he is asked.
Bedingfield: "There's a right to freedom of expression."
He is asked who came up with the idea of the sketch.
"We had," ie Bedingfield and co-presenter Luke Dalli.
"I believe I had first read about it in some article by Lino Cassar, the witch of Bidnija.But I don't believe that it had anything to do with the assassination," he says.
Ms Caruana Galizia was depicted as a witch in Tagħna t-tnejn. Video of the incident begins at the 19.16 mark.
Photos of Daphne
10.21pm In the previous inquiry, the family of Daphne Caruana Galizia spoke about photographs being taken of the journalist in order to intimidate her from her work.
Bedingfield is asked if he ever uploaded photos of Caruana Galizia and her family.
"Yes," he replies, "but I deny having anything to do with the 'Taste Your Own Medicine blog."
"But your blog was in actual fact an exercise in taste your own medicine," inquiry judge Abigail LofaroLofaro remarks.
Bedingfield replies: "I don't think the message there was the same as my own blog. My blog is not anonymous and I did not only focus on Daphne Caruana Galizia but also wrote about other topics like economy."
Memorial to Daphne Caruana Galizia. Photo: Chris Sant Fournier
Posts 'implying the Caruana Galizia family were responsible'
10.15am Bedingfield is asked about a particular blog post that inquiry board member Michael Mallia says alleges that Daphne Caruana Galizia's family were responsible for her death.
"I don't think so. I don't believe that her family would do that," he replies.
"Be careful, Mr Bedingfield. These posts are public," Mallia says, quoting extensively from the post.
He says that the implications were that her family were creating obstacles to bring back her laptop to then blame the PL government.
But Bedingfield rebuts by saying that the article does not say that the family is implicated in her murder.
Asked about the link of the murder to fuel smuggling, leaked to take investigations astray, Bedingfield says he wouldn't know about that. He recalls reading about it "on Illum or some other paper".
"Could it have been leaked by Keith Schembri?" the board asks.
"I wouldn't know."
'I never saw Yorgen Fenech at Castille'
10.12am Bedingfield denies ever seeing Yorgen Fenech, the man accused of masterminding Caruana Galizia's murder, at Castille.
"But you were there on a daily basis?" the inquiry asks.
"But I never saw him there. Never, never."
Yorgen Fenech at a previous court appearance. Photo: Mark Zammt Cordina.
What was your relationship with Keith Schembri?
10.06am The inquiry now turn to the prime minister's former chief of staff, Keith Schembri, who resigned amid the murder investigation fallout.
"What was your relationship with Keith Schembri?"
Bedingfield: "Only work."
"Was it second floor?" Said Pullicino asks - a reference to the fabled fourth floor, where key party decisions were said to have been made.
Bedingfield laughs and replies: "I moved through all floors. In fact I used to tell them, after the third floor, out."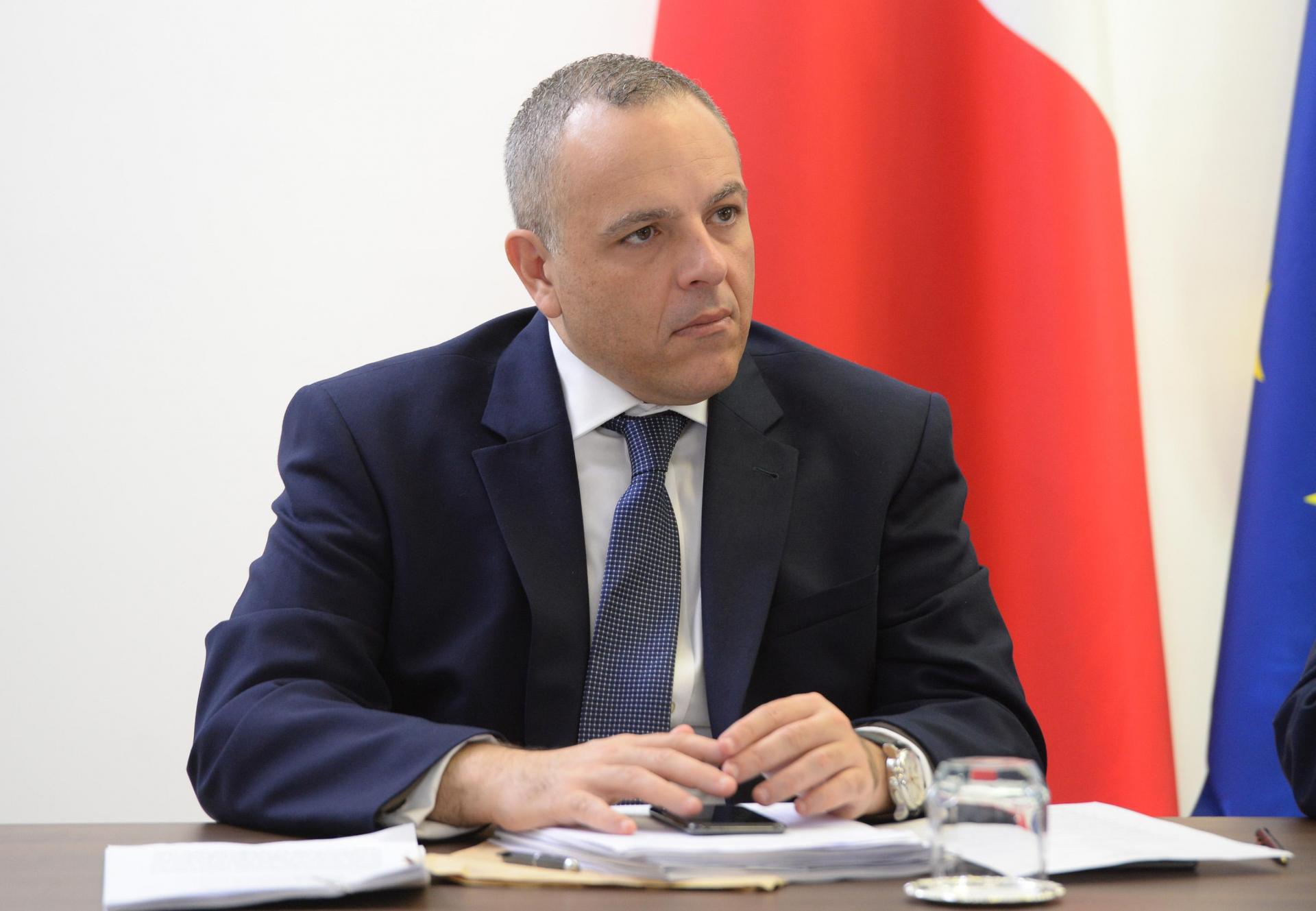 Keith Schembri. Photo: Matthew Mirabelli
'It would have been better had there been discussions'
10am After telling the inquiry that there were never discussions in the aftermath of the Caruana Galizia murder or when the Panama Papers were released in 2016, Bedingfield says that he thinks "it would have been better had there been discussions."
He says: "My own personal view is that I wish things to have been done differently."
Asked if he ever gave advice to the former prime minister Joseph Muscat, Bedingfield says he did not.
Asked about sources to his blogs, he says he wishes to keep them confidential.
Regarding the comments to the blog posts, he says he would moderate them by removing comments he deemed unfair.
---
Daphne's murder 'was never discussed'
9.52am The inquiry now turns to the aftermath of Daphne Caruana Galizia's murder in October 2017.
He is asked: "What did you feel when she was murdered?"
Bedingfield: "A sense of sadness."
"What was the atmosphere at Castille when the murder took place?" he is asked.
Bedingfield: "At the time I did not work there."
"Didn't you observe the prime minister in parliament?"
Bedingfield: "The prime minister was saddened."
He said that he was on his way to parliament when the murder happened. Asked if he spoke about it in parliament or in Labour headquarters, he replies: "No".
"We didn't have any discussions but all were shocked."
He says he was shocked when political figures were mentioned in the murder probe.
"Wasn't it discussed?" he is asked. "It's worrying if there were not discussions."
He says that there may have been discussions at Cabinet but he was not part of that.
"What about the parliamentary group?" No discussion there either.
Bedingfield says that there were also no discussions about the Panama papers.
"No one ever got us round a table to discuss the Panama papers. I don't know if there were discussions higher up."
Daphne Caruana Galizia was killed by a car bomb outside her home in October 2017. Photo: Mark Zammit Cordina
Blog post 'incited aggression against Daphne'
9.48am The judge hands over a document to the witness. It is some copy of a post. He takes a couple of minutes to go through it.
"It's not my style of writing," he says. "It might have been a guest post."
In the post, there seems to have been an incitement to commit aggression against Daphne Caruana Galizia. It was dated 12/02/2017.
He stopped the blog in 2018. Journalists in the court aren't shown the post.
"I will check about this," he said. "I condemn all sorts of violence, from a punch to anything else. I certainly did not incite violence."
---
Why Bedingfield stopped his blog
9.41am Now for the questions. Inquiry board member Joseph Said Pullicino goes first: "Why did you drop your blog?"
Bedingfield replies: "After taking political office, my workload increased, I couldn't handle it and so decided to stop."
Said Pullicino responds: "So that was the reason? Not that anyone asked you to shut it down?"
"No. It was a personal decision I took," Bedingfield replies. He said he stopped it in 2018. However he says he plans to post again, in a few weeks, around Easter.
---
'My blog was to give voice to those attacked by Daphne'
9.36am Bedingfield describes as "an outright lie" claims from Peter Caruana Galizia that Bedingfield was getting information from the police.
On Mr Caruana Galizia's claims that security detail began because of Bedingfield's blog, he says: "My blog began much later, in 2016."
He claims that there has been an impression given by various people that "I created the climate conducive to her murder."
"My blog was a political one, intended to lend a voice to all those who were attacked and ridiculed by Daphne Caruana Galizia."
---
'I was not employed to attack Daphne'
9.28am Mr Bedingfield recalls a case dating back to 1999, when aged 22 he had been taken to court by former prime minister Eddie Fenech Adami in a criminal libel suit "and ironically Daphne Caruana Galizia took the side of Fenech Adami".
He says that when he began to write, Ms Caruana Galizia "uppped her dose of attack against me".
He adds: "We in the PL are also hurt".
"It's not true that I was employed at OPM to attack Daphne Caruana Galizia," he says.
"My setting up of the blog was in 2016, a year after I first took up the post at OPM. She attacked me relentlessly. I can show an entire list of 558 people Daphne Caruana Galizia had targeted through her writings.
"Because of her writing, attacking public people, private individuals and even children, people were hurt, families broken up, one became even suicidal."
He describes a case where his daughter "landed in her blog" for "the simple reason of going to buy a sandwich on board the catamaran!"
He is asked: "Did you file for libel against her?"
"No, I did not."
---
Glenn Bedingfield takes the oath
9.22am The board points out that Mr Bedingfield personally asked to come to testify, contrary to other witnesses. "How can you help the board?" he is asked.
Mr Bedingfield responds: "Thanks for accepting my request. I wish to testify to rebut the impression given by other witnesses particularly (Daphne's husband) Peter Caruana Galizia."
He says that he thinks the false impression has been given "that I sat with others to plot the murder".
"In reality Daphne Caruana Galizia wrote and attacked and ridiculed people. She had right to freedom of speech but when anyone responded to her writing in similar vein, it was taken to be an abuse of freedom of expression.
"It was as though no one on this side, our side could rebut what she said."
He refutes claims that he had set up a blog called 'Taste Your Own Medicine' that was critical of Ms Caruana Galizia and says the only blog he set up was one in his own name.
Bedingfield reads from Peter Caruana Galizia's testimony and said it was an "outright lie".
An archive post from Glenn Bedingfield's blog, now offline.
Nigel Vella's Facebook post
9.16am The inquiry board begins by hearing from the Caruana Galizia family lawyer Therese Comodini Cachia about a facebook post that a previous witness Nigel Vella had shared about her colleague lawyer Jason Azzopardi.
She brought this to the judges, presenting a copy thereof. Earlier this week Mr Vella had posted about the practice of having 'persons of trust' in the OPM and said that the former PN government had a similar situation.
Independent journalism costs money. Support Times of Malta for the price of a coffee.
Support Us