A 17th century coastal tower in Għajn Tuffieha is yet another victim of the gale-force storm Helios and was partially damaged overnight after being battered by torrential rain and wind.
Pictures taken on Friday of the popular site shows a gaping hole at the top of the tower.
The limestone watchtower in Mġarr, which overlooks the bay was completed in 1637 and was designed by Vincenzo Maculani.
The tower had undergone renovation works back in 2000 with the support of the director of public projects and NGO Din L-Art Ħelwa.
Members of the Civil Protection Department said they received no reports of injuries due to the incident.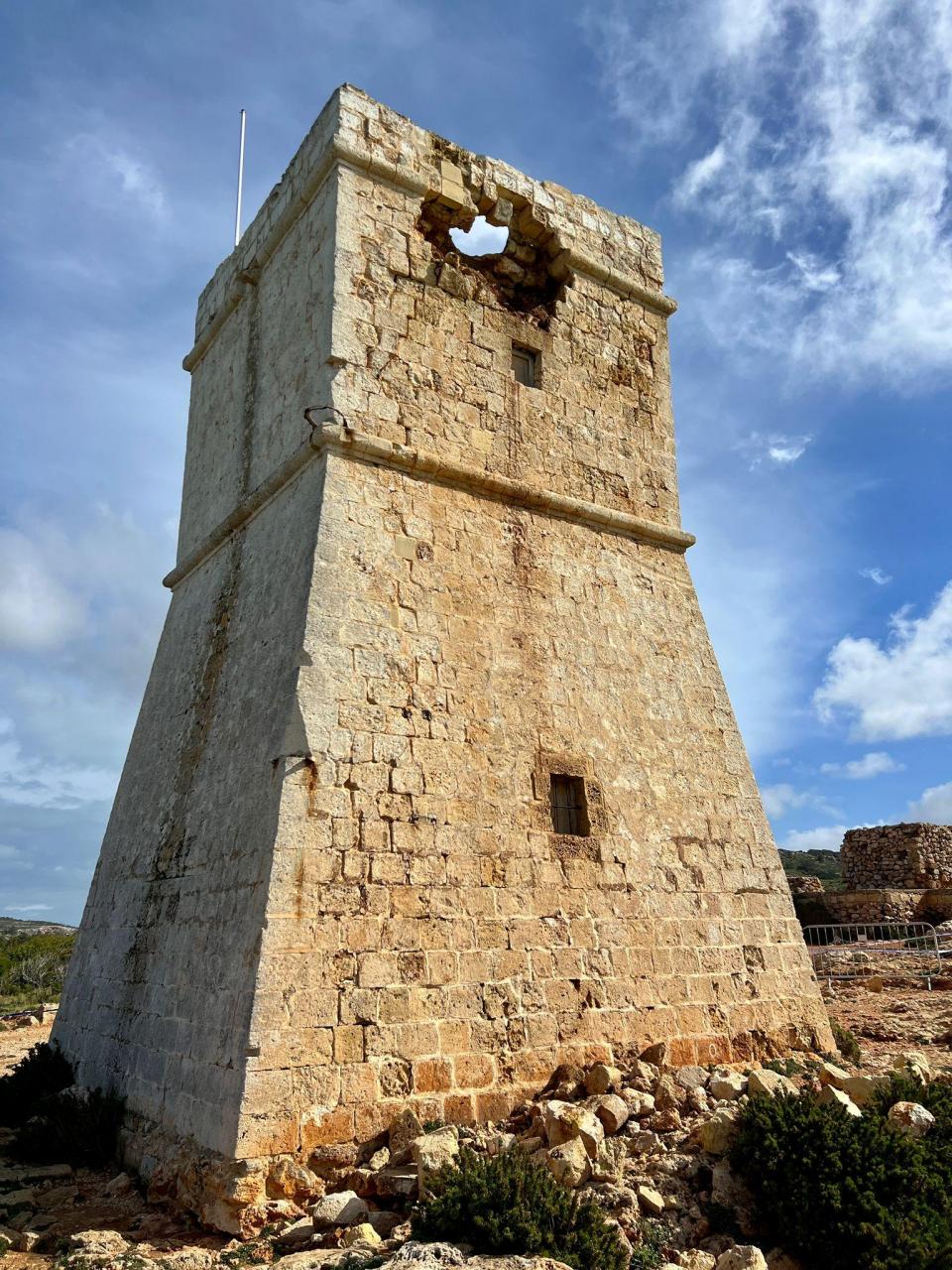 The top of the tower was damaged followed by a day of persistent rain and wind. Photo: Chris Sant Fournier
The tower is the latest victim of storm Helios, which battered the country on Thursday and part of Friday, with the Meteorological Office issuing an orange wind warning and CPD appealing to the public to stay indoors.
The persistent rain and strong winds caused widespread damage across the island. A false ceiling in the Malta International Airport VIP lounge partially collapsed, a parapet wall in Għarb collapsed onto parked cars, and a boulder crashed onto the famous tourist attraction Popeye Village.
The tower is managed by Gaia Foundation, yet attempts to contact the NGO were unsuccessful.
A member of Din L-Art Helwa informed Times of Malta that Gaia Foundation is no longer active, which could mean that no entity is managing the restoration of the tower.
Back in 2007, Times of Malta reported how according to a PhD research, the coastal tower was in danger of collapsing due to the fact that the cliff face it perched on is retreating.
Limestone blocks from the top of the watchtower are found at the bottom. Photo: Chris Sant Fournier