Updated 10.30pm
Miriam Pace, 54, who was missing ever since Hamrun home collapsed on Monday afternoon, was found dead amid the debris late in the evening.
The house was reduced to a pile of rubble when it collapsed at 2.15pm into a next door site which was being excavated. The woman's body was found some eight hours later after a search by the Civil Protection Department.
Earlier, Civil Protection Department head Emanuel Psaila said debris was being carefully removed by hand from the site where a sniffer dog indicated the woman could be trapped.
A body has been found after an almost eight-hour search and rescue operation by the Civil Protection Department. Warning, some viewers might find the footage upsetting.
Witnesses said they heard a sound "like an earthquake" at around 2.15pm and saw a dust cloud rising from the terraced house.
Police say the collapse on Triq Joseph Abela Scolaro was caused by construction next door and that officers were using drones and dogs to search the area.
Sources said that a number of people involved in the construction project were being questioned by police on Monday evening.
Firefighters search the rubble at the house. Photo: Mark Zammit Cordina
Spokesperson Brandon Pisani confirmed that a woman, named locally as Maria Assunta Pace and known as Miriam, was inside the building at the time of the collapse.
Ms Pace, a mother of two, is believed to have been inside an upper floor of the building when it collapsed into a showroom situated below it.
Concerns are growing for Miriam Pace, pictured with her husband Carmel. Photo: Facebook
Members of the police victims support unit and a team from Mater Dei Hospital are on site to help the family.
Rescue crews are using heavy machinery, including trucks and cranes, to remove debris. Members of the Civil Protection Department are also on site, along with several police cars and ambulances.
Motorists were advised to avoid nearby Canon Road and use St Joseph's Road in Ħamrun instead.
A rescue operation is underway for at least one person believed trapped inside. Video: Mark Zammit Cordina
Photographs of the scene showed how part of a residence appeared to have given way.
A car parked in a garage and what appears to be part of a dining room was seen in the first photographs of the collapse.
Mobile phone rings beneath the rubble
Witnesses said they heard "an extremely loud noise" at around 2pm while those living further away saw a large cloud of dust.
"The sound we heard was terrible, I thought it was an earthquake. I came out on the balcony and I couldn't see a thing, it was all a thick white cloud".
People on site were seen calling a mobile phone which was heard ringing from under the rubble.
Prime Minister Robert Abela arrived on site about an hour after the incident along with magistrate Claire Stafrace Zammit.
Composite image shows the house (left) before the collapse and (right), after.
A year of building accidents
The incident is the latest in a list of building collapses. On Monday night Janet Walker, who last June had to be evacuated from her building in Mimosa Street, Ħamrun when an adjacent wall collapsed, said that not enough was being done to protect residents from reckless builders.
"I ask the authorities: what they did to safeguard the rights of people? We don't want spectators but strong laws. We don't want minor fines but large ones to ensure precautions are taken. I may not be qualified, but I joined two law students in proposing new laws. What did you do? Who will console these people?"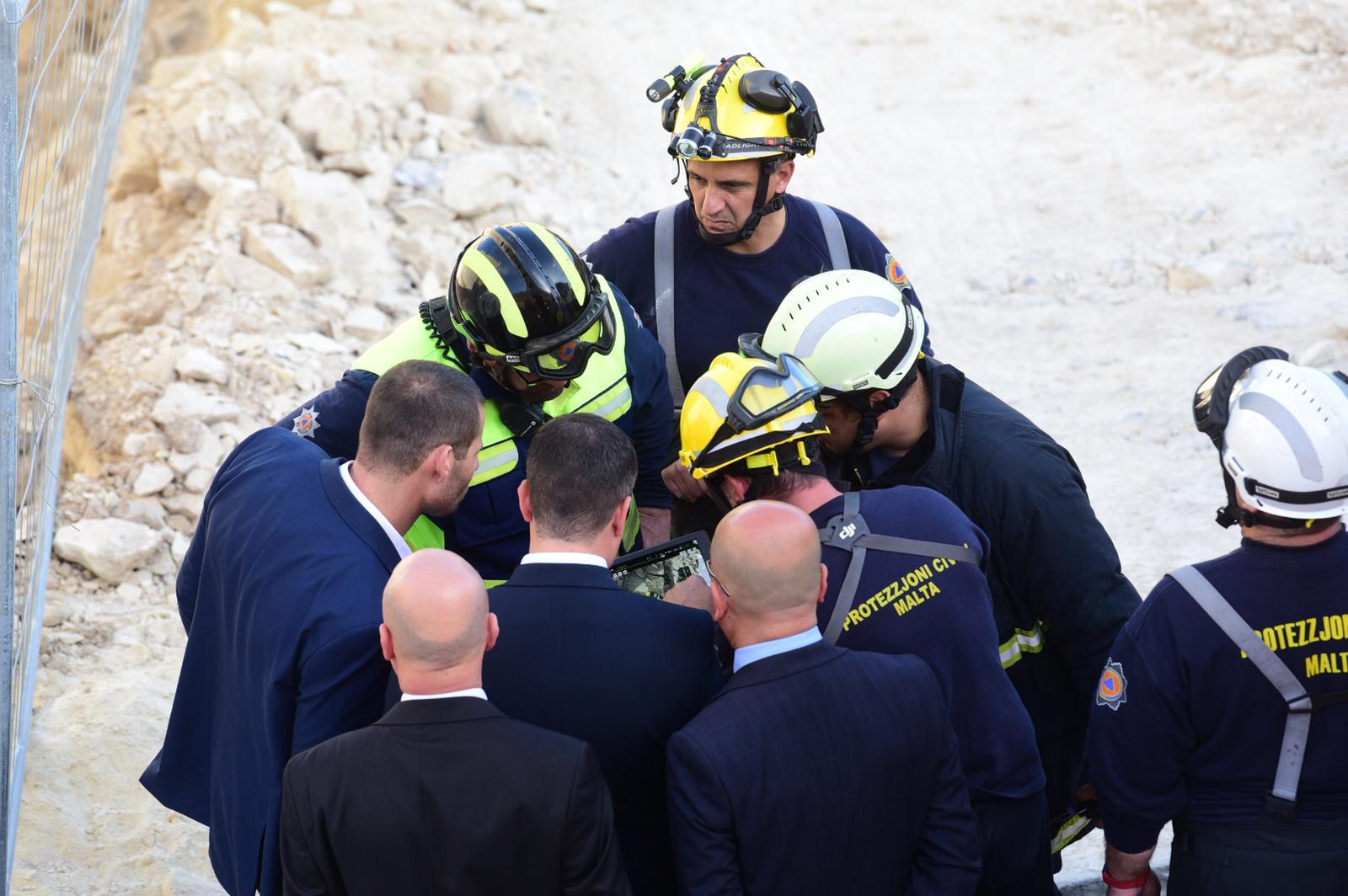 Prime Minister Robert Abela is briefed at the scene. Photo: Mark Zammit Cordina
In April, no one was injured when a three-storey block collapsed adjacent to a construction site in Guardamangia.
In June, a building collapsed in Mellieha. Rescuers pulled an elderly woman out of the four-storey building and rushed her to hospital, but nobody else
In October, there were two construction-related incidents within the hour. Part of a ceiling above a popular snack bar in Msida caved in sending rumbles across a neighbourhood but luckily hurting nobody.
The incident happened an hour after part of the wall of a backyard collapsed in St Paul's Bay, missing a woman who was hanging the washing there.
Police spokesman Brendan Pisani speaks to media at the scene. Video: Matthew Mirabelli