MUSIC
Bir Miftuħ International Music Festival 2023
The medieval church of Santa Marija of Bir Miftuħ in Gudja will once again host the International Bir Miftuh Music Festival organised by Din l-Art Ħelwa.
Three concerts, each with diverse and rich programmes featuring artists of international acclaim, will take place on May 20, and on June 10 and 16.
The first concert, on May 20, will see Julie Sévilla-Fraysee (violoncello), Anja Gerter (violin) and mezzo-soprano Clare Ghigo performing works by J.S. Bach, Telemann, Handel, Cassado', Bacewicz, Dancla, Mozart and Haydn.
This concert, which starts at 7.30pm. has been made possible by the Embassy of France, The Alliance Française de Malte-Méditerranée and the Embassy of the Federal Republic of Germany.
Reservations for each concert are against a donation of €25 per person and include refreshments after the performance in the church grounds. Block bookings are also available. For bookings, e-mail reservations@dinlarthelwa.org.
The chapel of Bir Miftuħ in Gudja.
A Bouquet of Operatic Arias
International stars Andrei Daranyl and Diana Pap are performing in a concert at Our Lady of Victory church in Valletta on May 16 at 12.30pm.
Reservations at €10 per person either by booking on baroccobookings@gmail.com or directly at the entrance of the church.
A viewing of the 10 minute documentary 'Grand Master de Valette and his first church of Valletta' in our underground cinema is free of charge to all patrons.
Tanto la Vita
The second Salon Recital, being held alongside the Decadence, Now exhibition, will see tenor Raffaele Abete and soprano Gillian Zammit accompanied by Lucia Micallef exploring songs by Tosti and operatic extracts from La Bohème and Tosca on May 20 and 21 at 8pm.
For more information, visit cityofart.eu and for tickets, log on to showshappening.com.
The Dutch Eagles in concert
The Dutch Eagles, one of the most successful tribute bands of the legendary The Eagles is performing at Pjazza Teatru Rjal in Valletta on May 19 at 8.30pm.
Tickets are available from ticketline.com.mt.
Summer Lust Festival
The poster for May 19
International artists popular in the 1990s, a Pink Floyd tribute band and local acts will take part in this year's edition of the Summer Lust Festival, taking place in Għaxaq Grounds on May 19 and 20.
On May 19, DJ Sash, Sonique, Maria Nadler and Kirsty Hawkshaw will be performing, together with local deejays Ryan Spiteri and Tenishia.
On May 20, The Scandinavian Pink Floyd will take to the stage. Matthew James will be the supporting act, while deejay Ziggy will close the two-day festival.
General entrance is by donations that will go in aid of Id-Dar tal-Providenza.
For more information, click here.
Valletta Resounds: The Caravaggio Experience
Jacob Portelli performing at the oratory of St John's Co-Catheral. Photo: Elisa von Brockdorff
St John's Co-Cathedral Foundation and Udjenza are producing a new concert as part of the Valletta Resounds series, which strings together Malta's cultural heritage with theatrical storytelling and timeless classical music.
Titled The Caravaggio Experience, the concert is being performed weekly inside the oratory, which is adorned with Caravaggio's masterpieces.
Critically acclaimed Maltese musicians under the musical direction of Jacob Portelli are at the helm of the site-specific performance, bringing to life the works of baroque masters such as Vivaldi and Bach, along with the sound of sacred Maltese music by composer Francesco Azzopardi and more. They are accompanied by sopranos Dorothy Bezzina and Dorothy Baldacchino.
The concert is woven harmoniously with tales of the Knights of St John narrated by Jeremy Grech.
A highlight of The Caravaggio Experience is the music score for the atmospheric light installation on details of the master's paintings.
The concert is being performed weekly on Wednesdays and Fridays until June 21 (except May 19 and June 2) at 6.30pm, with ticket holders being granted exclusive after-hours access to the Co-Cathedral at 6pm.
Alongside its majestic architecture, visitors may also enjoy rare, centuries-old tapestries that will be exhibited inside the Co-Cathedral until June 24, following a 16-year-long restoration project.
Tickets may be purchased from www.showshappening.com.
For more information visit www.udjenza.com.
---
FILM
MET Opera Live: Mozart's Don Giovanni (live)
Spazju Kreattiv is screening Tony Award-winning director Ivo van Hove's debut show at the New York's Metropolitan Opera on May 20 at 6.55pm.
His new take on Mozart's tale of deceit and damnation is set in an abstract architectural landscape and shines a light into the dark corners of the story and its characters.
Maestro Nathalie Stutzmann also makes her Met debut conducting a star-studded cast led by baritone Peter Mattei as Don Giovanni, alongside bass-baritone Adam Plachetka as Leporello. Sopranos Federica Lombardi, Ana María Martínez, and Ying Fang make a superlative trio as Giovanni's conquests − Donna Anna, Donna Elvira, and Zerlina − and tenor Ben Bliss is Don Ottavio.
The screening is certified 12A. For tickets, visit kreattitiva.org.
NT Live: Best of Enemies
David Harewood (Homeland) and Zachary Quinto (Star Trek) play feuding political rivals in James Graham's (Sherwood) multiple award-winning new drama, being shown live at Spazju Kreattiv on May 18 at 7.30pm.
In 1968 America, as two men fight to become the next president, all eyes are on the battle between two others: the cunningly conservative William F. Buckley Jr, and the unruly liberal Gore Vidal.
During a new nightly television format, they debate the moral landscape of a shattered nation. As beliefs are challenged and slurs slung, a new frontier in American politics is opening and television news is about to be transformed forever.
Jeremy Herrin (All My Sons) directs this political thriller, filmed live in London's West End.
The show, certified 15+, will have an encore screening on June 4 at 5pm.
For tickets, visit kreattivita.org.
Lux Audience Award Screenings
The poster for Close
The 2022 Belgian drama Close by director Lukas Dhont is showing on May 16 at Spazju Kreattiv in Valletta, as part of the Lux Audience Award screenings taking place throughout this month.
The award-winning and Oscar-nominated film follows the intense friendship between two 13-year-old boys, which suddenly gets disrupted.
One can rate the films on the LUX Rating Platform, entering a competition to win from a number of prizes, that include the opportunity to travel to Strasbourg to attend the LUX Awards ceremony at the European Parliament and meet the directors of the nominated films.
The film that wins the LUX Audience Award will be adapted for visually and hearing-impaired audiences.
For more information and tickets, visit kreattivita.org.
---
MISCELLANEOUS
International Museum Day
On May 18, International Museum Day, various museums will have a reduced entry fee or free entrance. These include the National Museum of Archaeology, Fort St Elmo and MUŻA, that are run by Heritage Malta, and whose entry will be free on the day.
There will be two tours available at each site, one at 11am in Maltese and another at 2pm in English.
Palazzo Falson Historic House Museum in Mdina will also be celebrating the day with a specially curated tour. Following the theme of this year's International Museum Day - Museums, Sustainability and Well-being, the tour will highlight objects in the museum connected to plants and will end with a visit to the Pollinator Haven its roof terrace.
For more information, visit the social media accounts of Heritage Malta and Palazzo Falson.
The Pollinator Haven at Palazzo Falson in Mdina.
Night at the Museum
Fort St Elmo and the National War Museum are set to come alive under the moonlight, late in the evening on May 19.
Re-enactors will be bringing history to life in every corner of the fort and the museum, allowing visitors to travel back in time through Roman, medieval and early modern eras, right up to the French and British occupation of Malta and World War II.
Visitors will be able to wander through the grounds of Fort St Elmo at sunset and beyond, discover seven sections of the National War Museum covering 7,000 years of Maltese military history.
The rooms forming the Harbour Fire Command complex at the very top of Fort St Elmo will also be open to the public.
The fort and the museum will be open during special extended hours from 7 till 10.30pm, with last admissions at 10pm. Tickets will be available at the door at a reduced price of €5 per person. Admission will be free of charge for children up to 11 years old and for Heritage Malta members. There will be refreshments for sale.
Fort St Elmo at night. Photo: Heritage Malta
Il-Gudja: mil-Lenti tal-Artist
Various artists will be painting en plein air at Bir Miftuh in Gudja on May 21 from 4.30 to 7.30pm, while Compagnia San Michele will present various re-enactments of life in medieval times.
Works by the artists will also be exhibited and will be available for sale.
For more information, visit the event's Facebook page.
Health and Green Fair
Eco Market Malta & VeggyMalta are holding the first edition of the Health & Green Fair at Salini National Park on May 21.
This event is a celebration of healthy, sustainable living, and aims to bring together like-minded individuals to enjoy a day of wholesome food, entertainment and education. An array of vegan and gluten-free food trucks and stalls will be serving up delicious treats and various stalls will sell a wide range of eco-friendly products: from homeware, fashion, jewellery, decor, gifts, body products, to many other new, innovative, and sustainable solutions to everyday problems.
Medical and nutritional experts will be conducting talks on a range of topics related to healthy living and there will be a range of educational and fun activities for children.
To commemorate International Celiacs Day, the festival will feature a diverse range of food and products that cater to individuals with gluten intolerance.
For more information, visit the event's Facebook page.
The event's poster
VISUAL ARTS
Faces & Places
Parole by Caroline Said Lawrence
Caroline Said Lawrence is presenting a mini-retrospective at Art By The Seaside Gallery, in Senglea.
Titled Faces & Places, the exhibition explores four themes: portraits, landscapes, cityscapes and the caricaturish Parole! Faces. Most of these works are being exhibited for the first time.
Said Lawrence has been painting portraits since 2004, and is considered by the artist as her career's primary body of work. The ink and acrylic paintings of the Three Cities reveal Said Lawrence's love of architectural drawing, and of the area. The SoPicasso and Parole! paintings, meanwhile, are quirky humourous portrayals of social conversations.
The exhibition is open until May 19. Consult the gallery's Facebook page for opening hours.
Convivium
Malta-based German artist G. Luigi Rossi is exhibiting a variety of large format artworks with attractive and curious aesthetics, expressed in a contemporary idiom, at Sagrestia Vault at the Valletta Waterfront.
Rossi was born in Italy in 1964 and studied in Germany and in the US. He is a professional artist who had his first solo exhibition in Malta in 2016. He also exhibited in other countries including Ukraine, Italy, Bulgaria, France, the US and, most recently, Portugal.
The exhibition, curated by Louis Laganà, opens on May 15 and runs until May 21.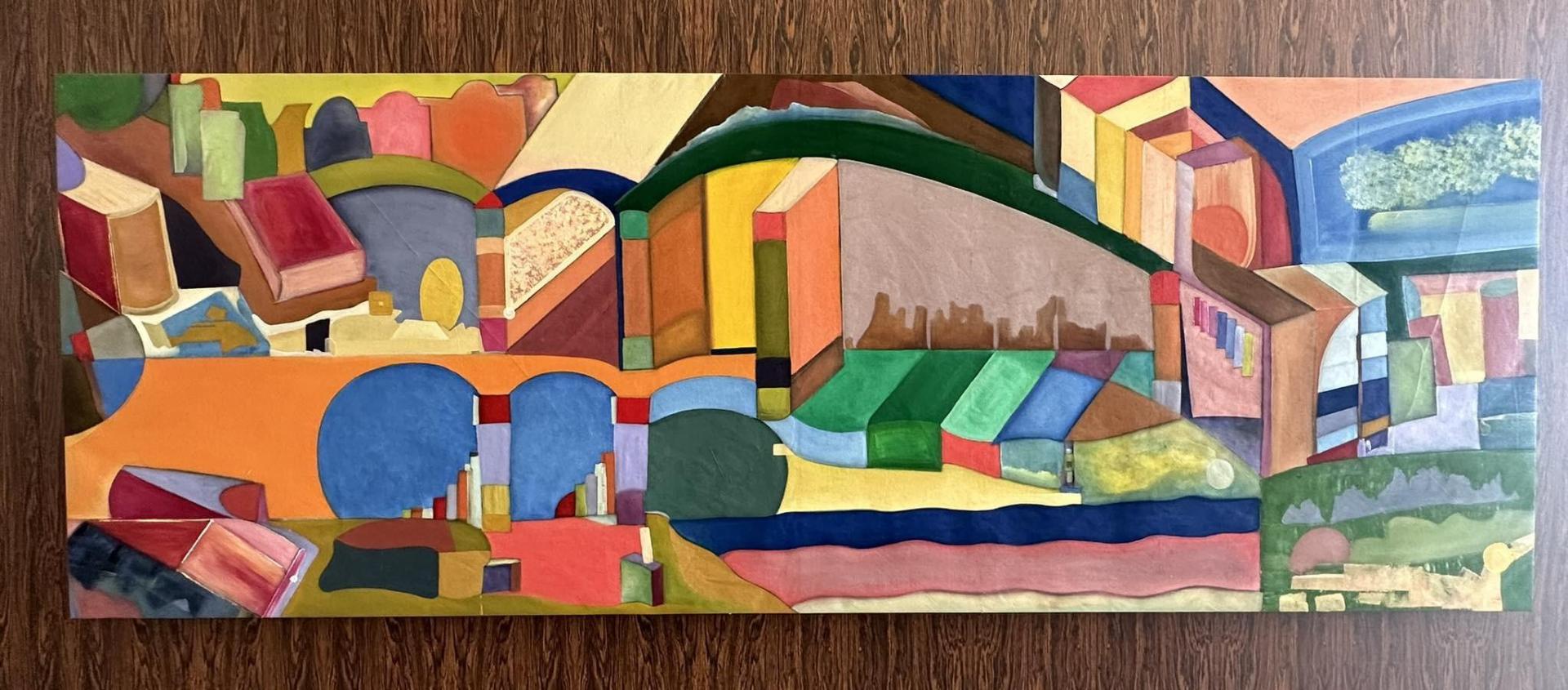 Ancient Books by G. Luigi Rossi
Esprit Barthet – A Life of Colour
Il-Ħaġar, Heart of Gozo Museum in Victoria is hosting a retrospective exhibition of Esprit Barthet (1919-1999).
Curated by Nicoline Sagona, the landmark exhibition is showcasing Barthet's famous 'rooftops' series, as well as his well-known portrait paintings and experimental styles throughout his career.
The exhibition runs until May 22. The museum is open daily from 9am to 5pm. Entrance is free.
Read more about the exhibition here.
Rooftops, 1969. Photo: Peter Bartolo Parnis
Celebrating Francesco Zahra
MUŻA, the national museum of art, has launched its first exhibition in Your MUŻA – a series of outreach andaccessibility efforts where works from the national art collection will be temporarily loaned to different localities.
The current exhibition, dedicated to Francesco Zahra, is being held at the Oratory of the Holy Crucifix in Senglea until May 22.
Zahra died 250 years ago, in August 1773 and is considered as one of the foremost Maltese artists of the 18th century. he was born, baptized, bred and artistically mentored in Senglea.
Artefacts on display at the exhibition include a painting by Gian Nicola Buhagiar, who was Francesco Zahra's teacher; coins dating to the time of the Order of St John in Malta; a painting by Antoine Favray, who admired and briefly collaborated with Zahra; the artist's baptismal record; a painting by Zahra that is usually on display at the Archbishop's Curia; commission records of the oratory's sculptures and paintings; and Zahra's self-portrait, showing him in his mid-40s at the peak of his artistic career.
The New Gothic
Local contemporary artist Ġulja Holland, renowned for thought-provoking and politically engaged practice, is holding her fourth solo exhibition at Spazju Kreattiv in Valletta.
Entitled A New Gothic, it is her largest boday of work to date, produced over three years, and draws on timely themes such as the anthropocene, eco-anxiety, and gender issues, challenging viewers to engage with the complexities of our world and to question their own place within it.
Curated by Andrew Borg Wirth, the collaborative project will also see Holland overlap with local and international artists, academics and practitioners from across disciplines including Charlie Cauchi and Rieko Whitfield (UK).
The exhibition runs until May 21. For more information, visit the Spazju Kreattiv website or the artist's Facebook page.
Also read the following article.
Cocoon by Ġulja Holland
Trails of Colour
Gemelli Framing in Ta' Qali is hosting an exhibition by Carm Borg.
His paintings illustrate diverse episodes, moments or conditions dramatized by strong hues, shafts of light or solid brushwork. His intense interpretation of various portraits reveals his fascination with the enigmatic yet appealing characters such as clowns, jesters and other performers who, through their spectacle and performative roles, establish a deep-seated furtive cast on our psyche and imagination.
Trails of Colour, curated by Roderick Camilleri, is open until May 28. Consult the venue's Facebook page for opening hours and more information.
Also read the following Times of Malta interview with the curator.
The Jockey by Carm Borg
Freedom in Simplicity
An artwork by Stephen Saliba
Stephen Saliba's monumental abstract paintings will shine in a new minimalist space in Msida from May 13 to 26.
Coming from a scientific background, seeped in biology and chemistry, the artist was tutored by the late Mro Pawlu Grech for long years, who always advocated for his slow and meticulous teaching approach among both his visual art and music students.
Saliba's reluctance to exhibit originates from his former tutor's philosophy, that art is self-expression rather than self-exposure. The artist is influenced by the work of Spanish surrealist Joan Miró and British artist Victor Pasmore, among others.
Freedom in Simplicity, curated by Art Sweven, is being hosted at 119, Valley Road, Msida. Consult the event's Facebook page for opening hours and more information.
Also read this Times of Malta review.
Insider Outsider: Mellieħa
Insider Outsider: Mellieħa is the title of Debbie Bonello's and Sarah Calleja's current exhibition at the Palm Court Lounge at Phoenicia Hotel, Floriana. As the title indicates, this exhibition is a portrayal of the village by two of Malta's most foremost landscape artists. They both paint en plein air, thus capturing the nuances much more effectively.
Bonello is the insider as, although not currently living in Mellieħa, she was born and raised there. Calleja is the outsider as she visits the village for its nature and beaches.
Curated by Charlene Vella, the exhibition is on until May 31.
Read this article for more information.
Għal ġol-Ħajt by Debbie Bonello
Decadence, Now.
The exhibition Decadence, Now at the Malta Society of Arts showcases artworks, objects, music and paraphernalia from the Decadent art movement from 1880 to 1910.
The project claims, to a great extent, that the critical study of decadence should not be confined to its traditional association with morbidity, a cult of artificiality, exoticism and aestheticism. Although these topics continue to fuel a whole new wave of contemporary decadentism in visual culture.
Decadence, Now. looks to the curatorial as an art method in and of itself, with the exhibition becoming the ultimate art object. In doing so it seeks to reposition artefacts, reconstruct narratives and reopen artistic debates; creating a friction and a presence that is expressed by a number of individuals investigating a common theme.
The exhibition runs until May 31 and admission is free. The exhibition is curated by Andrew Borg Wirth for City of Art.
Reacting artists include Andrew Borg Wirth, Luke Azzopardi, Michael Zerafa and Maria Theuma.
An exhibit at Decadence, Now. Photo: Sean Mallia
VIA: Way of the Streets
Christine X Curated is hosting a street photography exhibition of silver-gelatin handprints by Jacob Sammut.
The photos document the human element in the streets and were shot in Budapest, Edinburgh, Florence, London, Prague, Scotland, Turkey, Valletta and Zealand.
The images used in this first edition of VIA have been chosen from a vast archive of work that Sammut started working on in 2014. They were shot using 35mm or 120 medium-format, black and white film, which were then developed and hand-printed on fibre-based paper in the darkroom.
The exhibition launch on May 12 will also go live online at 7pm. It will remain open daily (except Sundays) at Christine X Art Gallery in Tigné street c/w Hughes Hallet Street, Sliema, until the end of May from 10am to 1pm and 4 to 7pm.
For more info, visit the event's Facebook page.
One of Jacob Sammut's photos on display at Christine X Art Gallery in Sliema. Photo: Facebook
Malta 1971 and Oskar – Photographs by Uno Karlsson
Swedish photographer Uno Karlsson visited Malta back in 1971, snapping pictures of Malta in colour. Now 24 of these photos are being exhibited at the Malta Postal Museum and Arts Hub in Valletta from May 5 to June 3.
These photos stand out like postcards of beauty, showing a rural temperament that was part and parcel of everyday life enjoyed by all locals in a carefree, unselfconscious manner.
A series of black-and-white prints documenting Oskar Nilsson, somewhat of a local character in Stromstad, Sweden, are also being exhibited.
Paceville by Uno Karlsson
Nigerian Contemporary Art Exhibition 2023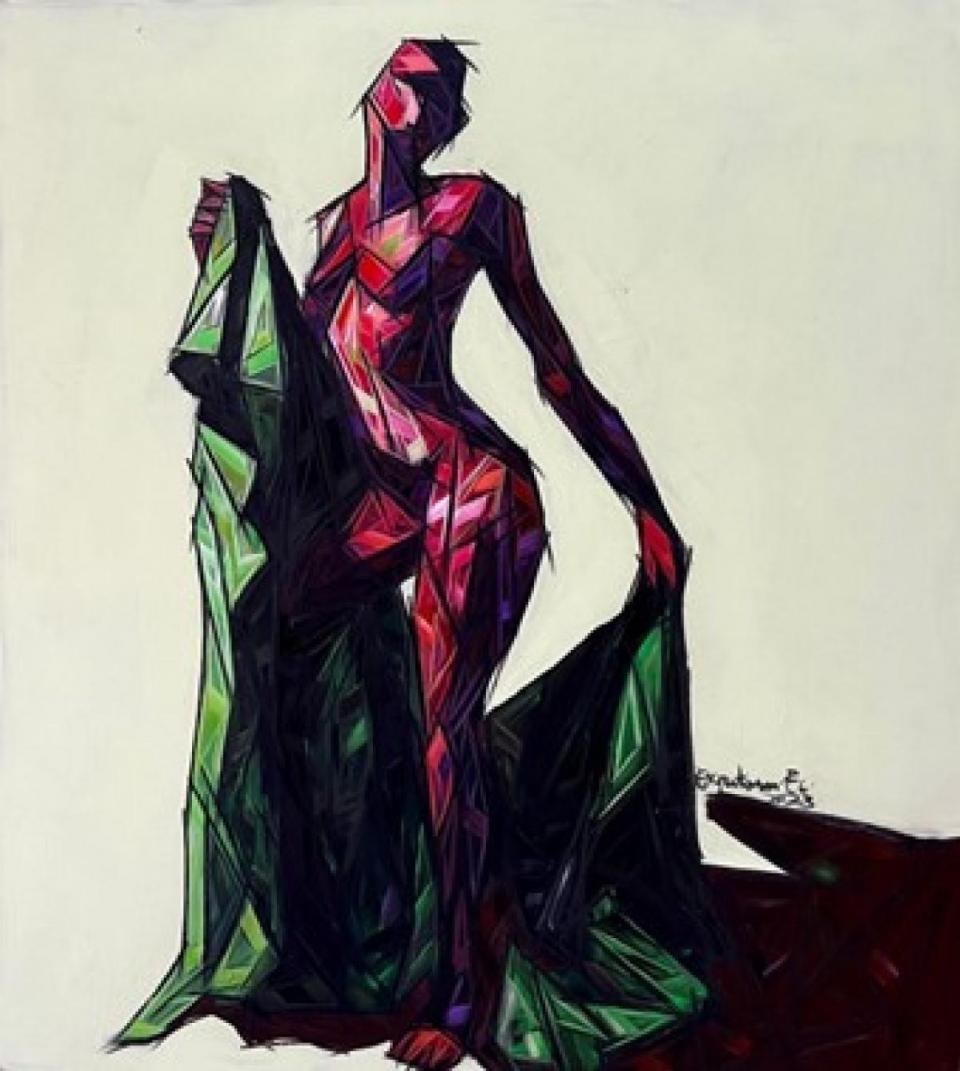 Her Grace V by Elizabeth Chioma Ekpetorson
Joseph Barbara and Bruno Eke of Simpli International are holding a second contemporary art exhibition at the two galleries of the Cavalieri Art Hotel, St Julian's, until June 1.
Fifty works have been selected for this exhibition, representing a wide spectrum of Nigerian art executed by well-established and new young artists.
The styles differ from traditional African art to avantgarde modern paintings, with figurative, abstract and surreal themes.
There will also be two other exhibitions, one starting on June 2 until June 22, and the other from June 23 to July 16.
The works are by Nigerian artists based in Nigeria and from the country's diaspora. Artists from the UK, the US and other parts of the world are also participating.
The aim of the exhibition is to promote cultural exchange and deepen the relationship and friendship between Nigeria and Malta.
Joseph Chetcuti: The Sculptor and Bronzesmith
Four years after his untimely death, the work of sculptor and bronzesmith Joseph Chetcuti will be showcased in a retrospective exhibition at MUZA, the national museum of art in Valletta.
The founder of Funderija Artistika Chetcuti (as it is known today) in Luqa Industrial Estate, Chetcuti is best remembered for the monuments, portrait busts and commissions he worked on during his lifetime.
Curated by Lisa Gwen, the retrospective opens on May 19 and runs until June 25.
For more information, visit the exhibition's Facebook page.
Details of works by Joseph Chetcuti. Photo: Lisa Gwen
OTHER EXHIBITIONS
Shoah the Holocaust: How Was It Humanly Possible?
The Tayar Foundation for Jewish Heritage in Malta has organised a Holocaust Memorial exhibition which will be displayed at three venues in Malta until June.
The exhibition deals with major historical aspects of the Holocaust, beginning with Jewish life in pre-Holocaust Europe and ending with the liberation of the Nazi concentration and extermination camps across the continent and the remarkable return to life of the survivors.
The display panels feature explanatory texts, with quotes from Jewish victims and survivors, photographs, art documents and videos for eight survivor stories.
The exhibition is open until June 4 at the University of Malta, Msida Campus, from Monday to Friday from 7am to 11pm and on Saturdays and Sundays from 9am to 4.45pm.
For more information, visit shoah.jewishheritagemalta.org/.