DANCE
Frida – My Two Accidents
Moveo Dance Company is presenting a contemporary dance theatre performance based on the life of the world-famous Mexican artist Frida Kahlo at Pjazza Teatru Rjal in Valletta on June 9 and 10 at 9pm.
It will be performed to original music composed by Albert Garzia and is choreographed by Diane Portelli.
Tickets from showshappening.com.
Read more about the performance here.
Mu-Danzas Boleras 1812-2012
The Sharon Sapienza Foundation is producting a spectacular Spanish dance performance at the Manoel Theatre in Valletta on June 9 and 10.
The brainchild of the late Sharon Sapienza, Mu-Danzas Boleras 1812-2012 will take the audience on journey through the fascinating history of the Escuela Bolera – the school of classical Spanish dance whose steps and repertoire were originally documented by famous Pericet family. Covering a swathe of Spanish history, from the Napoleonic Wars to the present, the show presents the history of a nation and the essence of a people through the evocative art of Spanish dance.
Shows start at 8pm. For tickets, visit teatrumanoel.com.mt.
---
ARTS
Victoria International Arts Festival
The 26th edition of the Victoria International Arts Festival kicks off on June 9 with a concert by the Malta Philharmonic Orchestra under the direction of Philip Walsh at the Astra Theatre in Victoria at 8pm.
They will perform Grieg's Piano Concerto with soloist Francis Camilleri, and Dvorak's Symphony no. 7.
This will be followed by a violin and pianforte recital by Dejan Bogdanovich and Gabriele Vianello at the Aula Mgr G. Farrugia on June 10 at 8pm.
The month-long festival runs until July 10, with over 300 performers from 25 countries. Concerts will be held every day, except Sundays. There will also be exhibitions, talks, master classes and a mini-festival for children, among others.
All events are free of charge. For more information, visit viaf.org.mt.
---
THEATRE
Vicky tal-Belt Victoria
The Don Bosco Oratory, in collaboration with the Victoria local council, is staging the show Vicky tal-Belt Victoria, on the occasion of the Victoria Town Day on June 11.
The historical comedy show will narrate the history of Victoria since it became a town and will answer a variety of questions such as: What happened in the town during World War II? When were water and electricity services introduced in Gozo? When did football come to Gozo?
The Cittadella Folk Group, Sir Arturo Mercieca School and St Francis School are also taking part.
Entrance for the show is free, however, tickets may be reserved through online booking on donboscogozo.org, or else by calling on 2155 6616 or 9948 7751.
Victoria, the capital city of Gozo
MUSIC
A Gift of Glory
The St John's Co-Cathedral Foundation is hosting a concert featuring its children's choir on June 6 at 7.30pm.
The concert is celebrating the 16-year project of restoration and conservation of the tapestries, a gift by Grand Master Ramon Perellos and which are currently on display at the cathedral.
The choir will be under the direction of Gillian Zammit and accompanied by organist Hugo Agius Muscat.
This event is free of charge but one has to register here. Visit the event's Facebook page for more information.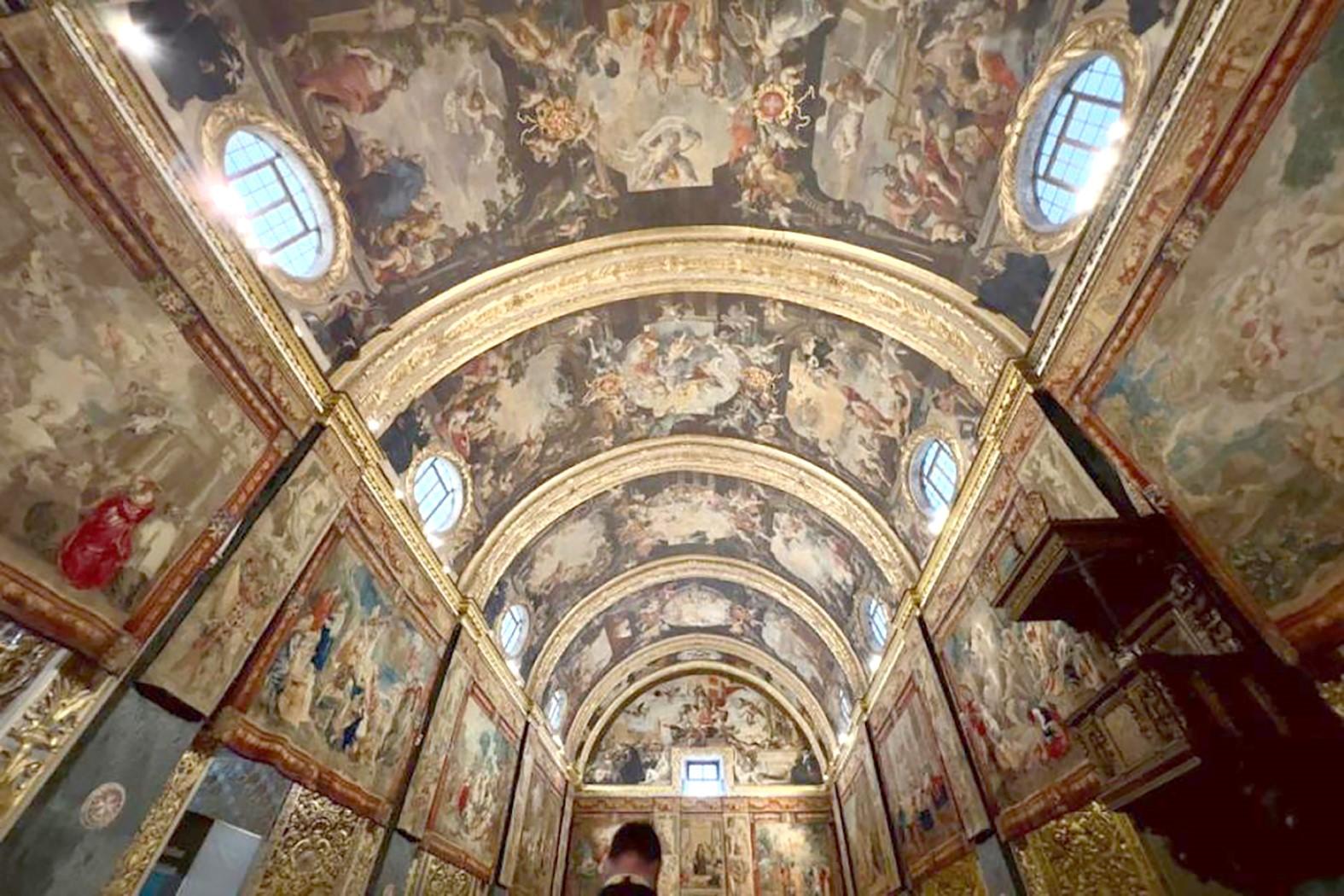 The restored 16th-century tapestries at St John's Co-Cathedral. Photo: Jonathan Borg
Violin and Guitar Recital
Malta Enterprise and the Manoel Theatre are holding a special recital on June 6 in support of the Richmond Foundation's 30th anniversary and to raise awareness on mental health.
The programme includes works by Massenet, Ravel, Paganini and Piazzolla.
All proceeds from this concert, which starts at 8pm, will go to the foundation. For tickets and more information, visit teatrumanoel.com.mt.
Ritmu Roots Festival
Ritmu Roots Festival continues this week with a varied programme of activities, which reaches a climax at the Argotti Gardens in Floriana on June 9 and 10.
Curated by artistic director Andrew Alamango, the programme features musicans from around the Mediterranean, traditional Maltese folk music interwoven into contemporary sound, documentary screenings, workshops for children and more.
Audiences are also invited to experience traditional Maltese għana music in its natural setting and get a taste of the genre's history through an exhibition dedicated to Maltese għannej (Maltese folk singer) Mikiel "Il-Bambinu" Abela at The Splendid in Valletta.
Among the performers at the Argotti Gardens on June 9 are the Għana Lab Guitars featuring Mark Axiak and Jimmy Bartolo, the flamenco duo Eduardo Trassierra Duo and gypsy-jazz guitarist Tchavolo Schmitt.
Performers on June 10 include guitarist Rui Fernandes from Portugal, fado singer Ana Margarida, and La Mal Coiffée, a vocal group of four women based in Minervois, France.
For more information and tickets, visit festivals.mt/ritmu.
A visitor to the exhibition dedicated to Maltese għannej (Maltese folk singer) Mikiel "Il-Bambinu" Abela at The Splendid in Valletta. Photo: Elisa von Brockdorff
Bir Miftuħ International Music Festival
The second concert of the Bir Miftuħ International Music Festival is featuring a violoncello and piano performance by the Karlsruhe Conzert Duo on June 10 at 7.30pm.
The duo, comprising Reinhard Armleder on cello and Dagmar Hartmann on piano, will perform works by Beethoven, Liszt, Dvorak, Brahms and Chopin.
Bookings can be made by emailing reservations@dinlarthelwa.org.
This concert has been made possible by the German-Maltese Circle and the Goethe Institute.
The festival's last concert will be held on June 16.
The chapel of Bir Miftuħ in Gudja. Photo: Din l-Art Ħelwa
Junior Pops
The third edition of the song festival featuring young talented singers is taking place at Villa Rundle Gardens in Victoria on June 10 at 8pm.
Also taking part are Pointe Dance Theatre in collaboration with Gozo Gymnastics Academy and Piccole Stelle Choir.
Entrance is free.
Valletta Resounds: The Caravaggio Experience
St John's Co-Cathedral Foundation and Udjenza are producing a new concert as part of the Valletta Resounds series, which strings together Malta's cultural heritage with theatrical storytelling and timeless classical music.
Titled The Caravaggio Experience, the concert is being performed weekly inside the oratory, which is adorned with Caravaggio's masterpieces.
Critically acclaimed Maltese musicians under the musical direction of Jacob Portelli are at the helm of the site-specific performance, bringing to life the works of baroque masters such as Vivaldi and Bach, along with the sound of sacred Maltese music by composer Francesco Azzopardi and more. They are accompanied by sopranos Dorothy Bezzina and Dorothy Baldacchino.
The concert is woven harmoniously with tales of the Knights of St John narrated by Jeremy Grech.
A highlight of The Caravaggio Experience is the music score for the atmospheric light installation on details of the master's paintings.
The concert is being performed weekly on Wednesdays and Fridays until June 21 (except May 19 and June 2) at 6.30pm, with ticket holders being granted exclusive after-hours access to the Co-Cathedral at 6pm.
Alongside its majestic architecture, visitors may also enjoy rare, centuries-old tapestries that will be exhibited inside the Co-Cathedral until June 24, following a 16-year-long restoration project.
Tickets may be purchased from www.showshappening.com.
For more information visit www.udjenza.com.
Dorothy Baldacchino in Valletta Resounds. Photo: Elisa von Brockdorff
FILM
Cinema City
The Valletta Cultural Agency is hosting a number of free film screenings at Ġnien Laparelli in Valletta between June 5 and 10.
These are Inglorious Basterds (18) on June 5, The Book of Life (U) on June 6, Blood on the Crown (12A) on June 7, Merjen (18) on June 8, Sideways (16) on June 9 and Back to the Future (U) on June 10.
Some shows are already sold out. But some free tickets are still available for collection on a first-come, first-served basis from the Valletta Cultural Agency office at Exchange Buildings, Republic Street, Valletta (next door to the Chamber of Commerce). Opening hours: Monday to Friday, 8am to 5pm.
For more information, visit the Valletta Cultural Agency's Facebook page.
The tickets for the film festival. Photo: Facebook/Valletta Cultural Agency
MISCELLANEOUS
BigTease – a Burlesque and Cabaret Show
The Malta Society of Arts in Valletta is hosting an evening of burlesque and musical variety featuring up-and-coming burlesque and cabaret performers, including some first-timers to the stage, on June 9 at 8pm.
The event is organised by The Hot Box Girls Academy of Burlesque, which teaches the art of seduction in the style of old Hollywood, Broadway and the Vaudeville Orpheum Circuit, and the Burlesque Academy of Malta, which gives classes on the art of burlesque.
For tickets, click here.
Night at the Museum
Fort St Elmo and the National War Museum will be open to the public at nighttime on June 9, after the event was postponed last month due to bad weather.
Re-enactors will be bringing history to life in every corner of the fort and the museum, allowing visitors to travel back in time through Roman, medieval and early modern eras, right up to the French and British occupation of Malta and World War II.
Visitors will be able to discover the seven sections of the National War Museum covering 7,000 years of Maltese military history.
The rooms forming the Harbour Fire Command complex at the very top of Fort St Elmo will also be open to the public.
The fort and the museum will be open from 7 till 10.30pm, with last admissions at 10pm. Tickets will be available at the door at a reduced price of €5 per person. Admission will be free of charge for children up to 11 years old and for Heritage Malta members. There will be refreshments for sale.
Fort St Elmo at night. Photo: Heritage Malta
Verdala tours
Flimkien għal Ambjent Aħjar, in collaboration with the Sustainable Regeneration of Built Heritage (SRBH), is organising a number of tours at Verdala Palace in Buskett on June 10 at 2, 3 and 4pm.
Built as a 16th-century hunting lodge and designed by Girolamo Cassar, the palace features passive environmental design strategies, characteristic of the local vernacular, which improve occupant comfort.
Participants will be able to access the rooms and gardens which are rarely open to the public. The tours will be conducted by Dr Amber Wismayer – an expert in the field of heritage and sustainability - who will present the building's 500-year history, as well as its inherent comfort potential and closely guarded secrets.
Bookings in advance are recommended here. Spaces are limited.
Filippo Paladini frescoes adorning the great hall at Verdala Palace. Photo: Photocity
VISUAL ARTS
Lotus
Studio 87 is celebrating its fifth-year anniversary with a collective exhibition curated by Justine Balzan Demajo.
The exhibition features a fusion of mixed media which together embody the theme of rebirth, fertility and the coming of spring: from the earthy, effortless yet alluring photographs by Ritty Tacsum, to the thought-provoking paintings of Berlin-based painter Daniel Borg, to the whimsical and pressed flowers by Philippa Dix with her botanical curiosities.
Lotus can be viewed till June 9. Opening hours are Tuesday and Wednesday from 10.30am to 1.30pm, Thursday and Friday from 3 to 7pm and Saturday from 11am to 1pm. The exhibition is closed on Monday and Sunday.
A visitor admiring a painting by Daniel Borg and botanical works by Philippa Dix.
Seascape Impressions
Seascape Impressions, currenly on at Ir-Razzett tal-Markiż in Mosta, sees artist Godwin Muscat progressively moving towards an abstract rendition of landscape.
The title itself hints at the non-strictly representational aspect of the artist's current oeuvre. The seascapes flow and the boats are almost integrated as part of the marine ecosystem.
Seascape Impressions runs until June 11.
And Life Goes On Regardless by Godwin Muscat Azzopardi
Skart Għani
The Central Bank of Malta is holding a unique art exhibition by Joseph Barbara, titled Skart Għani (Rich Waste), at the Central Bank of Malta, Polverista premises, in Valletta.
The bank is celebrating its 55th anniversary and the theme for this year chosen is sustainability, hence this exhibition consisting of 30 installations made entirely from discarded waste.
The works are in varying dimensions and include hanging pieces. The materials used are plastic water bottles and plastic bags, wooden cable reels, broken mannequins, pieces of scrap metal, cardboard boxes and drums, found pieces of wood, tree bark and branches, and whatever else came along the artist's path.
The exhibition is on from June 5 to 15. Visiting hours are from 8.15am to 1.45pm. The entrance to the Polverista is from the Triton Fountain Square; there is a tunnel on the right before proceeding towards the bus terminus.
This exhibition is dedicated to the late Fr Marius Zerafa.
The artist can be contacted on 9987 8757.
Spectre of the Pandemic (2020), a broken mannequin covered with plastic bags by Joseph Barbara
Sculptura
The exhibition's poster
The annual fine arts fundraising art exhibition in aid of the Malta Community Chest Fund is focusing on sculptural works of 32 established and up-and-coming sculptors.
Titled Sculptura, the exhibition is multi-thematic and includes an array of media.
The exhibition is in aid of the Malta Community Chest Fund, an Art4MCCF initiative, and is curated by Melanie Erixon and hosted at Antoine de Paule Hall, San Anton Palace, Attard.
It is open on June 10 and 11 and on June 17 and 18, from 9am to noon and from 5 to 8pm.
Joseph Chetcuti: The Sculptor and Bronzesmith
Four years after his untimely death, the work of sculptor and bronzesmith Joseph Chetcuti is being showcased in a retrospective exhibition at MUŻA, the national museum of art in Valletta.
The founder of Funderija Artistika Chetcuti (as it is known today) in Luqa Industrial Estate, Chetcuti is best remembered for the monuments, portrait busts and commissions he worked on during his lifetime.
Curated by Lisa Gwen, the retrospective runs until June 25.
For more information, visit the exhibition's Facebook page.
Dom Mintoff (2013). Polychromised plaster maquette. Artist's edition. Photo: Therese Debono
Il-Ħabba tal-Għajn
A solo exhibition by Alex Dalli is opening at the Malta Society of Arts in Valletta on June 8.
The exhibition, curated by Gabriel Zammit, follows the painter's journey from the figurative into the abstract.
As Alex Dalli developed as an artist his gaze turned from the external to the internal and his work necessitated a parallel shedding of form in order to express subtle ideas, feelings and abstract concepts. His sensitivity to colour and surface drove him to develop the minimal style that he is now known for.
The exhibition takes its cue from Michael Zammit's Għana 'l Hena (APS, 2005) which is a cycle of poetry inspired by Sanskrit philosophy and mantra meditation.
Zammit uses language to do the same thing Dalli does with paint, and his words provide a context and touchstone for reading Dalli's complexly coded images.
The exhibition runs until June 28. Visit the exhibition's Facebook page and the Malta Society of Arts website for more information.
Siekta (2021), oil on board, by Alex Dalli. Photo: Lisa Attard
Tnessid
An exhibition at Spazju Kreattiv in Valletta is bringing together the work of five artists, Aaron Sammut, Elena Said, Kristov Scicluna, Marvic Camilleri and Ramona Borg, following their Master of Fine Arts in Digital Arts, at the Department of Digital Arts, at the University of Malta.
Tnessid is the inverse of 'dissent', meaning the diverging opinions from the ones that are commonly held. Apart from reflecting the different perspectives among the artists themselves, each individual project, in one way or another, presents an alternative perspective to commonly held views. The curation of the exhibition links these differences through a common aesthetic thread.
The works are multidisciplinary and conceptual, ranging from sculpture to drawing, installation and sound.
The exhibition, which runs until July 2, includes works by a group of MA students in Digital Arts from the University of Greenwich, London.