DANCE
Utopia
ŻfinMalta is presenting Utopia by Emanuel Gat, an award-winning and sell-out choreographer, at the Manoel Theatre in Valletta on May 26, 27 and 28.
For more information, visit the ŻfinMalta Facebook page and read this Times of Malta interview with Gat.
For tickets, log on to teatrumanoel.com.mt.
---
THEATRE
The Clothes Snatcher
The Manoel Theatre's TOI TOI Learning & Participation Programme is presenting the last show of its Baby Series for this season on May 26 and 27.
This giggle-a-minute show follows a clothes thief on the loose and introduces the young children to notions of right and wrong.
It stars Jeremy Grech from the TOI TOI Collective and puppeteer Sean Briffa.
There will be two shows at 9.30 and 11am on both days. For tickets and more information, click here.
---
MUSIC
Classical Guitar Concert
Bernard Catania
Classical guitarist Bernard Catania will be giving a recital at Our Lady of Victory church, Valletta, on May 23 at 12.30pm.
During this concert, Catania will perform works by Cesare Negri, Antonio Vivaldi, Francisco Tarrega, Isaac Albeniz, J.S. Bach, Johann Krieger and local composer Gordon Mizzi, among others.
After the concert, patrons are invited for free to the cellar of the church to watch a short audio visual show about the building, history and the restoration of this gem.
Entrance is at a suggested donation of €10. One can obtain the tickets prior to the concert from the venue itself or by e-mailing baroccomalta@gmail.com or calling on 7968 0952.
Enigma Variations
World-renowned violinist Clara-Jumi Kang will join the Malta Philharmonic Orchestra, directed by principal conductor Sergey Smbatyan, on May 26 at the Mediterranean Conference Centre in Valletta.
The orchestra will perform Sibelius's Violin Concerto, Maltese pioneer composer Paolino Vassallo's riveting Malta Overture and Elgar's Enigma Variations.
The concert starts at 7.30pm. For tickets, visit showshappening.com.
Tra Amore e Follia: The Italian Bel Canto Tradition
Soprano Gabrielle Portelli
The Jesuits' Church Foundation is dedicating an evening to Italian bel canto on May 25, featuring soprano Gabrielle Portelli and pianist Maria-Elena Farrugia.
Bel canto defines a genre of lyrical singing that developed in the 18th century and reached its apogee in the early 19th century. It encompasses the music of important composers as Mozart, Bellini and Donizetti, and is defined by agility, a rich timbre and expressive lyricism.
The concert, which starts at 7.30pm, is free but a donation towards the foundation's cultural projects is appreciated.
For more information, visit the event's Facebook page.
Only Rock 'n' Roll
Centrestage Malta is hosting a night of rock classics featuring Queen, AC/DC, Pink Floyd, Whitesnake, U2 and more at Montekristo Estates on May 26 and 27.
Performing on the night will be Chris Grech, Tiziana, Kenneth Calleja and Daryl Ebejer, among others, together with a live band.
Prizes will be given to those who wear the best costume.
Doors open at 8pm. For tickets, visit showshappening.com.
Tiziana Calleja in a poster for the event. Photo: Facebook/Centrestage Malta
L'Oasis Ou Je Rêve − Salon Recital
On May 27 and 28, soprano Gillian Zammit, accompanied by Lucia Micallef, will perform songs by Debussy, Hahn and Duparc during the next Salon Recital forming part of the side events of the Decadence, Now. exhibition taking place at the Malta Society of Arts.
The recitals, which start at 8pm, will feature salonnière Maria Theuma.
For tickets, visit showshappening.com.
Soprano Gillian Zammit and pianist Lucia Micallef in a previous Salon Recital. Photo: Facebook/City of Art
Leone Goes Pop
The Leone Band of Victoria is presenting the 14th edition of its pop music event at the Aurora Theatre on May 27 at 8.30pm.
Colin Attard leads the band in a programme of pop, rock, soul and dance music. The line-up includes Pamela Bezzina, Michela, Jolene Samhan and The Travellers' frontman Chris Gatt.
Gozitan band MAE will opening the show, while DJ Nooke will close the night with a live DJ set with the Leone Band.
The Aurora's own junior chorus will be backing the whole line-up of artists, while Mark Laurence Zammit will be the evening's host.
Entrance is free but reservations are required on 7904 5779. One can also book on teatruaurora@leone.org.mt.
Colin Attard directing the Leone Band.
Mysteria Gloriosa
The Jesuits' Church Foundation is presenting the final concert in the 'Music and More at the Jesuits' series on May 27, with a concert built around the Glorious Mysteries of the Holy Rosary, with music and some reflective readings.
These readings will trace the story of the early Church as it developed an identity and grew into a community.
Baritone James Bernard Agius, accompanied by pianist Sofia Narmania, will be bringing some Easter joy with sacred arias relevant to each mystery. The programme will then be interspersed with readings from the Gospel, as well as early Christian writings including the Apocrypha.
Entrance to the concert is free, but a donation towards the cultural programme is appreciated. Access to the Oratory is from Archbishop Street.
For more information, visit the event's Facebook page.
Valletta Resounds: The Caravaggio Experience
St John's Co-Cathedral Foundation and Udjenza are producing a new concert as part of the Valletta Resounds series, which strings together Malta's cultural heritage with theatrical storytelling and timeless classical music.
Titled The Caravaggio Experience, the concert is being performed weekly inside the oratory, which is adorned with Caravaggio's masterpieces.
Critically acclaimed Maltese musicians under the musical direction of Jacob Portelli are at the helm of the site-specific performance, bringing to life the works of baroque masters such as Vivaldi and Bach, along with the sound of sacred Maltese music by composer Francesco Azzopardi and more. They are accompanied by sopranos Dorothy Bezzina and Dorothy Baldacchino.
The concert is woven harmoniously with tales of the Knights of St John narrated by Jeremy Grech.
A highlight of The Caravaggio Experience is the music score for the atmospheric light installation on details of the master's paintings.
The concert is being performed weekly on Wednesdays and Fridays until June 21 (except May 19 and June 2) at 6.30pm, with ticket holders being granted exclusive after-hours access to the Co-Cathedral at 6pm.
Alongside its majestic architecture, visitors may also enjoy rare, centuries-old tapestries that will be exhibited inside the Co-Cathedral until June 24, following a 16-year-long restoration project.
Tickets may be purchased from www.showshappening.com.
For more information visit www.udjenza.com.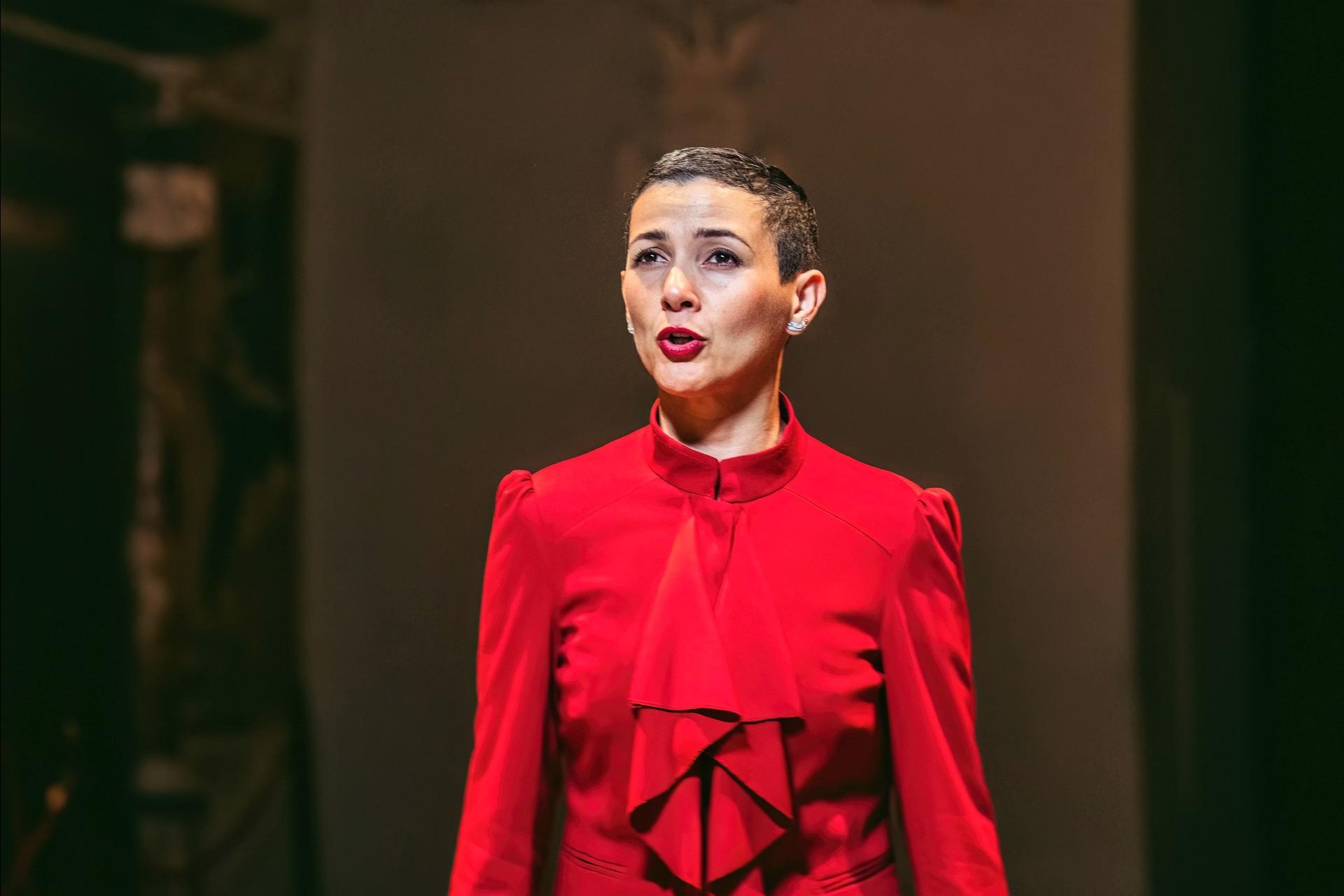 Soprano Dorothy Baldacchino. Photo: Elisa von Brockdorff
FILM
Tnejn għat-Talkies
The Embassy Cinemas in Valletta are showing the 2006 dark fantasy horror film Pan's Labyrinth tomorrow, May 22, as part of its Tnejn għat-Talkies cycle of films.
The Oscar-winning picture, directed by Guillermo del Toro, is set in the Falangist Spain of 1944, when the bookish young stepdaughter of a sadistic army officer escapes into an eerie but captivating fantasy world.
The event is organised by the Valletta Cultural Agency, as part of its Strada Stretta programme.
For tickets and more information, click here.
The Sleeping Beauty 2023
On May 24, the Eden Cinemas in St Julian's is showing London's Royal Opera House's new take on the classic fairy tale featuring Tchaikovsky's ravishing music and Oliver Messel's sumptuous designs.
The ballet is directed by Marius Petipa.
Tickets are available here. There will be an encore on May 28 at 3pm.
Roger Waters: This Is Not a Drill – live from Prague
The Eden Cinemas in St Julian's is showing a farewell concert by Roger Waters, the creative force behind the golden years of Pink Floyd, live from Prague, on May 25.
This cinematic extravaganza will include 20 Pink Floyd and Roger Waters classic songs, including Us & Them, Comfortably Numb and Wish You Were Here. Waters will also debut his new song, The Bar.
The screening starts at 8.45pm. For tickets, log on to www.edencinemas.com.mt.
The screening's poster
Lux Audience Award Screenings
The 2022 comedy drama Triangle of Sadness by director Ruben Östlund is showing on May 24 at Spazju Kreattiv in Valletta, as part of the Lux Audience Award screenings taking place throughout this month.
The Oscar-nominated film follows a fashion model celebrity couple as they join an eventful cruise for the super-rich.
One can rate the films on the LUX Rating Platform, entering a competition to win from a number of prizes, that include the opportunity to travel to Strasbourg to attend the LUX Awards ceremony at the European Parliament and meet the directors of the nominated films.
The film that wins the LUX Audience Award will be adapted for visually and hearing-impaired audiences.
For more information and tickets, visit kreattivita.org.
Arvin Kananian and Woody Harrelson in the poster for Triangle of Sadness.
MISCELLANEOUS
Nickelodeon Treasure Hunt
The third edition of the fun-filled event for all the family is taking place in Valletta on May 27 and 28.
A Nickelodeon Treasure Hunt map will act as a guide for children to experience a series of character-themed zones across multiple locations in the heart of Valletta.
Activities will include a Transformers Zone on Republic Street starring a life-size Bumble Bee Transformer, a Nickelodeon Dance Party at Pjazza Teatru Rjal, featuring some of Nickelodeon's biggest animated stars, a PAW Patrol Zone in Jean De Valette Square, and a SpongeBob SquarePants Zone, where families will be able to experience the world's most famous sea-sponge like never before.
Across all the zones, children and families will be able to enjoy exclusive giveaways, interactive augmented reality photo experiences and character meet-and-greets.
Nickelodeon parades will close each day's activity, starting from Republic Street and finishing in Triton Square, at 7pm.
In addition to the treasure hunt, children and families will be able to discover the wider island through an exclusive Heritage Malta Trail, running around the treasure hunt weekend, with discounted tickets and offers for some of Heritage Malta's most family friendly attractions – Għar Dalam, Ħaġar Qim and Mnajdra, the National Museum of Natural History and St Paul's Catacombs.
For more information, visit the event's Facebook page.
SpongeBob Squarepants and other favourite Nickelodeon characters will form part in the event.
Fundraising art exhibition
The logo of Smiling with Jerome
A fundraising art exhibition is being held at the Razzett tal-Markiż in Mosta between May 26 and 28, with proceeds going in aid of the Smiling with Jerome Foundation.
Part of the proceeds will go towards the NGO's initiative 'Chemo Bags of Hope', which offers bags of various items that are approved by oncology nurses and are distributed among all cancer patients, young and old.
Various established artists and students are taking part in the Mosta exhibition to support this cause.
The exhibition will be inaugurated on May 26 at 6pm and will be open on May 27 from 9am to noon and from 5 to 8.30pm, and on May 28 from 10am to 6pm.
The Qormi Food Festival
The first edition of the Qormi Food Festival, organised by the Qormi local council, is taking place on May 27 from 6.30pm onwards.
There will be various traditional Maltese dishes on sale, besides more than 30 wines and 15 beers, besides live music, artisan stalls and a children's area.
The event will be held in Main Street, Qormi, in front of Dar Bjorn. Entrance is free. For more updates, visit the event's Facebook page.
Big Truck Show
The event's poster
It's All About Trucks, in collaboration with the Malta Drag Racing Association, is holding an event for all the family at the Ħal Far raceway in aid of Puttinu Cares on May 27 from 7pm till late.
There will be, of course, big trucks on display. Fueled Up Meets will be joining with their cars as well, while Mr Cool and Tony Farrugia will be performing a feats of strength show. RC (remote control) trucks will have their own area.
There will also be a bouncy castle for children, music, food and drinks.
For more information, visit the Facebook page It's All About Trucks.
Festa Fjuri
The Iklin local council is celebrating flowers in an event for all the family in Triq Anton Buttigieg on May 27.
There will be an Eco Café featuring a number of talks by Jesmond Sciberras from Nature Trust Malta FEE and Carmen Tedesco, who will talk on the use of herbs in recipes, among others; an artists section, featuring flower-themed works; and a kitchen garden, where food and drink options that include flowers and herbs will be available.
The Iklin Scouts Group is organising various activities while the Għaqda Dilettanti Karnival Għawdex will be presenting a flower-themed dance.
Also participating in the event will be the Banda San Pio X.
Besides, all Iklin residents may collect petunia seedlings for free, with the aim for them to grow the plant and adorn their balconies and terraces.
The event is being held between 9am and 2pm. It is supported by the Parliamentary Secretary for Local Government, the Department for Local Government and the Malta Tourism Authority. For more information, click here.
Bonsai exhibition
The Bonsai Culture Group is hosting its annual bonsai exhibition at their garden, the Notre Dame Bonsai Garden, in Notre Dame Arch Street, Floriana, on May 27 and 28.
The exhibition is open to the public today and tomorrow from 9am to 6pm.
Photo: Bonsai Culture Group
The Valletta Buskers and Arts Festival
A new festival, featuring musicians and performers of different art forms, is being held on May 28 between 11am and 2.30pm in St John Square, with proceeds going to Puttinu Cares.
The event, organised by Luciano restaurant, was going to be held on May 21 but was postponed due to the inclement weather.
Valletta Concours d'Elegance
Malta's premier competition for vintage and classic cars is taking place at St George's Square, Valletta, on May 28 from 9am onwards.
As part of this year's event, an art exhibition by seven artists is being held in the run-up to the concours at the King's Own Band Club in Republic Street.
For more information, visit www.vallettaconcours.com.
Vintage cars on display in a previous edition of the Valletta Concours d'Elegance.
VISUAL ARTS
Esprit Barthet – A Life of Colour
Il-Ħaġar, Heart of Gozo Museum in Victoria is hosting a retrospective exhibition of Esprit Barthet (1919-1999).
Curated by Nicoline Sagona, the landmark exhibition is showcasing Barthet's famous 'rooftops' series, as well as his well-known portrait paintings and experimental styles throughout his career.
The exhibition runs until May 22. The museum is open daily from 9am to 5pm. Entrance is free.
Read more about the exhibition here.
Still Life with Pomegranates, 1950. Photo: Charles Paul Azzopardi
Celebrating Francesco Zahra
MUŻA, the national museum of art, has launched its first exhibition in Your MUŻA – a series of outreach andaccessibility efforts where works from the national art collection will be temporarily loaned to different localities.
The current exhibition, dedicated to Francesco Zahra, is being held at the Oratory of the Holy Crucifix in Senglea until May 22.
Zahra died 250 years ago, in August 1773 and is considered as one of the foremost Maltese artists of the 18th century. he was born, baptized, bred and artistically mentored in Senglea.
Artefacts on display at the exhibition include a painting by Gian Nicola Buhagiar, who was Francesco Zahra's teacher; coins dating to the time of the Order of St John in Malta; a painting by Antoine Favray, who admired and briefly collaborated with Zahra; the artist's baptismal record; a painting by Zahra that is usually on display at the Archbishop's Curia; commission records of the oratory's sculptures and paintings; and Zahra's self-portrait, showing him in his mid-40s at the peak of his artistic career.
Trails of Colour
Gemelli Framing in Ta' Qali is hosting an exhibition by Carm Borg.
His paintings illustrate diverse episodes, moments or conditions dramatized by strong hues, shafts of light or solid brushwork. His intense interpretation of various portraits reveals his fascination with the enigmatic yet appealing characters such as clowns, jesters and other performers who, through their spectacle and performative roles, establish a deep-seated furtive cast on our psyche and imagination.
Trails of Colour, curated by Roderick Camilleri, is open until May 28. Consult the venue's Facebook page for opening hours and more information.
Also read the following Times of Malta interview with the curator.
Portrait of an Old Man by Carm Borg
Freedom in Simplicity
Stephen Saliba's monumental abstract paintings will shine in a new minimalist space in Msida from May 13 to 26.
Coming from a scientific background, seeped in biology and chemistry, the artist was tutored by the late Mro Pawlu Grech for long years, who always advocated for his slow and meticulous teaching approach among both his visual art and music students.
Saliba's reluctance to exhibit originates from his former tutor's philosophy, that art is self-expression rather than self-exposure. The artist is influenced by the work of Spanish surrealist Joan Miró and British artist Victor Pasmore, among others.
Freedom in Simplicity, curated by Art Sweven, is being hosted at 119, Valley Road, Msida. Consult the event's Facebook page for opening hours and more information.
Also read this Times of Malta review.
Interaction by Stephen Saliba
Insider Outsider: Mellieħa
Insider Outsider: Mellieħa is the title of Debbie Bonello's and Sarah Calleja's current exhibition at the Palm Court Lounge at Phoenicia Hotel, Floriana. As the title indicates, this exhibition is a portrayal of the village by two of Malta's most foremost landscape artists. They both paint en plein air, thus capturing the nuances much more effectively.
Bonello is the insider as, although not currently living in Mellieħa, she was born and raised there. Calleja is the outsider as she visits the village for its nature and beaches.
Curated by Charlene Vella, the exhibition is on until May 31.
Read this article for more information.
Red Tower by Sarah Calleja
Decadence, Now.
The exhibition Decadence, Now at the Malta Society of Arts showcases artworks, objects, music and paraphernalia from the Decadent art movement from 1880 to 1910.
The project claims, to a great extent, that the critical study of decadence should not be confined to its traditional association with morbidity, a cult of artificiality, exoticism and aestheticism. Although these topics continue to fuel a whole new wave of contemporary decadentism in visual culture.
Decadence, Now. looks to the curatorial as an art method in and of itself, with the exhibition becoming the ultimate art object. In doing so it seeks to reposition artefacts, reconstruct narratives and reopen artistic debates; creating a friction and a presence that is expressed by a number of individuals investigating a common theme.
The exhibition runs until May 31 and admission is free. The exhibition is curated by Andrew Borg Wirth for City of Art.
Reacting artists include Andrew Borg Wirth, Luke Azzopardi, Michael Zerafa and Maria Theuma.
VIA: Way of the Streets
Christine X Curated is hosting a street photography exhibition of silver-gelatin handprints by Jacob Sammut.
The photos document the human element in the streets and were shot in Budapest, Edinburgh, Florence, London, Prague, Scotland, Turkey, Valletta and Zealand.
The images used in this first edition of VIA have been chosen from a vast archive of work that Sammut started working on in 2014. They were shot using 35mm or 120 medium-format, black and white film, which were then developed and hand-printed on fibre-based paper in the darkroom.
The exhibition will remain open daily (except Sundays) at Christine X Art Gallery in Tigné street c/w Hughes Hallet Street, Sliema, until June 2. Opening hours: from 10am to 1pm and 4 to 7pm.
Sammut will be at the gallery on May 25 from 5pm onwards to answer questions about his work or photography in general.
For more info, visit the exhibition's Facebook page.
One of the photos by Jacob Sammut on display at Christine X Art Gallery in Sliema.
Malta 1971 and Oskar – Photographs by Uno Karlsson
Swedish photographer Uno Karlsson visited Malta back in 1971, snapping pictures of Malta in colour. Now 24 of these photos are being exhibited at the Malta Postal Museum and Arts Hub in Valletta from May 5 to June 3.
These photos stand out like postcards of beauty, showing a rural temperament that was part and parcel of everyday life enjoyed by all locals in a carefree, unselfconscious manner.
A series of black-and-white prints documenting Oskar Nilsson, somewhat of a local character in Stromstad, Sweden, are also being exhibited.
The Street Sweeper by Uno Karlsson
Nigerian Contemporary Art Exhibition 2023
Joseph Barbara and Bruno Eke of Simpli International are holding a second contemporary art exhibition at the two galleries of the Cavalieri Art Hotel, St Julian's, until June 1.
Fifty works have been selected for this exhibition, representing a wide spectrum of Nigerian art executed by well-established and new young artists.
The styles differ from traditional African art to avantgarde modern paintings, with figurative, abstract and surreal themes.
There will also be two other exhibitions, one starting on June 2 until June 22, and the other from June 23 to July 16.
The works are by Nigerian artists based in Nigeria and from the country's diaspora. Artists from the UK, the US and other parts of the world are also participating.
The aim of the exhibition is to promote cultural exchange and deepen the relationship and friendship between Nigeria and Malta.
The Union by Gbenga Ayiboye
Joseph Chetcuti: The Sculptor and Bronzesmith
Four years after his untimely death, the work of sculptor and bronzesmith Joseph Chetcuti will be showcased in a retrospective exhibition at MUŻA, the national museum of art in Valletta.
The founder of Funderija Artistika Chetcuti (as it is known today) in Luqa Industrial Estate, Chetcuti is best remembered for the monuments, portrait busts and commissions he worked on during his lifetime.
Curated by Lisa Gwen, the retrospective opens on May 19 and runs until June 25.
For more information, visit the exhibition's Facebook page.
Works by Joseph Chetcuti on display at MUŻA. Photo: Lisa Gwen
OTHER EXHIBITIONS
Shoah the Holocaust: How Was It Humanly Possible?
The Tayar Foundation for Jewish Heritage in Malta has organised a Holocaust Memorial exhibition which will be displayed at three venues in Malta until June.
The exhibition deals with major historical aspects of the Holocaust, beginning with Jewish life in pre-Holocaust Europe and ending with the liberation of the Nazi concentration and extermination camps across the continent and the remarkable return to life of the survivors.
The display panels feature explanatory texts, with quotes from Jewish victims and survivors, photographs, art documents and videos for eight survivor stories.
The exhibition is open until June 4 at the University of Malta, Msida Campus, from Monday to Friday from 7am to 11pm and on Saturdays and Sundays from 9am to 4.45pm.
For more information, visit shoah.jewishheritagemalta.org/.