THEATRE
Chair
Adrian Buckle is producing Chair by Edward Bond at Spazju Kreattiv in Valletta from April 21 to 23 and April 28 to 30.
The play, certified 16+, is a trip to an apocalyptic future; one where family means nothing and people are divested of their humanity. It is a future where humanity becomes a product and life becomes a new version of Auschwitz. And what difference can a chair make in such a future?
Directed by Clive Judd and with a set design by Romualdo Moretti, the cast features Erica Muscat, Ann-Marie Buckle, Alex Weenink and Faye Paris.
For tickets, visit kreattivita.org.
On the Other Hand, We're Happy
Chiara Hyzler is directing a play above love, hope and redemption at Theatre Next Door in Magħtab from April 21 to 23 and April 27 to 29.
Written by award-winning playwright Daf James, On the Other Hand, We're Happy plot follows a young couple who dream of adopting. When an unforeseen turn of events upends their goals, plans must be adjusted.
The cast stars Bettina Paris, Anton Saliba and Sandie Von Brockdorff.
For tickets and more information, visit tnd.com.mt.
Wonderland Wives
MADC is staging the comedy Wonderland Wives by Buddy Thomas at the MADC Playhouse in Santa Venera from April 21 to 23 and April 28 to 29.
The show is a twisted fairy tale featuring the beloved characters of Cinderella, Belle, Alice, Snow White and Prince Charming, whose happily-ever-after story has gone terribly awry.
Directed by Francesca Briffa, the play stars Pia Zammit, Jean Pierre Busuttil, Joe Depasquale, Kate De Cesare, Stefan Farrugia and Stephen Oliver.
All shows, suitable for an audience aged over 14, start at 7.30pm. For tickets, visit madc.com.mt.
Dħalna fl-Army
Vince'tor Entertainment is staging the comedy Dħalna fl-Army, written by and starring Joe Farrugia 'id-Dulli', at the Catholic Institute in Floriana on April 22 and 23.
The three-act show, directed by Graziella Montebello, features choreography by Alaizah Montebello, and musical arrangements by Christian Arding with lyrics by Dorian Micallef.
For tickets, visit ticketline.com.mt.
Room on the Broom
UK theatre company Tall Stories will be staging the bestselling children's book Room on the Broom by Julia Donaldson and Axel Scheffler at the St Aloysius Theatre, Birkirkara, on April 22 and 23.
Shows will be held on April 22 at 11.30am, 2.30 and 5pm and on April 23 at 11.30am and 3pm. For tickets, visit bookingoffice.com.mt.
Arti
Albert Marshall has translated Yasmina Reza's award-winning play and directing its theatrical adaptation at The Splendid in Strait Street, Valletta, from April 21 to 23 and April 28 to 30.
The comedy, which delves into the age-old question "What exactly is art?" stars Mikhail Basmadjian, Sean Buhagiar and Ray Calleja.
Arti forms part of the Strada Stretta Programme within the Cultural Programme of the Valletta Cultural Agency. Tickets are available from showshappening.com.
Sin Circus
The Manoel's Toi Toi Learning and Participation Programme and the Teatru Manoel Youth Theatre (TMYT) are hosting a show for adolescents and young adults on April 22 at 6 and 9pm.
The circus-themed show features drama, opera and dance to interpret the seven deadly sins: pride, gluttony, lust, envy, greed, sloth and wrath.
Certified 11+, Sin Circus is directed by Douglas Comley, Charlotte Stafrace and Clair Ghigo.
For tickets, visit teatrumanoel.com.mt.
Performers rehearsing for the show.
MUSIC
Of Love and War
Soprano Mariette Borg
Soprano Mariette Borg and pianist Maria-Elena Farrugia will perform in a concert at Our Lady of Victory church, Valletta, on April 18 at 12.30pm.
The progamme will focus on 20th century art songs composed by British, French and Spanish composers, such as Rodrigo, Poulenc and Boulanger.
After the concert, patrons are invited for free to the cellar of the church to watch a short audiovisual show about the building, its history and its restoration.
Entrance is at a suggested donation of €10. One can obtain the tickets prior to the concert from the venue, by e-mailing baroccomalta@gmail.com or by calling on 7968 0952.
Gaulitana: A Festival of Music
The music festival today enters its third week with a piano concert by Tom de Beuckelaer titled Extravaganza at the Kempinski San Lawrenz.
On April 18, artist-in-residence Alexander Frey will present the lecture-recital Cole Porter: The Man & His Music at the Ministry for Gozo Hall in Victoria.
Frey's residency continues on April 20 with the concert Musique de Cathédrale, where he will play French organ music on the 2016 Michael Farley organ at the Xewkija Rotunda.
On April 22, the ensemble Halíř Trio, will perform in Granados Meets Dvořak at the Kempinski San Lawrenz.
Entrance to all events is free. For more info, visit gaulitanus.com.
SPMO Wind Trio
Musicians from the St Paul Metropolitan orchestra will be performing at the M.A. Grima Hall at the Mediterranean Conference Centre, in Valletta, on April 21 at 7.30pm.
Taking part will be Noel Beck (clarinet), Alfred Fenech (oboe) and Peter Lyndley (bassoon).
The programme includes works by Purcell, de Falla, Elgar, Auric, Abreu and Joplin.
For tickets, visit showshappening.com.
Valletta Resounds: The Caravaggio Experience
St John's Co-Cathedral Foundation and Udjenza are producing a new concert as part of the Valletta Resounds series, which strings together Malta's cultural heritage with theatrical storytelling and timeless classical music.
Titled The Caravaggio Experience, the concert will be performed for the first time on April 21 inside the oratory, which is adorned with Caravaggio's masterpieces.
Critically acclaimed Maltese musicians under the musical direction of Jacob Portelli are at the helm of the site-specific performance, bringing to life the works of baroque masters such as Vivaldi and Bach, along with the sound of sacred Maltese music by composer Francesco Azzopardi and more. They are accompanied by sopranos Dorothy Bezzina and Dorothy Baldacchino.
The concert is woven harmoniously with tales of the Knights of St John narrated by Jeremy Grech.
A highlight of The Caravaggio Experience is the music score for the atmospheric light installation on details of the master's paintings.
The concert is being performed weekly until June 21 at 6.30pm, with ticket holders being granted exclusive after-hours access to the Co-Cathedral at 6pm. Alongside its majestic architecture, visitors may also enjoy rare, centuries-old tapestries that will be exhibited inside the Co-Cathedral from May 5 to June 24, following a 16-year-long restoration project.
Tickets may be purchased from www.showshappening.com.
For more information visit www.udjenza.com.
Harpist Jacob Portelli performing at the oratory of St John's Co-Cathedral. Photo: Elisa von Brockdorff
Dark Malta Music Festival
Over 25 international bands and deejays will be playing gothic, industrial and metal music at an underground festival taking place at Gianpula festival grounds between April 21 and 23.
Organised by local DJ Hades (Rene Farrugia), the festival will aslo feature pool parties, after-parties and an exhibition, which will be set up next to Gianpula's main stage. It will feature artworks by artists Joseph Bugeja, Luca Cauchi, Jennings Falzon, Franco Navarro and Sara Pace.
After the festival, the exhibition will be launched as a standalone on April 29, and will run for two weeks at the Casino Notabile, Rabat. The exhibition will be inaugurated by local writer and journalist Ramona Depares.
For tickets, for the music festival, click here.
Foundation Day Concert
The Malta Philharmonic Orchestra and the Malta Youth Orchestra are presenting a concert under the baton of resident conductor Michael Laus at the Mediterranean Conference Centre, in Valletta, on April 22 at 7.30pm.
The programme features Brahms's Academic Festival Overture, Dvořák's ninth and final smphony From the New World. Guest conductor Joseph Sammut will lead his own work Adagio.
For tickets, visit showshappening.com.
Memorji
Gozitan singers are taking a nostalgic trip through 50 years of music at St Francis Square, in Victoria, on April 22.
They will play music from The Troggs, the Beatles, Whitney Houston, U2 and Coldplay, to local hits from Chasing Pandora and The Tramps, among others.
Perfomers include Melissa and Keith from Chasing Pandora, who are reuniting specifically for this concert, Pamela Bezzina, MARA's Ruth Portelli, John Cassar (il-Cash), Miriam Christine Borg, Mario Caruana, Teddie Zammit, Tony Ellis, and The Tramps' Spiro Sillato, Joe Cassar and Carmel Portelli. They will interpret music by
The event starts at 8.30pm. Entrance is free.
Memorji is being organised with the support of the Cultural Heritage Directorate within the Ministry for Gozo. For more information, visit the event's Facebook page.
Italian Opera Scenes
The Opera Studio within the Malta School of Music, in collaboration with the Manoel Theatre, is presenting an evening of Italian arias on April 21.
The programme includes Puccini's Le Villi, La Bohème, Suor Angelica, Pergolesi's La Serva Padrona and Donizetti's L'Elisir d'Amore & Rita.
The Opera Studio singers will be led by Malta School of Music teachers sopranos Miriam Cachi and Andriana Yordanova and mezzo-soprano Graziella Debattista.
They will be accompanied by pianists Maria-Elena Farrugia, Julia Miller and Sofia Narmania.
For tickets, visit teatrumanoel.com.mt.
Performers of the Italian Opera Scenes.
FILM
Children Cinema Day
KRS is holding another edition of Children Cinema Day on April 22. Cinemas in Malta and Gozo will be offering a selection of films for children with a reduced admission price. Shows will start at 9am and run till 7pm.
For more info, visit the KRS Releasing Facebeook page.
Also read the following X2 article.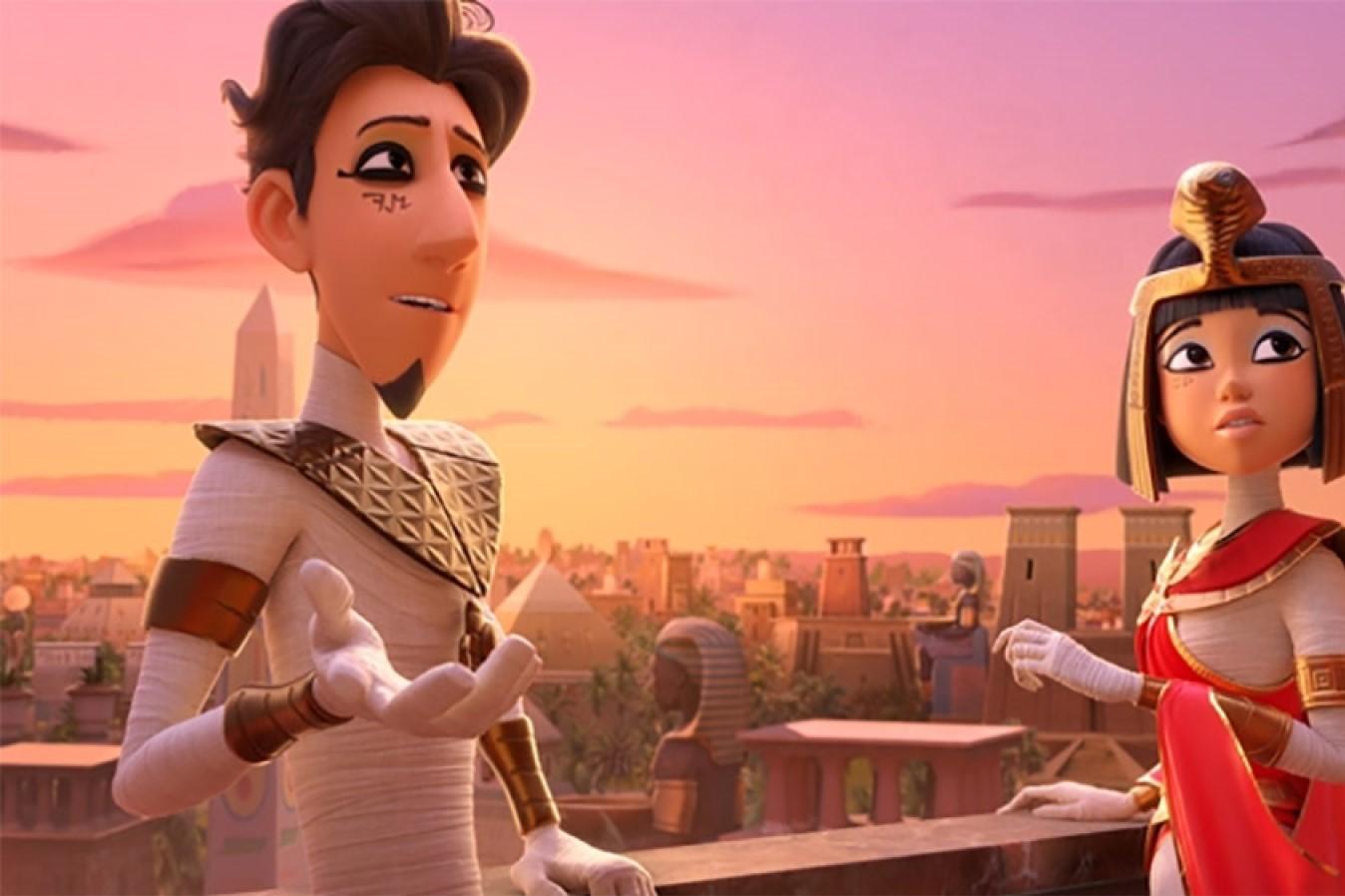 A still from the animated blockbuster Mummies, one of the films showing on Children Cinema Day. Photo: Warner Bros. Pictures
MISCELLANEOUS
ĊineXjenza: Picture a Scientist
Women in science and their struggle for equality is the subject of ĊineXjenza's next event at Spazju Kreattiv in Valletta on April 18.
The documentary Picture a Scientist, which highlights gender discrimination against women in research and academia, will be screened. This will be followed by a discussion with prominent female scientists Josephine Ann Cutajar and Jean Calleja-Agius, who will also answer questions from the audience.
For tickets, visit kreattivita.org.
Michael Harris: Mdina Glass and Isle of Wight Studio Glass
On April 20, ASinMalta is holding a lecture on Michael Harris, one of the innovators of the international studio glass movement who transformed 20th century glass and its creation.
The lecture will be delivered by Mark Hill, who will examine Harris's pioneering work at Mdina Glass on Malta and, later, at Isle of Wight Studio Glass, including influences, production techniques, major ranges and the heritage he left behind.
The event will be held at the Radisson Blu, St Julian's, at 6.30pm. Non-members are welcome to attend against a fee. To register, contact Nicole Stilon by message on 9989 1006 or send an e-mail to mem.asinmalta@theartssociety.org.
Talk on Antonello da Messina's artistic legacy
The Jesuits' Church Foundation is holding a talk on Antonello da Messina's artistic legacy, with a special focus on his impact on his nephews Antonio and Pietro de Saliba.
Charlene Vella, a senior lecturer at the Department of Art and Art History at the University of Malta and awardee of the Premio Antonello da Messina for the Studi Antonelliani, is delivering the lecture.
The main emphasis is Antonello da Messina's impact on the artistic development of his nephews Antonio and Pietro de Saliba, the sons of Antonello's sister and Giovanni de Saliba, who was probably of Maltese descent. The repercussions of Antonello's brief stay in Venice in 1475 and 1476 was significant not only for the subsequent development of the art the Venetian Renaissance, but also in the formation of his nephews who travelled to Venice after Antonello's death in 1479, spending at least 15 years in the Lagoon City, forging an important relationship with the greatest master of the Venetian Renaissance, Giovanni Bellini.
The lecture is taking place at the Oratory of the Immaculate Conception, Jesuits' church, Valletta, at 7pm. Entrance is free but donations to the Jesuits Foundation's cultural programme are welcome.
Sant' Anton Palace Tour with Dr Amber Wismayer
Flimkien għal Ambjent Aħjar is inviting its members to an architectural and historical tour of San Anton Palace to reveal its vernacular passive environmental strategies, climate-specific strategies developed over centuries to provide comfort using available building materials and traditional techniques.
During the private tour, Dr Amber Wismayer, the founder of AW Studio and Architecture Design, will talk about the palace's origins in 1620 and its development over the last 400 years. The palace's systems of traditional passive cooling/heating, plus recent retrofitting.
FAA has teamed up with the Sustainable Regeneration of Built Heritage (SRBH) initiative to organise these tours, which will be held at 2, 3 and 4pm. Booking is recommended. One should arrive 15 minutes before one's allocated time. List your membership card no with your booking here. The public can enrol here.
San Anton Palace
Mechanical Ground Fireworks in Floriana
Floriana Local Council, with the support of VisitMalta, is organising the Mechanical Ground Fireworks Special on April 22 at 8.30pm. Taking part in the competitive display of traditional ground fireworks will be a number of fireworks factories from across the Maltese islands.
Earth Sunday
A day of activities for all the family is being held at the picnic area in Ta' Qali on April 23.
The event is being organised by the Ministry of Agriculture, Fisheries and Animal Rights, the Ministry for Environment, Energy and Enterprise and Project Green and Eco Market Malta.
For more information, click here.
Spring Fair at the Chinese Garden of Serenity
The China Cultural Centre in Malta is inviting the public to join in the celebration of the Spring Fair being held at the Chinese Garden of Serenity in Santa Luċija on Sunday, April 23, between 11am and 3pm.
Families and children are welcome to discover Chinese culture through many colourful and fun activities, including Tai Chi, Kongfu, Chinese dragon dance, Chinese costumes, Chinese food, tea culture, dance and music, and traditional Chinese medicine.
Admission is free.
The China Cultural Centre in Malta will be supporting the Community Chest Fund through these activities.
Fort Delimara Weekend
Heritage Malta is offering the public the rare opportunity of being shown around Fort Delimara by a guide, on April 22 and 23.
There will be eight guided tours each day. Those starting at 9 and 11am and 1 and 3pm will be in Maltese, while those at 10.15am and 12.15, 2.15 and 4.15pm will be in English.
K-9 Urban Search will be conducting demonstrations on April 22 between 10am and 2pm, while the Malta Police Force's Mounted Section and the Dogs Section will be present on April 23.
Participants are requested to buy their tickets beforehand and to be by the fort's gate 15 minutes before the start of their respective tour, wearing comfortable shoes.
Tickets for tours in Maltese or English, costing €5 for adults and €2 for children and Heritage Malta members, are to be pre-booked from any of our museums and sites, or online here. Heritage Malta members will be asked to present their Heritage Malta membership card.
Tickets for admission without guided tour will be available at the same rates at the door on the day. Last admission is at 4.30pm.
---
VISUAL ARTS
In the Heart of Spring
Caritas Malta is holding an art exhibition of water colour paintings by father and daughter Claire and John Martin Borg at its community centre in Mountbatten Street, Ħamrun, on April 22 and 23.
The exhibition is being held on the occasion of Caritas Malta's 55th anniversary.
Opening hours: April 22 from 6 to 9pm and on April 23 from 9am to 1pm.
One of the artworks that will be on display.
Drawing with Fire
Antoine Paul Camilleri is exhibiting a series of pyrographs at the Malta Postal Museum & Arts Hub in Valletta.
For this technique, the artist makes us of a heated tool to etch lines in the composition, thus bringing it close in conception to the traditional etching process in which acid, instead of fire, is used to eat away the material. One essentially draws with fire on the panel, somehow bringing together the act of creation and destruction.
The 27 artworks are all thematically linked to Valletta, a theme very central to the oeuvre of the artist's father, the late Antoine Camilleri, a giant of Maltese 20th-century modernism.
Drawing with Fire runs until April 29. Consult the venue's Facebook page for more information and opening hours.
Read more about the exhibition here.
Valletta XIV by Antoine Paul Camilleri
Everyday People
London-based Maltese artist Iella (Daniela Attard) is holding her fifth solo exhibition at Christine X Art Gallery in Sliema.
Everyday People features 15 years worth of work made at life drawing sessions mainly at the Malta Society of Arts in Valletta and at various other life drawing sessions in London and elsewhere.
The exhibition opens on April 13 and runs until April 29. For more information, visit the Christine X Art Gallery Facebook page.
Male model sketched by Iella. Photo courtesy of the artist
Memories
An exhibition by Joanne Mizzi is being held at Gemelli Framing in Ta' Qali.
Mizzi's art focuses primarily on the cultural aesthetics of Malta, depicting traditional architecture, iconic locations and traditional items. Her drawings provide a glimpse into the past, taking viewers on a journey through time and inviting them to reflect on their personal histories and memories. I
This collection also includes a set of drawings representing old Maltese decimal coins and vintage commercial posters.
Memories is on until April 29. Consult the gallery's Facebook page for opening hours.
An untitled artwork by Joanne Mizzi
Facelift
Ir-Razzett tal-Markiż in Mosta is hosting an exhibition by Deborah Musù from April 22 to 30.
Facelift features 24 paintings which symbolise the artist's life during the past four years, including difficult moments and new beginnings.
There are paintings in pen and ink technique, in charcoal and pencil, which represent Musu's difficult times and those in vibrant colors, painted in acrylics, mixed media and watercolour, representing her most positive outlook towards life.
For more information and opening hours, visit the cultural centre's Facebook page.
My Sailing Boats by Deborah Musu
Untitled
Mark Geoffrey Muscat is showcasing a new collection of watercolours of land and seascapes in what is his third solo exhibition at The Phoenicia in Floriana.
Untitled comprises 26 watercolours that perfectly encapsulate Muscat's style and technique, one that has matured over the 16 years in which he has exhibited his work.
The exhibition, curated by Charlene Vella, is open until May 2 at The Palm Court Lounge, The Phoenicia Malta.
Breakwater Valletta by Mark Geoffrey Muscat
Outset
Outset is the debut exhibition for two artists, Massimo Dimech and Steve Sciberras, who have been painting landscapes en plein air for the last four years.
Curated by Marika Azzopardi, the exhibition showcases their individual style in which they try to recapture Malta's idyllic locations.
The exhibition is hosted by the Malta Society of Arts, Palazzo de La Salle, 219, Republic Street, Valletta, runs until May 4.
Il-bitħa by Massimo Dimech
Where Are We all Going
Retired consultant paediatrician Carol Jaccarini has always been interested in history, archaeology, literature and the arts and has published a book entitled Ir-Razzett - The Maltese Farmhouse, besides other academic papers.
His latest pursuit is the study and sketching of the wild flora of our islands. He was personally invited by artist Anton Calleja to join life classes at Baħrija but these have stopped in the meantime. Over the years, he had followed courses with Jason Lu, the late Harry Alden and Winston Hassall in portraiture, still life and watercolour painting techniques.
His latest exhibition finds Jaccarini exploring different themes.
Where Are We all Going, hosted by Art..e Gallery, in Victoria, runs until May 5. The artworks can be viewed Monday to Saturday, from 9am to 12.15pm or by appointment on 9980 4774.
Stormy Weather by Carol Jaccarini
Bottled Time
Maltese artist Henry Falzon's latest exhibition, Bottled Time, explores themes that the local art-loving public has grown to expect of him – oils and pastels that celebrate the transparency of the sea and the life beneath it, often from a very high vantage point that glorifies the vastness of this huge body of water that surrounds Malta and that is integral to the local way of life.
The choice of title does not relate to repression, it is not a metaphor for negative containment, for bottled-up feelings but to reminiscing and bringing up the memories to savour them like a bottle of vintage wine.
Bottled Time, hosted by Camilleri Paris Mode, Rabat, runs from April 17 to May 6.
Read the Times of Malta review of the exhibition here.
Big Waves Out There by Henry Falzon
From Chaos We are Borne
Karl Fröman's latest collection, From Chaos We are Borne, connects the chaotic elements of our development and the order that gives it life, with plays on literature from Ayn Rand, Merleau-Ponty, and back to Carl Jung.
The Swedish-born artist remarks that he can't help but feel that the roles of the artists are plagued by confusion; a long stumble through all the immense changes to be endured, while trying to escape from disorder.
His figurative works put themselves in a realm on the fringe of neo-realism, having roots in the Florentine and Dutch tradition.
The exhibition, curated by Melanie Erixon for Art Sweven, is on at Mqabba's Il-Kamra ta' Fuq until May 7.
An artwork by Karl Fröman on display at Il-Kamra ta' Fuq.
Turning Tables
An exhibition poster
A collaborative exhibition in which sculptor Francesca Balzan and book and paper artist Glen Calleja engage with artworks from MUŻA's reserve collection is on until May 7.
The visitor is led through four distinct chambers at the museum, each detailing nuanced narratives about what goes on around tables in our daily lives.
Turning Tables references the exhibition hall's former use as the auberge's dining room, where tables were once the principal feature.
Balzan and Calleja draw on the museum's past, evoke it, confront it in an attempt at provoking reflections about art practice, curation and conservation today. All is played out in the key of disruption and is meant to reframe, in playful provocation, national patrimony and the ecosystem that surrounds it.
MUŻA is open daily, including weekends and public holidays, from 10am to 6pm. Learn more about the exhibition here.
Turning Tables is the final stage of a multi-year project, supported by Arts Council Malta.
Irregularity
J.P. Migneco (b. 1989), an artist who lives and works in Malta, is holding an exhibition at Valletta Contemporary until May 6.
Titled Irregularity, the exhibition features a series of artworks that explore the relationship between natural and artificial environments. The body of work involves a process of reinterpreting landscapes that are found near coastal areas in Malta, through the use of photography, drawing, digital media and painting.
The theme of this project delves into notions related to urbanisation and the advancement of technology. Therefore, the work attempts to evoke issues related to human-environment interaction in the digital age.
Valletta Contemporary is open from Wednesdays to Sundays from 2 to 7pm. For more information, look up the gallery's Facebook page and website.
Rituals of Passage
Valletta Contemporary is displaying the result of a co-creative project between Ryan Falzon, Aaron Bezzina, Alexandra Fraser, Yasmine Akondo, Mladen Hadžić, and Stefan Kolgen.
Rituals are part of everyday life. During times of distress, they give comfort. The title is based on the fact that rituals can bring one from one stage to another physically and mentally. Post-COVID rituals can help one find balance in a disrupted society where attention to mental health and well-being has become important.
The artists created the works with the exhibition space in mind, presenting them in such a way that they interact with each other and that they challenge the viewer, offering context for the audience to create their own story.
Rituals of Passage, curated by Ann Laenen and Stefan Kolgen, closes on May 6. During the opening weekend some works will be accompanied by a performance and a discussion session about the meaning of rituals will be organised, followed by a meet and greet with the artists.
Valletta Contemporary is open from Wednesdays to Sundays from 2 to 7pm. For more information, look up the gallery's Facebook page and website.
Read more about the exhibition here.
Rituals as Aids Against Ruminations by Ryan Falzon
Esprit Barthet – A Life of Colour
Il-Ħaġar, Heart of Gozo Museum in Victoria is hosting a retrospective exhibition of Esprit Barthet (1919-1999).
Curated by Nicoline Sagona, the landmark exhibition is showcasing Barthet's famous 'rooftops' series, as well as his well-known portrait paintings and experimental styles throughout his career.
The exhibition runs until May 22. The museum is open daily from 9am to 5pm. Entrance is free.
Read more about the exhibition here.
Rooftops, 1969. Photo: Peter Bartolo Parnis
The New Gothic
Local contemporary artist Ġulja Holland, renowned for thought-provoking and politically engaged practice, is launching her fourth solo exhibition on April 14 at Spazju Kreattiv in Valletta.
Entitled A New Gothic, it is her largest boday of work to date, produced over three years, and draws on timely themes such as the anthropocene, eco-anxiety, and gender issues, challenging viewers to engage with the complexities of our world and to question their own place within it.
Curated by Andrew Borg Wirth, the collaborative project will also see Holland overlap with local and international artists, academics and practitioners from across disciplines including Charlie Cauchi and Rieko Whitfield (UK).
The exhibition will be inaugurated by esteemed curator, art historian and Sky Portrait Artist of the Year judge Kathleen Soriano (UK).
For more information, visit the Spazju Kreattiv website or the artist's Facebook page.
Cocoon by Ġulja Holland
OTHER EXHIBITIONS
Chinese Zodiac Sign Exhibition
The China Cultural Centre in Malta, in collaboration with the China Arts and Entertainment Group, is presenting an exhibition on the Chinese zodiac sign of the rabbit which is this year's sign.
With the aim to promote an understanding of China's traditional culture and its connections with local tourism, the exhibition showcases how this particular zodiac sign is transmitted in various cultural facets of different Chinese regions.
Colourful illustrations portray how this rich heritage is passed on through the creation of costumes and dance, opera, silk fabric designs, ceramics, lanterns, pencils, paper-cutting, festive candy and bean flour lamps.
The exhibition is open at the China Cultural Centre at 173, Melita Street, Valletta, until the end of April. Entrance is free. Groups are advised to book in advance through events2023ccc@gmail.com.
Shoah the Holocaust: How Was It Humanly Possible?
The Tayar Foundation for Jewish Heritage in Malta has organised a Holocaust Memorial exhibition which will be displayed at three venues in Malta until June.
The exhibition deals with major historical aspects of the Holocaust, beginning with Jewish life in pre-Holocaust Europe and ending with the liberation of the Nazi concentration and extermination camps across the continent and the remarkable return to life of the survivors.
The display panels feature explanatory texts, with quotes from Jewish victims and survivors, photographs, art documents and videos for eight survivor stories.
The exhibition is open until April 23 at MCAST Paola, opening hours Monday to Friday from 7am to 8pm and on Saturdays from 9am to 12.15pm (closed on Sundays); and from April 24 to June 4 at the University of Malta, Msida Campus, open from Monday to Friday from 7am to 11pm and on Saturdays and Sundays from 9am to 4.45pm.
For more information, visit shoah.jewishheritagemalta.org/.