ARTS
Malta International Arts Festival
The Malta International Arts Festival (MIAF) kicks off this week with a varied programme of events that run between June 16 and June 25.
The opening performance Dik is-Siġra f'Nofs ta' Triq, penned by Immanuel Mifsud and co-produced with Teatru Malta. It is a promenade performance that tells a fantastical story of tensions between past and present and brimming with magical realism.
With a cast of over 20 performers, the show promises magical visuals, memorable songs and heartfelt emotion. It is directed by Chris Gatt and is being staged between June 16 and July 2 at MCAST Paola.
City Gate, Valletta, will host Arti – Full immersion, an immersive son et lumiere experience, featuring videography of Maltese art, from June 16 to 25.
On June 17 and 18, the Valletta Campus Theatre is hosting M.A.D − Music And Dance, a dance residency programme connecting international artists with local talent, featuring new choreographies by Ido Gidon (Israel) and Justin Roy Barker (Malta), set to a music recital by Javus String Quartet (Austria). The performance is being held in collaboration with the Austrian Embassy and the NewAustrian Sound of Music.
There will also be a number of fringe events, including Fashion Unleashed on June 17 at 8pm. This fashion and movement production is presented by the students of the MCAST Institute for the Creative Arts, Advanced Diploma in Fashion and Retail in collaboration with the Advanced Diploma in Performing Arts, featuring three collections that will be accompanied by a movement-based performance.
Another theatrical performance inspired by various rituals of death, B'riħ jew riefnu minn hawn irridu nsiefru, is taking place at the Madonna tal-Herba Sanctuary, Birkirkara, between June 18 and 25.
For more information and tickets, visit festivals.mt/miaf.
The poster of Dik is-Sigra f'Nofs ta' Triq, the first performance of this year's Malta International Arts Festival, opening on June 16.
Victoria International Arts Festival
The Victoria International Arts Festival continues on June 12 with a pianoforte recital by Gabriele Vianello at Aula Mgr G. Farrugia. On June 13, Il Coro della Farnesina will perform at St George's Basilica and harpist Jacob Portelli will perform at St Augustine church on June 14.
The Duo Lentia, comprising violinists Simon Mattern and Lukas Hebenstreit, will give a recital at St Augustine Church on June 15, while the Trio Sattva, made up of Sophie Joanna Knöchelmann (violin), Mira Luisa Maranta (viola) and Alice Burla (pianoforte) will perform at the Aula Mgr G. Farrugia on June 16. The hall will also host a trio made up of Florian Muehlberger (clarinet), Anne Harvey-Nagl (violin) and Biliana Tzinlikova (pianoforte) on June 17.
All performances start at 8pm. The festival runs until July 10 and all events are free of charge. For more information, visit viaf.org.mt.
---
THEATRE
Walking Home
Prickly Pear Productions is premiering its latest play at the Astra Theatre in Gozo between June 16 and 18.
Walking Home is a devised performance exploring the politics and tensions within the issue of sexual violence against women and people of marginalised genders. It is based on more than 40 true stories of real experiences collected from people of diverse genders, nationalities and walks of life from around the world.
The show is directed by Chantelle Micallef Grimaud and stars Sean Borg, Michela Farrugia, Alex Weenink and Zoë Alba Farrugia.
Tickets are available here. This performance is supported by Arts Council Malta – Programme Support Fund.
The cast of Walking Home. Photo: Facebook/Prickly Pear Productions
As You Like It: Shakespeare in the Garden
WhatsTheirNames Theatre is staging Shakespeare's comedy As You Like It at Vincent's Eco Estate in Mġarr between June 13 and 18.
The play, directed by Philip Leone Ganado, stars Leone Ganado himself, Becky Camilleri, Gianni Selvaggi, Tina Rizzo, Sandie von Brockdorff, Joseph Zammit and Nathan Brimmer.
The performance is suitable for audiences of all ages. Doors open at 8pm and seating is a first-come, first-served basis. For tickets, visit chitzo.com.
A scene from last year's Shakespeare in the Garden series.
MUSIC
MSA's 100 years at Palazzo de La Salle celebrations – Concert 5
The next recital in a series celebrating the 100th anniversary of the Malta Society of Arts at Palazzo de la Salle in Valletta is taking place on June 15 at 8pm.
Performing on the night will be pianist Gabi Sultana, who will play works by Rzewski, Shaw, Van Esser and by local composer Pawlu Grech, among others. She will also perform a new work by Euchar Gravina.
For more information and tickets, visit artsmalta.org.
Bir Miftuħ International Music Festival
The 2023 Bir Miftuħ International Music Festival will come to a close with a performance by the Cappella Sanctae Catharinae on June 16 at 8pm.
They will present rarely performed sacred music by Franz Listz with guest artists soprano Dorothy Baldacchino, soprano Madeleine Gruppetta and mezzo soprano Claire Ghigo.
Reservation is against a donation of €25 per person and includes refreshments after the performance in the church grounds. Bookings for this last concert can be made by emailing reservations@dinlarthelwa.org.
All proceeds from the festival will go towards the upkeep of the historical site.
The chapel of Bir Miftuħ in Gudja. Photo: Din l-Art Ħelwa
Russell Crowe's Indoor Garden Party
Australian actor Russell Crowe will be rocking St George's Square, Valletta, with his band on June 17 at 8pm.
The concert will also feature local artists Ivan Grech, Ira Losco and Beth.
For tickets, visit ticketline.com.mt.
Edith Cavell
Completed shortly before the composer's death in 1923 and performed only once in 1927 at the Royal Opera House Valletta, Paolino Vassallo's three-act opera Edith Cavell will be making a return to its birthplace on June 17 on the occasion of the composer's 100th anniversary from his death.
The opera is built around British nurse Edith Cavell who, together with a Belgian colleague, was executed in Brussels in 1915 for enabling over 200 allied soldiers to escape the German occupation of Belgium and reach neutral Holland.
Pjazza Teatru Rjal is presenting this concert version with soloists Martina Bortolotti, Gina Galati, Jorge Pita Carreras, Louis Andrew Cassar, Joseph Lia and Albert Buttigieg, KorMalta and the Malta Philharmonic Orchestra, under the direction of Maestro Dario Salvi.
Tickets are available on ticketline.com.mt.
Also read this Times of Malta article.
The event's poster
The Centenary Concert
The Malta Police Force Band is celebrating its 100th anniversary with a concert at the Manoel Theatre on June 17 at 8.30pm.
Also taking part in the concert are The Malta Police Pipe Band and Drums Corps, the Cappella Musicale Caeciliana Choir, soprano Ruth Sammut Casingena and the HM Royal Marines Fanfare Team from the UK.
The programme includes works by Orff, Bizet, Knox, Gounod, Offenbach, Wagner, Puccini, Williams and Verdi.
Proceeds will go in aid of Id-Dar tal-Providenza. For more information and tickets, visit teatrumanoel.com.mt.
Joint choral concert
The Maynooth University Chamber Choir, an award-winning choir from the Republic of Ireland, and the St Paul Choral Society (SPCS) will hold a joint choral concert at St Paul's Pro-Cathedral, Valletta, on June 18 at 7pm.
The SPCS will open the concert, singing Maltese and other European works from its sacred music repertoire, accompanied on the organ by Elisabeth Conrad, under the direction of Hugo Agius Muscat. The Irish visiting choir will then sing a selection of Irish choral pieces 'a cappella', under the direction of Michael Dawson, with one of the pieces being accompanied by solo violin. At the end of the concert, the two choirs may sing one or two pieces together.
Admission is free of charge and seating will be on a first-come, first-served basis. There will be a retiring collection in aid of the Cathedral.
The St Paul Choral Society in a past performance. Photo: Facebook
Valletta Resounds: The Caravaggio Experience
St John's Co-Cathedral Foundation and Udjenza are producing a new concert as part of the Valletta Resounds series, which strings together Malta's cultural heritage with theatrical storytelling and timeless classical music.
Titled The Caravaggio Experience, the concert is being performed weekly inside the oratory, which is adorned with Caravaggio's masterpieces.
Critically acclaimed Maltese musicians under the musical direction of Jacob Portelli are at the helm of the site-specific performance, bringing to life the works of baroque masters such as Vivaldi and Bach, along with the sound of sacred Maltese music by composer Francesco Azzopardi and more. They are accompanied by sopranos Dorothy Bezzina and Dorothy Baldacchino.
The concert is woven harmoniously with tales of the Knights of St John narrated by Jeremy Grech.
A highlight of The Caravaggio Experience is the music score for the atmospheric light installation on details of the master's paintings.
The concert is being performed weekly on Wednesdays and Fridays until June 21 at 6.30pm, with ticket holders being granted exclusive after-hours access to the Co-Cathedral at 6pm.
Alongside its majestic architecture, visitors may also enjoy rare, centuries-old tapestries that will be exhibited inside the Co-Cathedral until June 24, following a 16-year-long restoration project.
Tickets may be purchased from www.showshappening.com.
For more information visit www.udjenza.com.
Harpist Jacob Portelli performing at the oratory of St John's Co-Cathedral. Photo: Elisa von Brockdorff
DANCE
Malta Flamenco Festival
The second edition of the Malta Flamenco Festival is taking place on June 16 and 17 at the Gardjola Gardens in Senglea.
Audiences will be able to experience the main three elements of flamenco from Andalusia, with the cast made up of leading figures in the current music scene and the participation of local artists.
These include singers Miguel Rosendo and Jesus Flores, the dancer Miguel El Rubio, and guitarist Alejandro De Chacón. Teachers and advanced students attending flamenco dance schools in Malta will be special guests at the festival.
The event will open its doors at 7pm with the first performance beginning at 8.30 pm.
For more information, contact info@maltaflamencofestival.com or call on 7921 6128. Also visit the event's Facebook page.
Singers and musicians during last year's festival.
MISCELLANEOUS
Eco Festival – Malta edition
A festival taking place at the Upper Barrakka Gardens between June 16 and 18 is celebrating environmental sustainability and climate action.
It will feature an eco-friendly market with sustainable products and services, from clothing and accessories to household items, beauty products and wellness services, and there will be a range of fun and educational activities, including eco-art workshops, upcycling challenges and an interactive game about endangered species.
A range of healthy plant-based food options from local suppliers.
Various musicians will also take part in the event, which is open daily from 10am until 11.30pm. For more information, visit the event's Facebook page.
The event is organised by Eco Market Malta and Scie Eventi.
Refugee Week Malta
The second edition of the local version of the Refugee Week festival is taking place from June 18 to 25 in venues across Malta.
The global movement aims to celebrate the creativity, contributions and resilience of refugees and people who seek safety. It is also happening in Australia, England, Greece, Hong Kong, Berlin, South Africa, Croatia and Slovenia.
This year's global theme is compassion, and through education, artistic and community events, people are invited to create new encounters, to connect beyond labels and in new spaces, and to contribute towards inspiring a culture of care.
Produced locally by Dance Beyond Borders, the festival will kick off on June 18 with Spark Fest, a family friendly event taking place at Balzunetta, Bocci Club and hockey Pitch, Floriana. For more information, visit the event's Facebook page.
St John's Co-Cathedral Open Day
St John's Co-Cathedral is holding a second open day on June 18 from 4 to 9pm.
The public will be able to view the 16th century tapestries which are currently hanging at the cathedral after their renovation.
One of the tapestries on display. Photo: Jonathan Borg
VISUAL ARTS
Skart Għani
Reconciliation (2005), by Joseph Barbara, made from plastic water bottles.
The Central Bank of Malta is holding a unique art exhibition by Joseph Barbara, titled Skart Għani (Rich Waste), at the Central Bank of Malta, Polverista premises, in Valletta.
The bank is celebrating its 55th anniversary and the theme for this year chosen is sustainability, hence this exhibition consisting of 30 installations made entirely from discarded waste.
The works are in varying dimensions and include hanging pieces. The materials used are plastic water bottles and plastic bags, wooden cable reels, broken mannequins, pieces of scrap metal, cardboard boxes and drums, found pieces of wood, tree bark and branches, and whatever else came along the artist's path.
The exhibition is on until June 15. Visiting hours are from 8.15am to 1.45pm. The entrance to the Polverista is from the Triton Fountain Square; there is a tunnel on the right before proceeding towards the bus terminus.
This exhibition is dedicated to the late Fr Marius Zerafa.
The artist can be contacted on 9987 8757.
The Last Dance
Joe P. Smith is presenting a fine art photographic exhibition and installation of what remains of the once popular discotheque The Planet, which formed part of the Astra Theatre complex in Victoria.
The exhibition, curated by Therese Debono, is open until June 16.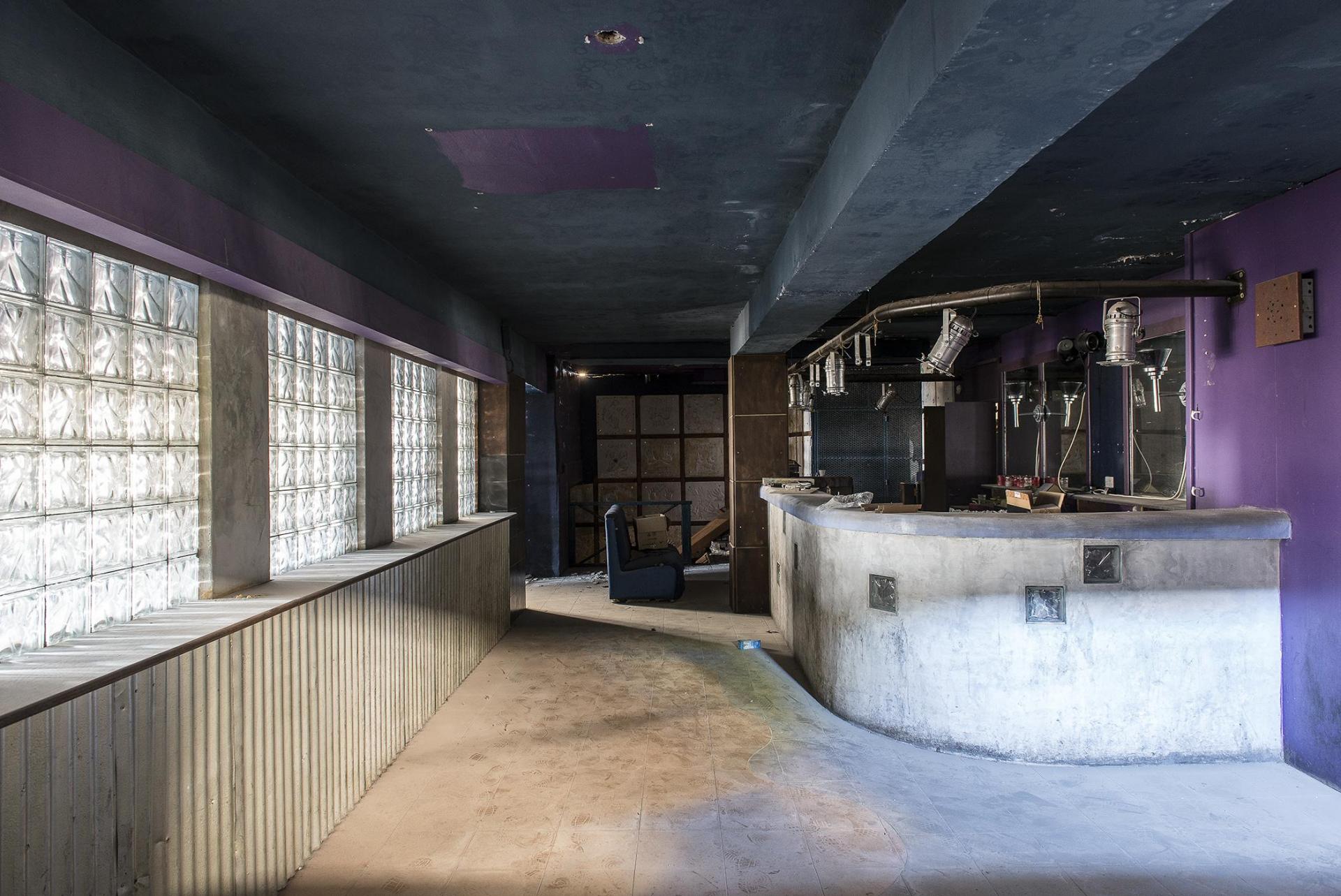 A photo of the ex-Planet discotheque in Victoria by Joe P. Smith
Sculptura
The annual fine arts fundraising art exhibition in aid of the Malta Community Chest Fund is focusing on sculptural works of 32 established and up-and-coming sculptors.
Titled Sculptura, the exhibition is multi-thematic and includes an array of media.
The exhibition is in aid of the Malta Community Chest Fund, an Art4MCCF initiative, and is curated by Melanie Erixon and hosted at Antoine de Paule Hall, San Anton Palace, Attard.
It will be open on June 17 and 18, from 9am to noon and from 5 to 8pm.
Read more about the exhibition here.
Afterlife Identity by Paul Scerri
Joseph Chetcuti: The Sculptor and Bronzesmith
Four years after his untimely death, the work of sculptor and bronzesmith Joseph Chetcuti is being showcased in a retrospective exhibition at MUŻA, the national museum of art in Valletta.
The founder of Funderija Artistika Chetcuti (as it is known today) in Luqa Industrial Estate, Chetcuti is best remembered for the monuments, portrait busts and commissions he worked on during his lifetime.
Curated by Lisa Gwen, the retrospective runs until June 25.
For more information, visit the exhibition's Facebook page.
Also read this Times of Malta review.
Grandmaster Jean de Valette by Joseph Chetcuti. Bronze copy of original maquette (2012). Photo: Therese Debono
Il-Ħabba tal-Għajn
A solo exhibition by Alex Dalli is opening at the Malta Society of Arts in Valletta on June 8.
The exhibition, curated by Gabriel Zammit, follows the painter's journey from the figurative into the abstract.
As Alex Dalli developed as an artist his gaze turned from the external to the internal and his work necessitated a parallel shedding of form in order to express subtle ideas, feelings and abstract concepts. His sensitivity to colour and surface drove him to develop the minimal style that he is now known for.
The exhibition takes its cue from Michael Zammit's Għana 'l Hena (APS, 2005) which is a cycle of poetry inspired by Sanskrit philosophy and mantra meditation.
Zammit uses language to do the same thing Dalli does with paint, and his words provide a context and touchstone for reading Dalli's complexly coded images.
The exhibition runs until June 28. Visit the exhibition's Facebook page and the Malta Society of Arts website for more information.
Still Life With Skull (1978), by Alex Dalli. Photo: Lisa Attard
Tnessid
An exhibition at Spazju Kreattiv in Valletta is bringing together the work of five artists, Aaron Sammut, Elena Said, Kristov Scicluna, Marvic Camilleri and Ramona Borg, following their Master of Fine Arts in Digital Arts, at the Department of Digital Arts, at the University of Malta.
Tnessid is the inverse of 'dissent', meaning the diverging opinions from the ones that are commonly held. Apart from reflecting the different perspectives among the artists themselves, each individual project, in one way or another, presents an alternative perspective to commonly held views. The curation of the exhibition links these differences through a common aesthetic thread.
The works are multidisciplinary and conceptual, ranging from sculpture to drawing, installation and sound.
The exhibition, which runs until July 2, includes works by a group of MA students in Digital Arts from the University of Greenwich, London.
---
OTHER EXHIBITIONS
Ancient Tea With New Glamour
The China Cultural Centre in Malta is hosting a new exhibition under the theme of 'Tea for Harmony', co-organised with the Xi'an Municipal Administration of Culture and Tourism.
Featuring intriguing displays, artefacts, paintings and photographs from the city of Xi'an, this new exhibition opens a window into the enduring significance of tea in Chinese culture.
A Tang-style gilded tea set made of bronze gold and silver is the main attraction. Other exhibits include a batch of royal teaware items that were unearthed in 1987 at the ancient Buddhist Famen Temple in northwest Shaanxi and a modern reprinted thread-bound edition of The Classic of Tea, considered to be the first known monograph on tea in the world, written by Lu Yu between 760 CE and 762 CE, during the Tang Dynasty.
One may visit the exhibition, which will remain open until the end of this year at the China Cultural Centre, 173, Melita Street, Valletta. The centre is open Monday to Friday from 9.30am to noon, and from 1.30 to 4pm. Entrance is free. Reservation is advised for group visits at events2023ccc@gmail.com.
Photo: China Cultural Centre