MUSIC
André Rieu live in concert
World-renowned violinist and conductor André Rieu is performing with the Johann Strauss Orchestra at the Granaries in Floriana on September 1 and 2.
Dubbed 'the King of Waltz', his concerts are renowned for their crowd-friendly performances of popular classics, crossover tunes and waltzes, and for the extravagant costumes and sets.
For tickets, visit showshappening.com.
MPO Season Opening Concert
The Malta Philharmonic Orchestra is opening its new concert season at Pjazza Teatru Rjal in Valletta on August 31.
Resident conductor Michael Laus will first lead the orchestra in Weber's Overture to his opera Der Freischütz. This will be followed by Tchaikovsky's four-movement orchestral suite Mozartiana which was inspired by Mozart's epic opera Don Giovanni,
The final piece, Mussorgsky's Pictures at an Exhibition, arranged for orchestra by Ravel, features 10 vivid musical sketches, each representing paintings tied together by a recurring promenade theme.
The concert starts at 8pm. Tickets are available from showshappening.com.
Levant Gozo Music Festival
The music festival returns to Xewkija heliport on September 1 from 9pm onwards.
The artist line-up this year features Mae, Junior B, Musea Orchestra and Tribali.
Entrance is free.
Tribali are among the acts performing at the festival. Photo: Facebook
An Evening of Song with Joseph Lia and Natalia Rakhmatulina
On September 2, the Mediterranean Conference Centre in Valletta is hosting an evening of vocal musical featuring arias and romantic music by Schubert, Schumann, Glinka annd Tchaikovsky, among others.
Baritone Joseph Lia and pianist Natalia Rakhmatulina will perform.
Tickets are available from showshappening.com.
Prokofiev's Plea – Innocence and conflict
Pianist Valentina Nenasheva
Pianist Valentina Nenasheva (Uzbekistan/Serbia) is interpreting Prokofiev's vision of children's innocence and the harsh realities of war in a recital at the Malta Society of Arts in Valletta on September 2 at 7.30pm.
Tickets will be available at the door on a first-come, first-served basis. Refreshments will be served after the concert.
The event is organised by the European Piano Teachers of Association Malta in collaboration with the Valletta International Piano Festival and NOVI Bar.
For more information, click here.
---
ARTS
KampuSajf
The first edition of KampuSajf is taking place at The Malta College of Arts, Science, and Technology (MCAST)'s Paola Campus until August 28 and at the Mosta Campus on August 30.
The programme on August 28 will see an animation showcase of different short animated movies from Maltese film-makers covering different genres of animation, including children's animation, while August 30 will feature a multi-disciplinary project highlighting translated texts from Greek to Maltese.
The festival is under the artistic direction of Stjanu Debono.
For more information, visit the event's Facebook page. Tickets are available from ticketline.com.mt.
---
DANCE
Carmen
The Company of Dance Arts is presenting a modern take on Bizet's Carmen at the Valletta Campus Theatre from September 1 to 3.
Dancer Nina Galea will perform the title role on September 1 and 2, while Nina Soler is leading on September 3. The other major roles see Andrew Camenzuli as Don José, Mattea Gabaretta as Micaela on September 1 and 2 and Mattea Bianchi as Micaela on September 3, Beppe Vella as Escamillo and Andrew Spiteri as Zuniga.
Tickets are available from ticketline.com.mt.
Photo: Facebook/Company of Dance Arts
FILM
Summer Chinese Film Festival
The Summer Chinese Film Festival, organised by the China Cultural Centre, is coming to an end with the 2017 film My Other Home on August 31.
The film tells the inspirational true story of Stephon Marbury, a former professional basketball player in the NBA league who falls in love with the game again in China.
My Other Home is being screened at the China Cultural Centre, located at 173, Melita Street, Valletta, at 7pm. Entrance is free. Seats can be reserved by e-mailing susanzhao1118@gmail.com.
Italian Film Days
The Italian Cultural Institute is screening the 2022 film Il signore delle formiche (Lord of the Ants) at Spazju Kreattiv in Valletta on August 31, as part of the Italian Film Days programme of screenings.
Directed by Gianni Amelio, the film is a biopic of Italian poet, playwright and director Aldo Braibanti, who was jailed in 1968 due to a Fascist era anti-gay law.
Braibanti was convicted after a complaint from his partner's father, who later forced his son to be treated with electroconvulsive therapy in an ill-conceived attempt to rid him of his homosexuality. This law was repealed in 1981.
The screening starts at 7.30pm. Tickets from kreattivita.org.
Disney's 100th anniversary celebration
KRS Releasing Ltd, in collaboration with The Walt Disney Company and in partnership with the local cinemas, is celebrating Disney's 100th anniversary with a programme of films this summer.
These include classic, ground-breaking Disney films selected from almost every decade of the centenary such as the original animated versions of Snow White, Bambi, and The Jungle Book.
Cinderella (1950) is being screened until August 31. It will be followed by Peter Pan (1953) from September 1 to 7.
For more information, visit the KRS Releasing Facebook page.
The event's poster
MISCELLANEOUS
The Mellieħa Fireworks Annual Concert 2023
The Mellieħa Fireworks Annual Concert is taking place on August 29.
Rock band RUG and other local talent will be performing in Triq Ġnien Ingraw from 8.30pm onwards.
Entrance is free and there will be food and beverage stalls. The night will come to an end with a spectacular fireworks show.
For more information, click here.
Gianni Zammit (left) with his band RUG. Photo: Facebook/IloveRug
Delicata Classic Wine Festival Gozo Edition
The Delicata Classic Wine Festival is moving to Nadur in Gozo on September 1 and 2.
There will be over 20 wines to sample, besides live cooking stalls and various performers to entertain the crowd at Ġnien il-Kunsill.
Rebecca and the Passengers, Lara and the Juke Boys and J Anvil will perform on September 1, while Jolene Samhan, Big Band Brothers and Pierre Cordina will hit the stage on September 2.
Popular host Ronald Briffa will compere the shows.
More information on the event is available on www.delicata.com.
Swieqi Fest
Swieqi local council is holding another edition of its annual festival at Swieqi Civic Centre between September 1 at 6pm and 11pm on September 3.
Over 20 singers will be taking part, including Kevin Paul Calleja featuring Owen Leuellen and Megan May, Relikc, Stefan Galea, Matt Blxck Yazmin Helledie and Kaya Gouder feat. Ike, Wayne'z World, Lisa Gauci and Beth, Maxine Pace, Gaia Cauchi and Karin Duff.
Break Free, a European Queen tribute band from Italy, will be the headlining act on Saturday.
Besides music, the Swieqi Art Group will be holding a mixed art event, featuring paintings, sculpture and ceramics at the Swieqi local council hall, and local artisans will present their crafts throughout the three-day festival.
For more details, visit the event's Facebook page.
Break Free, a tribute band to Queen, will be the headlining act on September 2. Photo: Cátia Serro
Filfla Heritage Cruise
Flimkien għal Ambjent Aħjar is organising a cruise around the marine protected area of Filfla on September 2.
Expert guides will give a running commentary on the fascinating mix of geological formations, rare flora and fauna and knights' fortifications, of the whole southern coast leading to Filfa.
Participants may also admire seabirds and other protected species, including turtles and dolphins.
After Filfla, the boat will stop at Il-Ħofriet Bay in Delimara where one can swim and snorkel.
Participants will embark from the Sliema Ferries at 10am and return at 5pm. Tickets are available here.
The islet of Filfla. Photo: Flimkien għal Ambjent Aħjar
Kids Just Wanna Have Fun!
The second edition of the family event is taking place at the main parking area of Victoria on September 3.
The event offers a day of activities for children of all ages, including train rides, face painting, bouncy castles, workshops and more, with the intent to foster creativity and teamwork.
Entrance is free. Parking will be available at Leli Farrugia Football Ground, adjacent to the event's location.
More information is available on the event's Facebook page.
Sharing Cultures Festival
The event's poster
A celebration of diversity through the universal languages of music, dance, food and art is taking place at the Sharing Cultures Festival in Msida on September 2.
There will be dancing from Africa and Asia, Latin American beats and various local performers, such as Lorna Fiorini and Margaret Galea, who will perform popular Maltese songs, Phylisienne's Children's Choir, Aqua Blu Dancers and the Aurora Folk Group from Gozo.
There will also be various cuisines and crafts from international cultures present on the Maltese islands.
The event, taking place in St Joseph Square, Msida, between 5 and 11pm, is free of charge. It is organised by Malta's migrant communities, the Msida local council and is supported by the Human Rights Directorate.
Follow the Msida local council's Facebook page for more information and updates.
Culture Garden: Let's Green Gżira!
An afternoon of workshops, games, food and music, themed around nature and community, is behing held at The Council of Europe Gardens in Gżira on September 2, as part of the Varcities project.
Local NGOs, artists and musicians have come together to create a jam-packed programme that includes: a yoga session by Yanica Yoga Malta (bring a mat); an arts and crafts nature workshop by Arts and Crafts Malta; science shows by JUSTNature; a local walk by Walk and Talk; balcony permaculture workshop by Green Fingers Club; fun and games with BirdLife Malta; and an interactive artwork featuring YOU! by Tom Van Malderen and Laura Besançon. Food stalls will also be available.
Activities will be held between 3 and 9.30pm. For more information, visit the event's Facebook page.
Varcities is a local project supported by the Gżira local council and the University of Malta and funded by the European Commission. To find out more, visit https://varcities.eu/.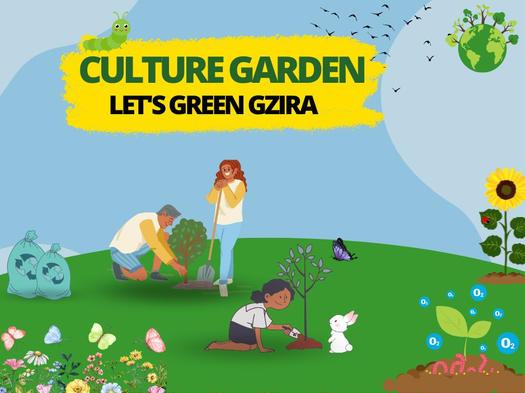 Image: Facebook/Varcities
VISUAL ARTS
Green City: From Floriana to Mdina
A collection of recent paintings by Danish artist, sculptor and architect Rune Bo Jakobsen is gracing the Palm Court Lounge at The Phoenicia Malta throughout the month of August.
Green City: From Floriana to Mdina features a collection of land and streetscapes with the aim to draw attention to the available greenery of the Maltese islands..
In a subliminal way, the exhibition conveys an important urgent message: 'We can choose to make Malta green', Jakobsen says.
Also significant to this exhibition is a 2.8-metre-high sculpture titled Green Heart which is exhibited in the gardens of hotels.
Green City: from Floriana to Mdina is open until August 30.
One of Runo Bo Jakobsen's works on display at The Phoenicia.
Francesco Zahra (1710-1773) 250th Death Anniversary
Il-Ħaġar Museum in Victoria is commemorating the death of Francesco Zahra, generally considered to have been the greatest painter in Malta during the 18th century, in a landmark exhibition until September 3.
No fewer than 62 works by Zahra are on display. The exhibition also includes works by Buhagiar's father and brother, his artistic rival Enrico Regnaud and the Rome-trained French artist Antoine Favray, who arrived in Malta in the 1740s.
The exhibition, curated by Keith Sciberras, forms part of the 26th Victoria International Arts Festival, an event co-sponsored by the museum, which came to an end on July 10.
The museum is open daily from 9am to 5pm. Entrance is free. For more information, visit the museum's Facebook page.
Read more about the exhibition in this Times of Malta review.
St Paul Shipwrecked (section) by Francesco Zahra
Context
An exhibition is bringing together four Maltese artists, Ryan Falzon, Madeleine Gera, Anna Grima and Paul Scerri at Bureau Iniala in Valletta.
This collective exhibition is a cohesion of four artistic languages; the artists were not limited thematically in an intentional curatorial decision. The term 'context' gives purpose and order through a standardisation of parameters that are supposed to have withstood the test of time.
In a context of togetherness, these four artists are exploring a poetic recontextualisation of sorts, in a warlike post-pandemic world that is thirsty for an aesthetic recalibration.
Context is a Times Events and Bureau Iniala collaboration, hosted at 37, Old Treasury Street, Valletta. It is open until September 5. Read more about the exhibition here.
The Plague Doctor by Madeleine Gera
The Archive – Malta Society of Arts' Members' Exhibition 2023
Palazzo de la Salle in Valletta is hosting a collective fine art exhibition by more than 50 members of the Malta Society of Arts.
The works revolve around memories and recollections generated by using different references which act as an archive. This notion is inspired by the society's archive, which was one of the main sources of data and inspiration for this year's artistic projects.
The visual art project is being held as part of the MSA's 2023 programme of events commemorating the centenary anniversary of the Society at the palazzo.
The exhibition is being held until September 7 and is directed and curated by Roderick Camilleri. For more information, visit artsmalta.org.
One of the works on display at the galleries of Palazzo de la Salle. Photo: Malta Society of Arts
The Infinite Labyrinth
Every Minute of the Previous Afternoon Was Just as Decisive by Sarah Mallia Scicluna
Sarah Maria Scicluna explores the intricacies of our desires, aspirations, and the often elusive nature of our dreams at an exhibition at Il-Kamra ta' Fuq in Mqabba.
By creating complex structures constructed from thousands of lines, the artist's aim is to capture the essence of an intangible concept: the unreachable castle of The Castle by Franz Kafka, which serves as the main source of inspiration for this work.
The castle in the novel represents an unattainable goal, an elusive destination that forever haunts the protagonist, as well as the reader. It embodies a seemingly endless labyrinth of bureaucracy, uncertainty and delusion. Each line becomes a path, a possibility, an illusion, a knot that cannot be untangled.
The Infinite Labyrinth, curated by Melanie Erixon, runs until September 10. Consult the venue's Facebook page for opening hours.
Soap to Think With
Norbert Francis Attard is holding a solo exhibition at Gozo Contemporary at 11, Triq Mongur, Għarb.
Curated by Ann Dingli, the exhibition features works made out of soap and soap boxes besides other materials to highlight links between massive events in national history that we might otherwise have not made.
A catalogue featuring critical essays by Paul Sant Cassia, Ann Dingli and Nikki Petroni and a prologue by Gabriel Zammit accompanies the exhibition, which is dedicated to Marisa Vella (1960-2020).
Soap to Think With runs until October 29. It can be viewed by appointment by calling on +356 7904 1051 or by sending an e-mail to norbert@norbertattard.com.
Read more about the exhibition in this Times of Malta interview with the artist and curator.
Nous
Visual artist Joseph Farrugia is exhibiting works from his extensive oeuvre at MUŻA in Valletta.
Also known through his career as an economist, specialising in the field of industrial relations and social dialogue, Farrugia has exhibited in numerous exhibitions over a span of more than 30 years.
His art is generally introspective and addresses existential themes, inspired by a constant search for identity and provoking questions about the nature of being.
Nous is on at MUŻA until October 1. For updates, look up the exhibition's Facebook page. Also read this Times of Malta review.
The Night by Joseph Farrugia
The Wind Blows… Waves in All Directions
Spazju Kreattiv is hosting an exhibition as part of the EuroPride 2023 programme.
Using Maltese and Tunisian contexts as parallel bases for this exhibition, artists and activists from 11 Mediterranean countries reflect on the past, present and future, as well as their community and their own identities with running themes of resistance through activism, gender expression, sexual liberation and self exploration throughout the exhibitions.
The exhibition runs until October 29, is co-curated by Bobb Attard & Mohamed Ali Agrebi. For more information, click here.
An artwork on display at the exhibition. Photo: Facebook/Spazju Kreattiv
OTHER EXHIBITIONS
The Langue of Italy: Building an Identity
The exhibition The Langue of Italy: Building an Identity is being held at MUŻA, in Valletta, until September 24.
This exhibition uses the Auberge d'Italie − where the museum is situated − as the medium through which a broad reconstruction and definition of the langue's functions can be examined.
This exhibition forms part of a comprehensive project entitled 'Stories of the Auberge d'Italie: faces, facets, façades', the scope of which is to explore this key historic institution within a contextualised historic urban and institutional landscape.
Entrance is free. For more information, click here.
Ancient Tea With New Glamour
The China Cultural Centre in Malta is hosting a new exhibition under the theme of 'Tea for Harmony', co-organised with the Xi'an Municipal Administration of Culture and Tourism.
Featuring intriguing displays, artefacts, paintings and photographs from the city of Xi'an, this new exhibition opens a window into the enduring significance of tea in Chinese culture.
A Tang-style gilded tea set made of bronze gold and silver is the main attraction. Other exhibits include a batch of royal teaware items that were unearthed in 1987 at the ancient Buddhist Famen Temple in northwest Shaanxi and a modern reprinted thread-bound edition of The Classic of Tea, considered to be the first known monograph on tea in the world, written by Lu Yu between 760 CE and 762 CE, during the Tang Dynasty.
One may visit the exhibition, which will remain open until the end of this year at the China Cultural Centre, 173, Melita Street, Valletta. The centre is open Monday to Friday from 9.30am to noon, and from 1.30 to 4pm. Entrance is free. Reservation is advised for group visits at events2023ccc@gmail.com.
---