Updated 1.30pm
Malta has started to clear up damage caused by Storm Helios, which battered the country on Thursday and led the authorities to urge people to stay indoors.
The storm is moving towards northwest Libya, but an orange weather warning remains in force and gusts of wind reaching gale-force speeds were still being registered on Friday morning.
Gozo Channel ferry services were suspended, as were Virtu Ferry services to Sicily.
The wind is expected to pick up again later in the day, going from strong to very strong westerly veering very strong east-northeast. It should be a mostly cloudy day with showers of rain or hail, becoming thundery at times. Visibility will be good becoming moderate to poor in showers.
Strong waves were still battering the Sliema coast on Friday morning.
Although the flooding was mostly cleared by Friday morning, some areas such as Ħal Far Road remained submerged. Authorities asked people to avoid the area if possible.
In other, drier areas, people started the arduous task of cleaning up debris from the storm and assessing damage caused by the gale-force winds.
The coast was especially badly hit by the inclement weather, with large violent waves destroying structures and even capsizing some boats.
A man clears debris at Baħar iċ-Ċagħaq. Video: Jonathan Borg
Photo: Jonathan Borg
Damage below Heritage Malta HQ
In Mistra Bay, a boat was shipwrecked, while a boulder fell onto structures at Popeye Village.
A yacht ran aground at Mistra Bay.
On the opposite side of the island, in Kalkara, a section of a historic boundary wall along the coast beneath Heritage Malta's headquarters collapsed into the sea.
Heritage Malta architects are now assessing the damage to see if there is a risk of any further structural damage.
Damage to a historic wall close to Villa Bighi in Kalkara.
Assoċjazzjoni Wirt il-Kalkara criticised the authorities saying it had warned them repeatedly about the dangers but they did not take action.
The association also said that besides the damage beneath Bighi, part of the wall surrounding historic Villa Portelli, which used to serve as the admiral's villa, had fallen down.
Older buildings were especially vulnerable to damage from the wind and rain, as images of a collapsed parapet wall that destroyed several cars in Għarb proved.
And in Victoria, a wall close to the entrance to the Cittadella ditch gave way, as did some masonry walls at the perimeter of the ruins. The Gozo Ministry's cultural directorate said the ditch would be closed for some days as a precautionary measure.
Another historic site that was left the worse for wear was the iconic watchtower at Għajn Tuffieħa. Thursday's storm punctured a hole at the top of the 17th century tower.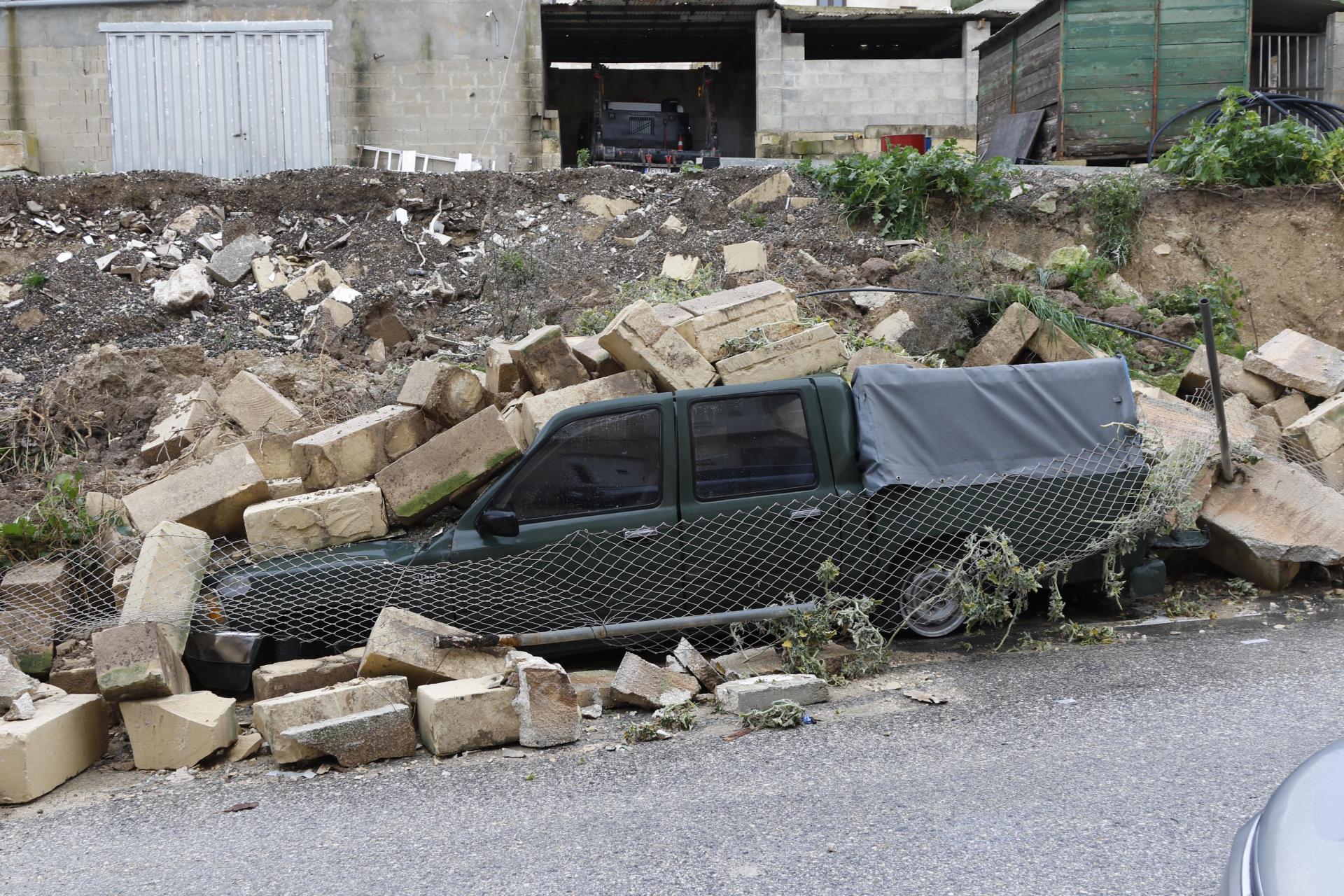 A boundary wall in St Paul's Bay left a pick-up truck buried beneath limestone bricks. Photo: Emanuel Busuttil
It is still too early to quantify the extent of the storm damage. A similar, arguably more violent storm in 2019 led to an estimated €8.6 million in insurance claims.
Bricks from a villa in Iklin collapsed onto a taxi.
Thankfully, just one person was reported hurt, when a false ceiling at the VIP lounge at Malta International Airport partially collapsed onto a man. He was only slightly injured.
Sicily was also badly hit by the storm and Catania airport was closed. Flights from Malta to Catania were diverted to Palermo.
Photo: Jonathan Borg